« Debut! | Main | All Over But the Finishin' »
July 15, 2003
Chicky Update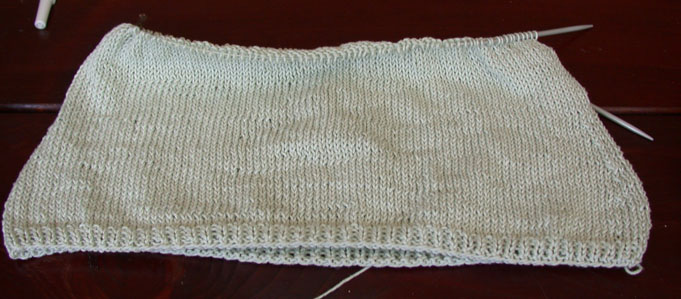 Just a little update on my first knit-along project! She's looking good, though I wish that she'd knit up just a little bit faster. Cotton Glace is pretty and all but it's just so teeny-tiny that I find myself getting bored with my slow progress. Once I get bored, I put it down and then it takes even longer...
Anyway, I have a self-imposed deadline of thie weekend. If the weather cooperates, I want to wear it!
Posted by shannon at July 15, 2003 1:01 PM | For related posts: ChicKami
Comments
Hi Shannon! I'm just checking in on other ChicKami knit-alongers -- it's my first knit-along, too, but I haven't even cast on yet. Your Waikiki tank is really great! "Many, many dollars" -- I love that. :)
Posted by: alison at July 16, 2003 9:38 PM
Hi Shannon! Just wanted to say it was great to have you at the knitting group. Your hard work paid off; your ChicKami looks fabulous. What's next?
Posted by: Dava at July 21, 2003 6:31 AM