« Harrumph | Main | Odds and Ends »
August 1, 2003
ChicKami Numero Dos!
After I finished my ChicKami and the Baby Blocks, I took a short knitting break. I had been logging a lot of knitting hours working on those two projects and when I wasn't knitting I was painting. With all of that manual, repetitive activity I developed my first ever knitting injury! The palm of my left hand, at the base of my index finger, got sore and even a little puffy. Considering that I already take Celebrex for joint pain in my feet, this must have been a pretty irritated joint!
So I took a wee break and now I'm back on the ChicKami bandwagon... this time it's for my mom!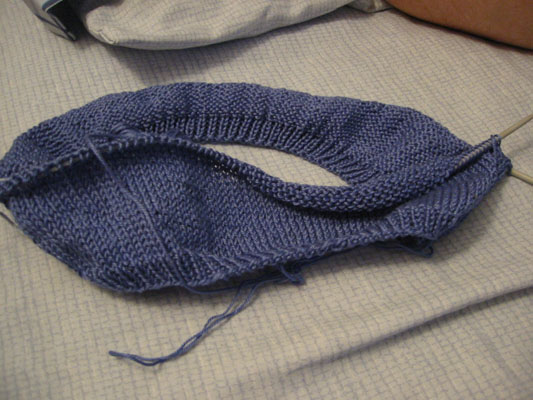 Pretty blue, isn't it? It's Patons Grace in Azure, and it's reasonably priced too (about $5 per skein). It's also more slippery and shiny than Cotton Glace, and fun to knit with. Whee!
Posted by shannon at August 1, 2003 12:46 AM | For related posts: ChicKami