« Mango Rico! | Main | Generic No More »
September 15, 2003
Francine, Resurrected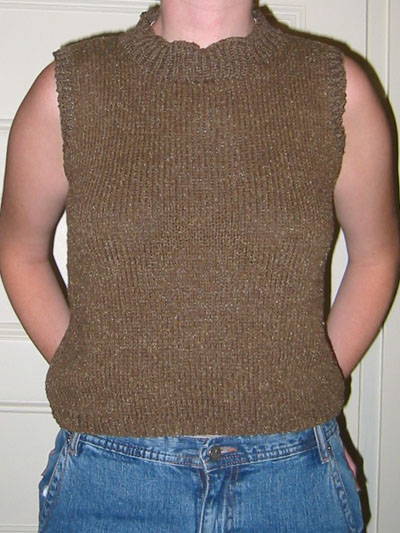 Exactly two weeks after bidding Francine and not-so-fond farewell, she has been recreated in the form of Lindsey. It would be an understatement to say that this pattern knits up quickly.
Remember when I off-handedly mentioned that I hoped I'd have enough yarn? The pattern calls for four-color striping, and this made it difficult to estimate the total yardage for the top since the pattern calls for at least one skein of each color regardless of whether the whole thing would be used.
I was right to be worried. I was just about finished with the back and the front (but not the neck and the armbands) when I ran out of yarn. You'll remember that I bought this yarn in June of this year in New York, so finding one last skein of Denim Silk in Chocolate from the correct dye lot was pretty much out of the question. So I broke a cardinal knitting rule -- I mixed dye lots. Since the yarn is 80% rayon, I figured that chances were pretty good that the color would be uniform even across dyelots, and it was. The only noticeable difference is that the yarn from the newest skein looks less "handled", something that I'm sure will fade with time, wear, and laundering.
So why did I stick it out with Francine? My typical answer has been to exclaim that the yarn was really expensive, therefore displaying for all the world that even though I was a teaching assistant in economics, the concepts of sunk cost and opportunity cost did not, in fact, sink in afterall. The truth is, I don't know -- I wasn't even sure that I was going to like Lindsay until after I finished it -- but I do like it, and I'm glad I stuck with it.
Posted by shannon at September 15, 2003 1:04 PM | For related posts: Tina (neé Lindsay, neé Francine)
Comments
Ooh, me likey too. It came out very nice. Congrats for sticking with it and making something lovely with the yarn despite all the problems Francine gave you.
(Thanks for the economics lesson!)
Posted by: alison at September 16, 2003 8:44 AM
Chica,
The second coming of Francine is great!! You are one fast knitter. Hasta a la Blogala! deb
Posted by: deb at September 17, 2003 12:19 AM
Wowza!!! You've been a-knittin'. Very nice, Shannon. I'm very impressed!
Posted by: Becky at September 17, 2003 3:48 AM
The laws of economics DO NOT apply to yarn purchases. When supply (stash) goes up, demand for more does NOT go down. :) Lindsey is definitely a nicer chick than Francine. WooHoo!
Posted by: Kerstin at September 20, 2003 6:17 PM