« An Ode to the Knitsmiths | Main | Spring Fling! »
March 11, 2004
If Lovin' You is Wrong...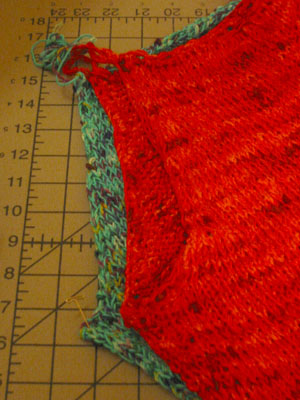 Looks like I got the answers to my Mom's Waikiki Tank sizing riddles:
On size: The only way, then, to know for sure was to get my Waikiki tank out of winter storage and measure it and/or count stitches... (I cast on for the medium.)
I didn't really have to count stitches (though I did)... a quick glance at the width of my tank compared to my mom's told me that they were very close. Medium it is!
On not getting gauge: I'll admit, I didn't swatch for this tank, but -- here's the rub -- I'm pretty sure that I didn't swatch for my tank, either. Was my tank "wrong", too? Or did I make adjustments in needle size?
When I laid the tanks out together, armhole-to-armhole (as above), I was extremely relieved to see that they were almost identical in length. My original suspicion was right: my gauge was pretty far off for my Waikiki tank, and it looks great. So if using no. 9 needles is wrong, I don't wanna be right.
Project Name: Mom's Waikiki Tank
Pattern Source: Yarn Girls' Guide to Simple Knits; Summer in the City Tank
Size: Medium
Name of Yarn Used: Crystal Palace Waikiki (Cool Jazz), MilleFilli Fine (Turquoise No. 249)
Amount of Yarn Used: 4 skeins/balls of each
Needles Used: No. 9 Addi Turbo circulars
Other notions used: n/a
Deviations from the Pattern: n/a
Other Comments (what I wished I'd known before I started this project): I didn't get gauge using the no. 9s, but I didn't get gauge on my tank either. Since my mom wants her tank to fit her just like mine does, wrong is right for this project! Also, these yarns tend to tangle -- check them frequently while knitting before it gets too tangled to use!
Posted by shannon at March 11, 2004 9:01 PM | For related posts: For Mom, Mom's Waikiki Tank
Comments
I'm so glad that there won't be any ripping necessary. What a relief. All that pretty, pretty green. Hey, happy St. Patrick's Day!
Posted by: alison at March 17, 2004 2:56 PM