« Francisca Bonita | Main | »
July 28, 2004
I'm Relaxed Just Looking at Her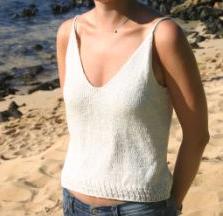 Jason's brother and (brand new!) sister-in-law had been back from their Hawaiian honeymoon no more than three days when an e-mail full of pictures landed in my inbox last night. Both are avid photographers, and the e-mail said that they are still sorting through their hundreds of pictures in an attempt to make a "best of" album to share with us on Ofoto. But Lauren -- knowing that I'm a spaz and dying to see them -- was kind enough to pull out a few pictures of her in the Honeymoon Cami I made her and send them to me!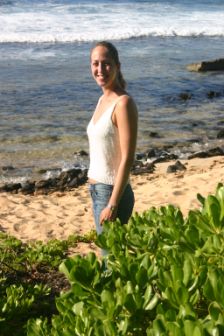 Doesn't she look incredibly relaxed?! I can't wait to see the rest of their pictures. If they are anything like these, I think I'm going to wallpaper my office with them in an effort to reach some kind of Zen-like state of relaxation while at my desk.
More views: View of the back, Scenic view
Posted by shannon at July 28, 2004 11:52 AM | For related posts: Honeymoon Cami
Comments
Damn, that top looks good on her! Well worth all your hard work knitting it. Man, now I wanna have one. Wanna make me one?? ;0)
Posted by: alison at July 29, 2004 9:00 AM
what a perfect fit. it looks great on her!
Posted by: froggy at August 15, 2004 11:31 AM