« Candy Colors | Main | Buen Viaje! »
April 18, 2006
Dooone!
My Sockapaloooza socks are all done -- blocked, ends woven in, and photographed!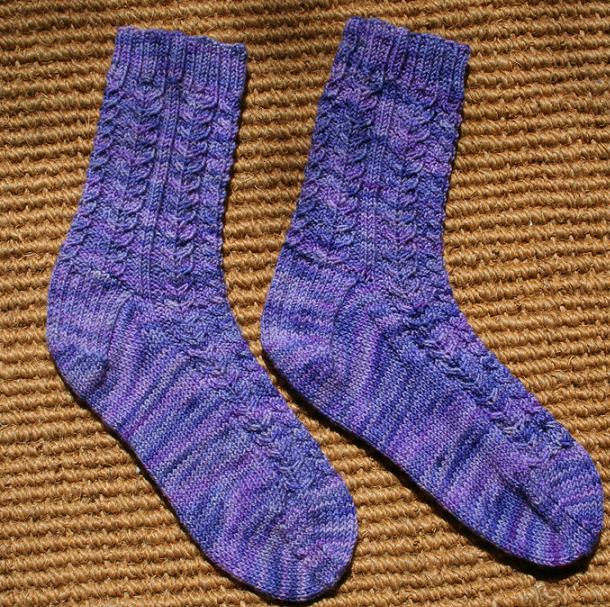 This was my first time using Koigu, and will certainly not be my last. In fact, I already have another pair of socks on the needles. (So. behind. on. blogging.)
These socks went really fast, and the pattern was easy to memorize. And how about this for a bonus: there's enough of that yummy Koigu left over for a pair of baby booties!
My next fun task is gathering some treats to put in my pal's box. I'm enjoying this so much! Remind me why I waited until round three to become a Sockapalooozer?
Pattern: Denmark from Knitting on the Road
Yarn: Koigu, 2 skeins (I don't have the labels here, but if I had to guess I'd say the colorway is 439. If I remember to check, I'll update this!)
Needles: US2s
Posted by shannon at April 18, 2006 1:19 PM | For related posts: Sockapaloooza, Socks
Comments
looks great! i like how the pattern still shows through the subtle colour changes.
Posted by: reesie at April 18, 2006 2:06 PM
Those are So. Beautiful.
What a great job. the pattern looks great, and the color makes my mouth water. Your sock pal is going to be thrilled.
Posted by: Emma at April 18, 2006 3:01 PM
They are gorgeous! Lucky pal.
Posted by: Kathy at April 18, 2006 3:32 PM
Gorgeous! I envy your sock pal! Isn't koigu the yummiest?
Posted by: Nonnahs at April 18, 2006 5:02 PM
awesome socks! I love how saturated the purple looks!
Posted by: shoofly at April 18, 2006 6:02 PM
Posted by: Wanda at April 18, 2006 7:09 PM
Gee whiz I hope those are for me!
Posted by: Carla at April 18, 2006 8:14 PM
Love that Koigu colorway! Great job on the socks. I always think the "extra goodies" is the best part of the pal experience.
Posted by: Juls at April 22, 2006 11:23 AM
Congrats! They look beautiful!
Posted by: Norah at April 26, 2006 11:28 AM