« Surprise! | Main | »
January 22, 2007
Feel-Good Kniting
I don't know if it's the fact that winter weather is finally here, but there's been some interest in my Very Necessary Sweater pattern of late. I've heard from a few people who were planning to knit or in the midst of knitting the sweater, but just after I got back from London, I got a lovely e-mail from Enid with this picture attached: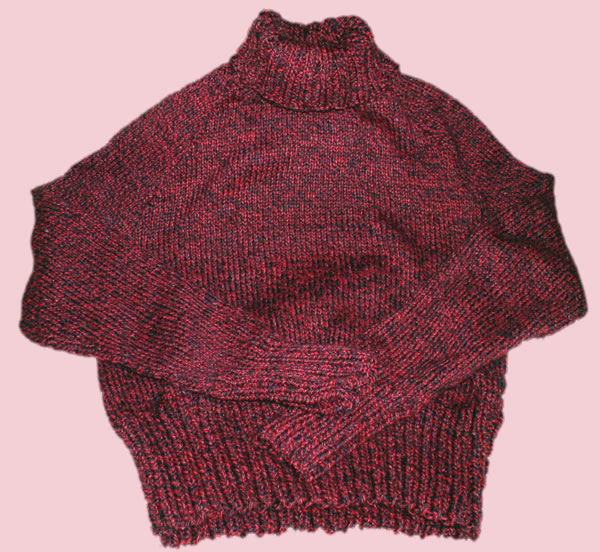 Lookit that -- it's a finished sweater!
Isn't it awesome? She made some adjustments to the pattern, and I'm hoping that she'll pass on her numbers to me so that I can see if I can use them to add another size to the pattern.
When I was up in Boston, Colleen mentioned that she was planning to start her very own necessary sweater. She also reminded me of a part of the pattern that I'd been meaning to clarify, which I finally did on the version that's posted on this page. Colleen's now well into her sweater, which she's knitting in a lovely orange color. (While you're over there, give a few dollars to Rosie's Place, will ya?)
Anybody else out there working on it?
PS - Speaking of charity, if you're a DC-area knitter, check out this awesome opportunity to use up some stash and do an awful lot of good for the chronically ill... and DCist has posted some scarf patterns to get you started. Get your knits in by February 6!
Posted by shannon at January 22, 2007 9:31 PM | For related posts:
Comments
Hey Shannon! Just wanted to drop by and say hey! It was very nice to meet you the other night ;)
Posted by: Lolly at January 23, 2007 7:37 AM
Oh, I am so sorry about not getting the numbers to you yet!!! Been a wee bit busy. I will pull them out and start putting it together for you.
Sorry, sorry... meanwhile - I have worn this sweater numerous times. I still LOVE it!
Posted by: Ewe-niss at January 23, 2007 10:45 AM
I'm also a knitter who has been transplanted to DC from Boston. My mom and I knit together and took classes at Newbury Yarns, but I have no knitting buddies down here and it's lonely. I know you have high standards (I read the blue blog and thus am familiar with the legendary Knitsmiths), but I was wondering if you'd found a good knitting group in the area? BTW- I am super jealous of your basement knitting nook. I live with my boyfriend in a one bedroom and thus am lucky to have a knitting basket!
Posted by: anne at January 23, 2007 3:26 PM
Hi Shannon,
I wanted to let you know that I have just finished knitting your sweater in Lorna's Laces Shepherd Worsted in Brick. I had to rejigger the pattern to accommodate my gauge, but I'm quite happy with the result. It was my first time with short rows, so I struggled a bit, but as a newish knitter I learned some techniques--namely, mattress stitch. This was the third sweater I made!
I love Enid's version. It looks great! I'll e-mail you a pic of mine soon.
Heather
Posted by: Heather at February 6, 2007 1:56 PM