October 14, 2007
A Long Time Coming
Those of you who have been reading this blog for a while know about my dear, long-time friend Jillay. When Jillay got engaged last year, I told her that I would make her a shawl for her early fall wedding -- you might remember that I inquired about beads for the shawl in this post. She and I picked out the yarn together and I chose the pattern -- Eunny Jang's Print O' The Wave Stole (opens a PDF!).
I added pearl beads to the pattern repeat and got to knitting back in March. And knitting, and knitting. As is my usual, I finished up at the last minute, in this case the day before the wedding. It ended up blocking in the hotel room during the rehearsal dinner... check out Jason helping pin it out!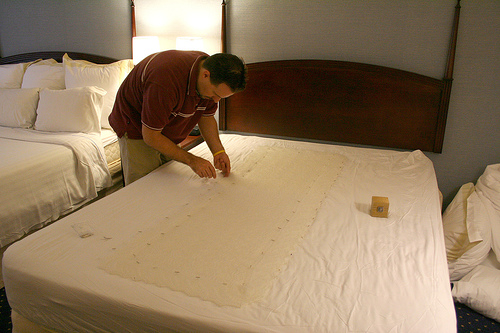 He's a quick study!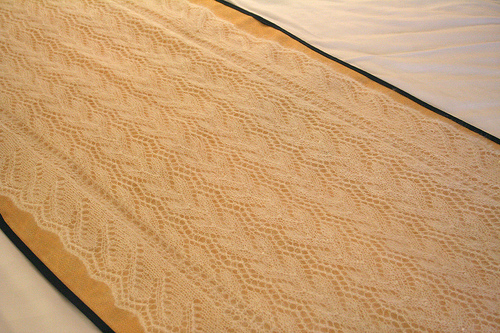 Blocked and un-pinned.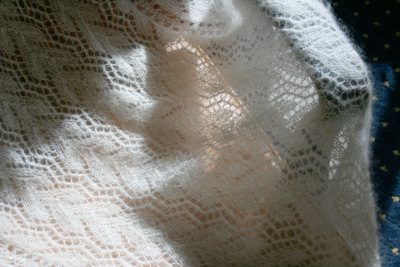 Of course, it was 85 degrees on her wedding day... so a portable air conditioning unit would have been more useful to her than a wool/silk blend shawl. But Jillay is a good friend and a good sport, so she graciously posed for some pictures on her big day.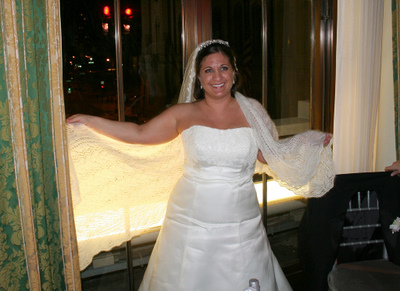 With the beautiful bride.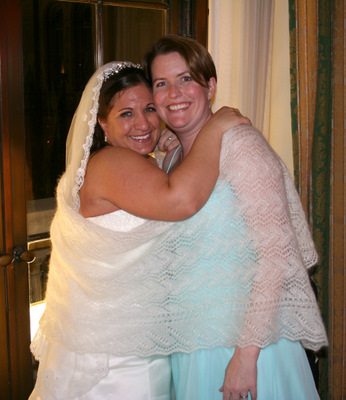 I have been knitting this shawl exclusively since August, and since Jillay has been known to check on this here weblog I haven't been blogging about it. But I've also been working on another super-secret, off-blog project that's been absorbing a lot of my attention.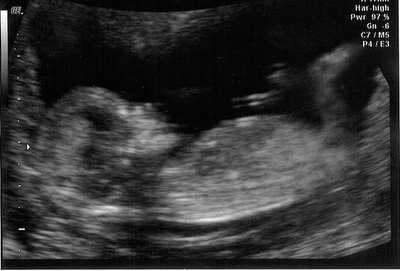 Project Cheezit: still in progress
This project -- known around here as Cheezit -- should be "done" around March 19, 2008, putting me in the very good company of fellow knit-bloggers Cara and Sarah. We'll find out if it's a Miss Cheezit or a Mr. Cheezit on October 25... feel free to put your guesses in the comments!
Posted by shannon at October 14, 2007 9:49 PM | For related posts: Cheezit, Jillay's Wedding Shawl
Comments
CONGRATULATIONS!!! I'm so happy for you. No tengo ninguna corazonada, pero... voto por que es un niño! :)
Posted by: betty at October 15, 2007 6:10 AM
FANTASTIC!!! Congratulations! I hope you've been feeling tons better than Sarah or I have! Wow - we knitbloggers were a busy bunch this summer!
YAY!!!!!
Posted by: Cara at October 15, 2007 7:16 AM
CONGRATULATIONS!!! On both the Cheezit and the shawl. That's fantastic and exciting that you'll be joining the growing ranks of us baby-having knitters. My little guy is 8 weeks today - and I haven't been getting much knitting done since he showed up. It's quite an adventure!
Posted by: natalie at October 15, 2007 7:39 AM
congratulations! and the shawl is lovely :)
Posted by: mai at October 15, 2007 9:16 AM
El chal te quedó precioso! pero el otro proyecto es aún más bonito, te felicito y te mando un abrazo.
Posted by: Andrea at October 15, 2007 9:46 AM
Lovely shawl, and congratulations. You know, when I saw your post in Bloglines today I realized that it had been a while since you last posted, and I wondered if you would have a little news to share.
Posted by: colleen at October 15, 2007 10:09 AM
WOO HOO! Still the best. news. ever. :)
Posted by: Alaina Browne

at October 15, 2007 11:17 AM
HOORAY! CONGRATS! (again)
And I find out whether I have a Snargle or Snarglette on October 26th!
For what it's worth, I think you're having a girl. (no idea why)
Posted by: Sarah at October 15, 2007 11:23 AM
Yay! Another knitblogger baby!
So, just what it is in the wool that everyone's getting pregnant this year? There are 5 babies in my non-blogger circle this year. So far.
Posted by: Lynn at October 15, 2007 11:40 AM
I am tingly I'm so excited for you guys! YEAH BIG BIG YEAH!
Posted by: Johanna at October 15, 2007 1:26 PM
Woohoo! Congratulations, and lovely job on the shawl!!

Posted by: Amber at October 15, 2007 4:11 PM
Congratulations! And the shawl is beautiful.
Posted by: Emily at October 16, 2007 9:17 AM
Oh, goodness! Congratulations!
Posted by: Elspeth at October 16, 2007 10:50 AM
The shawl looks beautiful!!! Congratulations! I am guessing GIRL! My little girl should be arriving the first week of January.
Posted by: Oiyi at October 16, 2007 11:10 AM
Hooray! :D Best wishes for a continued healthy and happy pregnancy. I've got my fingers crossed for a boy, but a little girlfriend for wee one would be great too!
Posted by: alison at October 17, 2007 10:10 AM
!!! Congratulations!!! How exciting :) I am guessing a boy, and can't wait to find out! The shawl is gorgeous.. those beds are perfect for blocking, aren't they?!
Posted by: Dani at October 17, 2007 10:36 AM
Congratulations, that is awesome news! Your friend is a beautiful bride and the stole is just breathtaking as well.
Posted by: Wanda at October 17, 2007 11:01 AM
Congratulations! What an exciting time. I believe that sweet little profile belongs to Miss Cheezit--oh yes, definitely a girl.
Your shawl for your friend is beautiful, and she was a beautiful bride!
Posted by: Katherine at October 17, 2007 11:37 AM
YAY! Congratulations! And what a beautiful shawl and a beautiful bride!
Posted by: Elinor at October 17, 2007 1:04 PM
ohhhhhh how cute the little cheezit is. Congrats! The shawl is beautiful too. I stumbled on your blog from another one, what fun!
Posted by: DebbieKnitter at October 17, 2007 2:56 PM
I am the lucky recipient of the shaw. The photos do not do the shawl justice....it is stunning (she even added one blue bead)! I can't wait until it is cool enough to enjoy it! A million thanks!!!!!!!!!!!
PS - I am thinking girl (since last year was the year of the boy in our circle! wink-wink)
Posted by: jill at October 23, 2007 9:42 AM
Best of luck I am very happy for you and I am also guessing a boy
Posted by: lori at October 27, 2007 9:23 PM
I am late, but congratulations!!!!! I am so happy for you! :)
Posted by: Melissa at November 2, 2007 11:14 PM