« April 2004 | Main | June 2004 »
May 13, 2004
Lazy Bones
A while back I announced with great fanfare that I was ripping out Lindsay (which had been created by ripping out Francine) in order to make Tina. I signed up for Alison's Spring Fling-a-long and eagerly got started.
I started with some leftovers of the Denim Silk, but that didn't get me very far before I had to start dissecting Lindsay. I ripped the front, gave the yarn a bath and kept knitting.
The smart thing would have been to rip ALL of Lindsay at the same time, bathe ALL of the yarn at the same time and then start knitting. But I didn't, I only did half. Why? Because I am lazy.
I got halfway up the front of Tina before I had to stop for lack of usable yarn. Did I then rip the rest of Lindsay? No. Why? Because not only am I lazy, but I am also easily distracted. Why go through the tedious process of ripping and washing yarn when I could be working on my mom's Waikiki Tank? Or the log cabin blanket?
Hello, I have the attention span of a gnat. Nice to meet y... hey, is that an ice cream truck?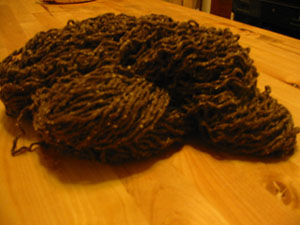 Anyway, I finally did it. Lindsay is officially No More, and this yarn has been rinsed and wound into balls. Now if I can only stop making so many dang mistakes on the cable pattern, Tina should make her debut very soon!
Posted by shannon at 3:01 PM | Comments (1) | For related posts: Tina (neé Lindsay, neé Francine)
May 12, 2004
Playing Catch Up
I feel like I've been playing catch up in all areas of my life lately -- not only with my knitting, but day-to-day tasks like renewing the gringa.org domain (my apologies to those who tried to visit while it was down!).
A friend of mine was expecting a baby girl in late winter/early spring, so I made her a sweet little newborn hat out of light-weight Gedifra Wellness. This would have been perfect... if I had sent the cap to my friend before her baby was born. But noooooo, I put it off and put it off. About two weeks ago, I got an e-mail from my friend that the baby had arrived safe and sound three weeks prior. They live in Atlanta, and all of my procrastinating means that they are well into the way-too-hot-for-a-baby-hat weather.
Keeping to my policy that baby blankets should be machine washable, I grabbed some Lion Brand Baby Soft and cast on. I started knitting the lacy blanket pattern printed on the inside of the ball band, but I kept messing it up. I converted the pattern to a simple stockingette/reverse stockingette checker-board and off I went!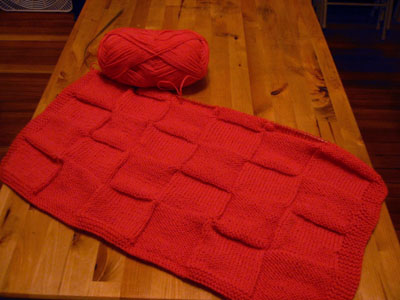 The blanket is actually done already but I'm still, well, Playing Catch Up here on the blog. I have a series of other posts in-progress, and with a little luck and a little down time at work I should get back up to speed soon! As for whether or not I'll get the blanket in the mail in a timely fashion...
Posted by shannon at 10:57 PM | Comments (1) | For related posts: Miscellaneous Small Projects
May 5, 2004
Order in the Blog!
Yes, yes, I know. Sorry about the long absence. Let's get back on the horse, shall we?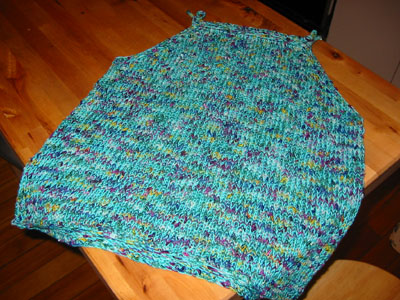 Just over a month ago, I optimistically mused "this mother's day gift may be done before April!". When will I learn not to say things like that?
Here's the quick and dirty: I finished the knitting, and seamed the tank. I got out a crochet hook to do the edging and the straps, but when I started it looked all wrong. I ripped out the edging and tried again -- still not right.
Then it came back to me. When I made my tank, I did the edging as instructed in the pattern. Then I was shown a better way to do it so I ripped it all out and did it again with much cleaner results. I couldn't remember the method I ended up using, but surely I could get help again, right? Except.... oh, yeah. The person who helped with my tank's edging was my mom.

So, with Alison as a co-conspirator, when my parents came to visit last weekend I made up a story that somebody at Knitsmiths asked how I did the edging on my Waikiki tank. Could she possibly show me again? Of course she could.
With that riddle solved, the last obstacle to completing Operation Mothers' Day Tank was removed. Nevermind that I ended up ripping back to the armholes twice in the week after I re-mastered the edging -- that seems much less painful now that it's all blocked, pretty and ready to be presented this Sunday!
Project Name: Mom's Waikiki Tank
Pattern Source: Yarn Girls' Guide to Simple Knits; Summer in the City Tank
Size: Medium
Name of Yarn Used: Crystal Palace Waikiki (Cool Jazz), MilleFilli Fine (Turquoise No. 249)
Amount of Yarn Used: 4 skeins/balls of each (I haven't done the edging and straps yet, but I've used less than three skeins/balls of each! Update: In the end, I used just over 3 skeins/balls of each.)
Needles Used: No. 9 Addi Turbo circulars
Other notions used: n/a
Deviations from the Pattern: I didn't do it on purpose, but on both my mom's and my Waikiki tank, I ignored the gauge. Usually my gauge is right on but it ended up being too big on both tanks -- I think that the weight of the fabric created by these two yarns together makes for looser stitches. Also, I crocheted two straps on each shoulder instead of just one on my tank. Time will tell if I'll do the same for my mom's! (Update: I did two for hers as well. One just seems too puny.)
Other Comments (what I wished I'd known before I started this project): I didn't get gauge using the no. 9s, but I didn't get gauge on my tank either. Since my mom wants her tank to fit her just like mine does, wrong is right for this project! Also, these yarns tend to tangle -- check them frequently while knitting before it gets too tangled to use! (Update: To paraphrase the brilliant writers of The West Wing, the total tonnage of what I wish I'd known before starting this project could stun a team of oxen in its tracks. The edging: When you knit the body, you should follow the instructions on the armhole selvedges -- as in, there shouldn't be any. Don't crochet the edging the way they say to do it [single crochet]. Rather, starting with one loop on the hook, pull one another through the fabric then pull the third from over the top of the fabric edge. Once you have these three loops on the hook, pull the first (most recently acquired) through the older two. Repeat. Be careful when choosing how often to pull stitches through the fabric, on my mom's the best interval was big hole to big hole (long-ish distance), big hole to little hole (shorter distance). The straps should still be done in chain stitch. And whatever you do, get the edging and the straps right the first time -- every time you pull out the crocheted edges, it leaves big gaping holes!)
Posted by shannon at 10:29 PM | Comments (1) | For related posts: For Mom, Mom's Waikiki Tank