March 3, 2004
Pushing My Buttons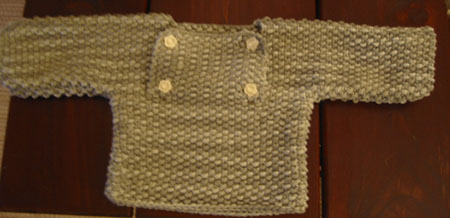 Alas, there were no four-leaf clover/shamrock buttons at Windsor Button. I settled on these little white flower buttons instead, and I think that they look really cute on the sweater. Here they are up close: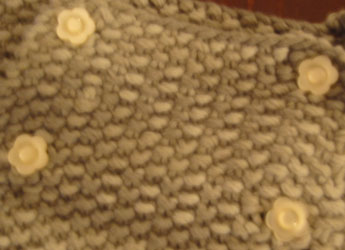 The buttons are more white than they appear in these pictures, I took these without the flash so everything looks "warmer" than it really is.
Posted by shannon at 11:57 PM | Comments (5) | For related posts: Green Bulky Baby Bibby
March 2, 2004
Loose Ends
The button saga ends tomorrow! I'm going to Windsor Button after work on the advice of two fellow Knitsmiths. One of them reported an actual shamrock button sighting during her last visit to the store! Could it be true? Have I found the end of the rainbow? All I know for sure is I'll be walking out of that place with the buttons -- shamrock or otherwise -- for the Bulky Baby Bibby. At this rate, the Bulky Bibby will be too small for the Baby if I delay much longer!
You'll recall in my last round-up entry, I displayed a picture of a finished hat for my friend V. My satisfaction was short lived. Despite the fact that it was a ridiculously easy pattern, I'd been struggling with that damn hat for quite a while. For some reason I just couldn't get it right; it was always too big, too small, or too short. I was still unhappy with the hat the "final" time I knit it (too big and too short), but I knew that the yarn just wouldn't hold together for another session of ripping and re-knitting. There was only one thing I could do: I bought new yarn! This time I took my time checking my gague and doing calculations to avoid the problems I'd had previously. I'm so pleased with the way it turned out, and I really enjoyed the yarn. Best part? I'm pretty sure I have enough yarn leftover for another hat! Behold, V.'s new hat!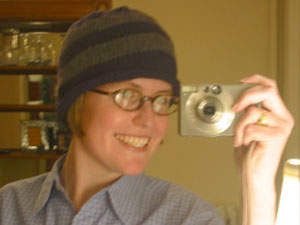 Knit on US7 DPNs with Debbie Bliss Merino Aran in 301 and 206. CO 84 Sts First stripe is 14 rows, all others are seven rows.
Oh, and Henry's fuzzy hat? I forgot to take it to him last weekend on our trip to the Big Apple. Fortunately for him, we're headed back (again!) this weekend.
Stay tuned for the tale of yarn that once was lost, but now is found -- and the new project its finding has enabled!
Posted by shannon at 11:39 AM | Comments (2) | For related posts: Green Bulky Baby Bibby, Miscellaneous Small Projects
February 27, 2004
Not So Lucky?
The search for four-leaf clover/shamrock 5/8" buttons continues! Here's the scorecard:
Bricks and Mortar Stores
Michael's
Fabric Place
A Good Yarn
Woolcott & Co.
3/2/04, ETA: Circles (checked by Alison!)
A.C. Moore*
Pearl Art and Craft*
On-Line Stores
Sakonnet Purls *
MJtrim.com *
I haven't been totally unsuccessful in my search, though. I found a few shamrock buttons (here, here, here, here) but they are either too big or of unknown size. The pattern calls for 5/8", but will a slightly bigger button really make a big difference? I don't want the BBB to be difficult to button and un-button, but do one- or two-eights of an inch really matter?

*All of these button retailers were recommended in the comments of this entry by Knitsmiths founder and new blogger Dava, who cheerfully calls herself a button slut. If she can't help me, it's hopeless!
Posted by shannon at 10:33 AM | Comments (1) | For related posts: Green Bulky Baby Bibby
February 24, 2004
Finishing School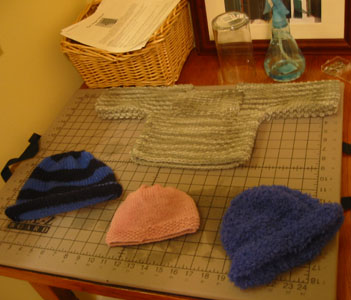 Last night, I had a little finishing party! Why so little? Because three of the four projects were for babies, of course! Here's what I finished, clockwise from the top:
First is the Bulky Baby Bibby, which is still in need of some buttons. As you might be able to see, I've only really blocked the bib area. I was worried that the buttonholes on the bib might be set too far in (i.e., not line up with where the buttons will be), so I did some intense blocking of both the bib and the body where the buttons will go.
Remember when I said that I was hoping to find four-leaf clover/shamrock buttons? I was pretty confident that it would be no problem. I live in Boston, after all, and we are a mere three weeks away from St. Patrick's day. So far I've only tried two places -- The Fabric Place and Michael's -- but I'm 0-for-2. I know that somebody at KnitSmiths mentioned that they'd seen four-leaf clover buttons recently, but couldn't remember where. Suggestions?
Next we have Henry's fuzzy hat (sorry the picture is washed out, it was late and the battery was dying!). This was a pure whimsy project that came from a conversation that I had with Jason's sister (Henry's mama). She said that mentioned that he was growing out of his hats and that the few remaining ones that did fit were made of wool, which seemed to irritate his skin. Later that day, I found myself in A.C. Moore when lo and behold, a skein of Lion Brand PolarSpun yarn in Polar Blue lept off of the clearance rack and into my basket. What else could I do? (Verdict on the yarn: It's super soft and the end result is fun and fuzzy. But when knit up, the yarn tends to grab on to its neighbors -- heaven forbid you have to rip any of it out!)
To the left of the fuzzy hat is a newborn cap I'm calling Lili. It's for a friend who is expecting a baby girl (to be named Liliana) any second now. I used leftovers from Cherry Mango, which was knit using Gedifra's Wellness in Rose. I sort of made the pattern up as I went along, and I've reproduced it in the "more" section of this entry. The good thing about the moss stitch band is that it is reversible, and can be flipped up if the hat is too big on the baby. The pictures didn't come out great, but this is a really sweet little cap -- and it knits up very fast!
Last, but certainly not least, is a hat for my good friend V. This one has a story. Last spring, his wife D. saw me knitting and asked me if I would make her a hat for the next winter. She is from Sri Lanka so the bitter cold of New York winters were something for which she had been wholly unprepared. I quickly knit her a striped roll-brim hat of with Filatura Di Crosa's Primo in brown and pumpkin to go along with her brown winter coat. I also bought a skein of light navy and french blue to make a matching hat for her husband (my friend V). We had dinner with V. and D. in NYC on Valentine's Day -- D. wore her hat, and proclaimed that she liked it so much that she wanted several more in different colors. After starting, ripping and restarting a few times, I finally finished her husband's and it's ready for shipping. A wool hat -- just in time for spring!
P.S. Like my new blocking board? I got it for Christmas (thanks, Mom and Dad!) but just made room for it in my office/craft room.
Lili (knit with Gedifra Wellness [or All Season's Cotton] on #6 needles)
1) cast 63 stitches on to #6 DPNs (or an appropriately short circular needle if you have it), place marker
2) knit in moss stitch for 6 rounds (about 1 inch)
3) starting with the seventh round, knit all stiches until hat measures 4.5 inches
4) start decreases:
1st decrease round = K6, K2tog 7 times, k7
2nd decrease round = K5, K2tog 8 times
3rd decrease round = K4, K2tog 8 times
4th decrease round = K3, K2tog 8 times
5th decrease round = K2 K2tog 8 times
6th decrease round = K1 K2tog 8 times
6th decrease round = K2tog 8 times.
Eight stitches remain.
5) Pull yarn through remaining 8 stitches, weave in all ends.
Posted by shannon at 11:56 PM | Comments (2) | For related posts: Green Bulky Baby Bibby, Miscellaneous Small Projects
February 20, 2004
Luck o' the Irish
Babies, babies, everywhere!
It's happening again -- I'm backlogged with baby gifts! I managed to get one done (the hat in the previous entry), and now I'm working on a sweater for the brand new daughter of a high school friend. I hate that not only did I miss her shower, but I didn't get her this sweater before the baby was born. Ugh!
Anyway, I'm trying my hand at the Bulky Baby Bibby (scroll down!) in Dance by Artful Yarns. I'm using the color Jig. I had planned to use Berroco's Pronto since Alison had enjoyed it so much, but the yarn store I went to didn't have it. I was rushed and didn't have time to go to another store, so I was happy when I found the Dance on sale -- half price!
I started out with the Bigger Bulky Baby Bibby (charmed by the picture, as Alison was!), but by the time I got to the split for the neck, it was obvious that I didn't have nearly enough yarn. So I ripped it all out and started in the smaller size -- I'll have plenty of yarn, even enough to make a matching hat, I think.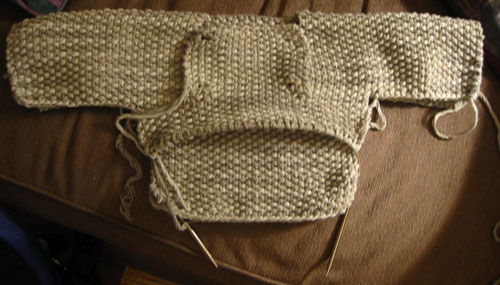 The baby's name is Colleen, and her parents are very Irish. I'm hoping to find some four-leaf clover buttons for the bibby and get it to them in time for St. Patrick's Day. Wish me luck! ;)
Posted by shannon at 12:15 AM | Comments (1) | For related posts: Green Bulky Baby Bibby