« Incredible Day | Main | Play List »
June 09, 2002
Tiny, Tiny Sweetheart
Here I am! I'm back!
So, I've pretty much settled in to my new digs in DC, and have started work. The apartment, while in a building that is old and a little run-down, is perfectly fine for the summer. Jillay and Jason were a huge help in getting me moved in -- with their assistance, I managed to stay sane. I have AC in my room, the neighborhood is adorable and my new roommates are nice. We also have free laundry in our basement. I went down to start mine tonight, and it had been so long since I operated a non-coin washer that I almost couldn't figure it out.
The one wild card (other than not knowing if I would have AC) was my commute. I knew that it would be a bus-subway combination, and I had never done that in DC. It turned out to be no problem at all. Though Georgetown is nortorious for being public-transportation-unfriendly, it looks to me like they've made strides to improve that. I'm also a ways off the main drag, and by pure dumb luck alone 3 different buses, all of which work for me, stop right across the street. To date, I've not waited more than five minutes for a bus in the morning , which beats the pants off of the stop at 100th and Amsterdam anyday.
Another happy thing that is that my financial situation just improved dramatically. Jason found somebody to sublet my apartment (thank goodness... actually thank YOU), I'm working now and a small loan came through just in the knick of time. I'm not rolling in it, but I don't have to balance my checkbook several times a day, time checks "creatively" or ask for loans. I'm paying my bills on my own, with a little left over, for the first time in months and it feels really, really good.
Jason is coming down next weekend for a visit -- w00t! Ñaña told me that there is a Latin festival as well, so we'll probably do that. I always loved the Latin festivals when I lived here before, and it'll be fun to introduce la Bulita to her gente. (The baby's name has been played with and diminutized into a practically un-recognizable state – la Bulita, it's actually pretty cute.) I hope we can find time to see The Bourne Identity, too.
All and all, it feels really good to be back in Washington – though there are passing instants when it still feels too heavy with memories, most of the time it just feels like home. One of many homes, of course, but home nonetheless.
Oh, and in case you were wondering, despite my prediction, I didn't cry when I met her. Not because she's not gorgeous, because she is -- it just turned out that it was an occasion for laughing and smiling and playing, rather than blubbering. She's a tiny, tiny sweetheart – and anyone who says that 13-day-olds can't have a sense of humor clearly has not met this one.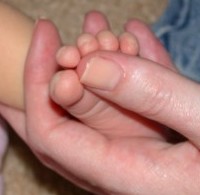 Posted by shannon at June 9, 2002 04:51 PM | For related posts: