« | Main | Crazy Cat Lady »
February 3, 2003
Jason's Matching Hat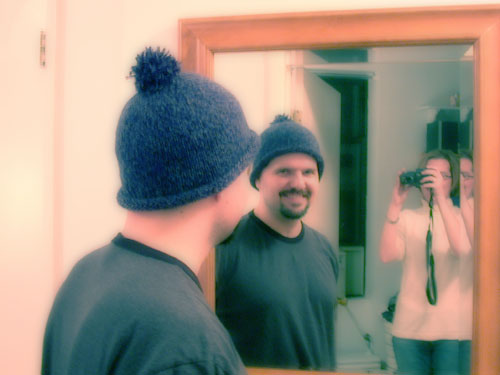 When my mother taught me to knit last May, she provided me with the yarn and needles from a LYS in my hometown. The very first thing that I made with that yarn -- a soft wool acrylic blend of black, blue and white -- and #10 needles was a scarf for Jason.
Part of my Christmas knitting haul was the yarn and supplies that my mother bought for me using money from my grandmother. She didn't want to chance a guess on what yarn and tools I needed, so a few days after Christmas we went to that same LYS and she turned me loose.
Almost as we were leaving my mother and I asked the woman who owns the shop if she remembered the yarn my mother bought for me in May, and if she still had any. After some thinking, and then some searching in the back of the store, she found it.
I bought a few skeins for two reasons -- first, I'm pretty sure that first scarf is going to require some repair and/or patching at some point in the future. You see, when I first started knitting I didn't know about changing skeins at the end of a row (so I changed in the middle), or weaving in ends (so I just tied knots and cut the ends off). Second, I wanted to make Jason a matching hat for his scarf.
It's a simple roll-brim hat knitted on the round with a pom-pom (obviously). I finished most of it while traveling back and forth to Delaware and Washington over my break. Normally, I'm absolutely terrible at keeping secrets, but I managed on this one. Though this picture isn't of the moment of surprise, I think you can still tell he likes it. :)
(In fact, he likes it so much that he did the retouching on the above picture for me!)
Posted by shannon at February 3, 2003 12:09 AM | For related posts: For Jason, Miscellaneous Small Projects
Comments
Very cool hat, and very cool picture! What an adventure that must have been to be let loose in the LYS to spend money like that. No one has done that for me *yet* so I'm a little jealous ;-) I'm sure it was fun!
Posted by: Shetha at February 5, 2003 1:21 PM
oh my gosh i love the pom-pom!
Posted by: lisaann at February 6, 2003 12:41 PM