May 6, 2006
Labor of Love
It's a blast from the past: Jason's Black Watch Plaid socks! You might recall that these were originally gifted at Christmas, but turned out to be a bit big. A "bit big" was a bit of an understatment, and I ended up re-knitting them entirely. I added some ribbing, knit them from the toe-up and, hey, they only took four months!
So why a labor of love? When both socks were finished a few weeks ago, I held them up and realized one was much wider than the other. How could that be? My knitting is crazy loose, but consistently so. Closer investigation revealed that I had knit the first sock in a 2x2 rib, and the second in a 3x1 rib. Idiot!
I was not about to rip out the entire second sock. Well, I could have, but it would have annoyed me so much that I would have had to banish them to the bottom of my pile of knitting until I forgave them (and by "them" I mean "myself"). Goodness knows how long they would have languished. So, I improvised. On the 3x1 sock, I went around and one at a time dropped every third stitch all the way back to the beginning of the rib. Then I used a crochet hook to pick up the stitch and turn it from a knit into a purl all the way back up to the cuff (toe-up, remember). Twelve times I did this, cursing my inattention to detail all the while. It was tedious and the dark yarn almost make me go blind, but it was he's worth it!
Posted by shannon at 10:19 AM | Comments (5) | For related posts: Christmas Knitting 2005, For Jason, Socks
March 9, 2006
All the Socks Fit to Print
Thank you for your compliments and well-wishes yesterday! I'm happy to report that I am already much improved in the health department -- far less of that not-quite-a-sneeze-but-enough-to-make-your-eyes-water feeling, thank goodness. I'm looking forward to getting home and working on the official Olympic sweater round-up entry, but to answer the two most common questions: (1) yes, I will be writing up this pattern, and (2) yes, I am thrilled with the way the sweater came out!
WIth the Olympic sweater finished, I've got a rip-roaring case of startitis. I'm trying to be good, though. With sweater weather drawing to a close for the year, I still have two big sweaters on the needles I'd like to get done before it's springtime in Boston: Pam and Zippy. So they are first on my knitting to-do list.
Still, the urge start something new is strong. So I'm dealing with it by allowing myself to start only the smallest projects I can think of: socks. And the first step toward new socks is... new sock yarn! When I last saw Alison, I walked away from our visit with a bag of it!
The Regia on the left is Regia Cotton India Color in the Bombay colorway, which Alison kindly brought back for me from Germany. I love the browns and oranges, and the hint of blue will make them perfect jeans socks. Can't wait. I also nabbed the Regia Canadian colors (Manitoba) on the right and the black and white Lorna's Laces Sheperd Sock in the back when she pruned her sock yarn stash -- I got 'em for a song! I think I might finally make some Jaywalkers from the Lorna's.
A few days later I went hunting for some Sockapaloooza sock yarn. Having decided on the Conwy socks from Knitting on the Road, I thought I'd treat my pal right and use some Koigu. Since the sock in the book is knit up with a variegated yarn, I figured I could go crazy colorful. I definitely love this colorway, but the jury's still out on whether this colorway might be just a little too crazy colorful for cables.
Maybe too much?
This isn't new sock yarn, but I should still include it in my current sock round-up. This is the second of Jason's Christmas socks, which I insisted on re-knitting when I saw how big they were on him. After a two-and-a-half month post-Christmas break, I'm back on track with these.
I'll be home tomorrow night, so look for the Olympic sweater round-up this weekend!
Posted by shannon at 5:21 PM | Comments (2) | For related posts: For Jason, Sockapaloooza, Socks
January 19, 2006
Still Not a Race
I've been spending most of this week on Pam, and just doing a row or two on Zippy at the end of the evening. Last night, I took it off the needles and wrapped it around Jason's mid-section -- things look pretty good size-wise. This weekend, I'll be spending some time with the old calculator, since the raglan shaping and sleeves are coming up soon and my row gauge is -- as always -- a bit off from the pattern. I'm going to look at the instructions for the collar, too, since I've read that it looks a bit oversized for a guy when it's not standing up. Gotta get hubby's first handknit sweater right!
See those stripes? Good thing I'm alternating skeins!
There's a lot of theories about family size and birth order and their effects on personalities, but there is one thing that I now know for sure: only children crave the rivalry they don't get from siblings. How do I know this? Because despite being grown women reasonably resistant to childish impulses, when it came to knitting the Zip-Up Cardigans Alison and I -- both only children -- were off to the races faster than you could say "cast on 172 stitches". Like Alison's son B., we're both guilty of uttering the words "it's not a race!" when we're feeling like we might be a bit behind.
Repeat after me: it's not a race
Speaking of competition, I'm going to be an Olympian! (Holy Harlot that's a big knitalong. How big? There are SIX SEVEN Shannons on that list -- and I'm not on there yet!) I haven't decided what to knit -- I'm having trouble coming up with something that is both challenging and appealing. Maybe some more lace? A design of my own? Suggestions from the peanut gallery are encouraged!


Have a great weekend!
Posted by shannon at 5:22 PM | Comments (2) | For related posts: For Jason, Olympic Knitting, Zippy
January 12, 2006
Con Mis Propias Manos*
The rumors are true, Zippy has been resurrected! I knew I wanted to knit Jason this sweater, but even as the weather grew cold I just could not bring myself to go back to the Smart Superwash I started with last year. It felt too scratchy to me, and doubling it made for too stiff a fabric. Once I allowed myself to start considering other yarns, the solution was clear: Manos. It's the yarn the pattern calls for, the color selection is awesome, and -- to be honest -- Jason deserves fabulous yarn. Especially for his first hand-knit sweater!
Manos de Uruguay in Pewter (#64)
I dragged Jason to Wild & Woolly in Lexington, MA on New Year's Eve to pick out his color. He walked in, looked at the wall of Manos and almost instantaneously said "That one." Ah, to be a guy and decisive about garment colors.
Now I know that people in the Boston area -- including me! -- have mixed feelings about Wild & Woolly, but I went there because I knew they had a particularly wide selection of Manos. (And there is a limit to number of stores I can drag Jason to in one day.) They didn't have enough of the color he picked, so I ordered it. This is when I learned the real advantage to getting Manos at W&W: the Manos distributor is in Lexington, so I got a call the next day that my yarn was already in! Hurrah!
It's a super-skein! An uber-hank!
Has anybody ever received their Manos like this? It's 10 skeins, lashed together with three pieces of yarn. I wish I'd put something in that picture for scale, because it's an enormity of yarn. I was actually a little sad to take skeins out to start knitting. (A very little. It is Manos after all.) My only complaints? It catches and splits very occasionally on my needles, and the thick-and-thin took a bit of getting used to. But the color variation and general squooshiness of the yarn more than makes up for it. Yum.
Oh, and one more thing! Alison made me out to be some kind of knitting over-achiever, having arrived with four inches of work before she even started. What she graciously did not mention, however, is that on that very same night (after a long conversation on what "lightly blocked" means) I re-measured my work both with a measuring tape and around Jason's waist only to find that I had no choice but to rip it all out and start again with smaller needles (9s this time). I've done that, and am on the right track now gauge-wise... but I'm sure I've got some catching up to do!
*With My Own Hands
Posted by shannon at 12:04 PM | Comments (7) | For related posts: For Jason, Zippy
January 5, 2006
Christmas 2005: My One and Only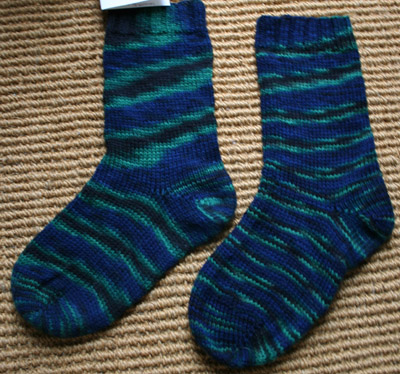 Isn't the variation between hanks amazing?
These socks were the one and only handknit gift I gave on Christmas Day. They're for Jason, made in Lorna's Laces Shepherd Sport in the Black Watch colorway. Black Watch plaid* has a special place in our family's Christmas tradition. Many years ago, my mother gave the family Black Watch plaid flannel pajamas as Christmas Eve gifts -- naturally, we all wore them that very night. Ever since, everybody wears their Black Watch flannel pjs for Christmas morning.
Jason and I were already engaged last Christmas, so my mother bestowed upon him his very own pair of Black Watch flannel pajama bottoms. Since this was his first Christmas as an official member of the family, I wanted to add something else. I managed to knit these socks without him knowing (thanks to the Knitsmiths, my office's cafeteria, and an unusually long hair appointment the day before we left town for Christmas!), so he was really surprised.
Unfortunately, they turned out a bit big so they are currently being reworked. No matter. I've got a year before it's Black Watch time again!
*Here I shall digress. My family is Scottish and I spent a semester there in college, so I've accumulated some general knowledge about tartans and clans and the like. While I was knitting these socks at Knitsmiths, lots of people were curious about the term Black Watch and the more I explained the more questions they asked. So here's my general primer on the Black Watch and its plaid (tartan).

The traditional blue, green and black tartan of the Black Watch.

The last great Scottish revolt against England was in 1745. After the Scots were defeated, the English took steps to pacify the wild Scottish Highlands, where both tartans and rebellion were most prevelant. Highlanders were forbidden to bear arms or to wear tartans or kilts, though Scottish military units loyal to the crown were exempt from these laws. The Black Watch was just such a force; made up of local clansmen to police the Highlands on behalf of the British. A popular theory claims that the regimental name comes from the darkness of its tartan, but nobody's really sure.

It wasn't a good time to be a Scottish Highlander -- "pacification" efforts by the British were brutal and many were pushed off their land. It's a bit ironic that Black Watch plaid is so popular among Americans (LL Bean, Lands End), some of whom are Americans only because their Scottish ancestors fled the brutal repression and starvation of the post-1745 Highlands for the New World. (Not to mention that the Black Watch fought on the "wrong" side in the American Revolution!) In any event, I'd bet it's the easiest tartan to find these days -- certainly easier to find than my own family tartan (seen here as a part of our wedding decorations). And today's Black Watch, now formally known as the 3rd Battalion of The Royal Regiment of Scotland, is very different from its 18th century ancestor. It has distinguished itself fighting in both World Wars and keeping the peace in places like the Balkans. From what I can tell, they are currently either back in the UK or doing a six-month tour with the UN peacekeepers in Cyprus after two tours in Iraq. And that's the current state of my knowledge on the Black Watch!
Posted by shannon at 1:33 PM | Comments (1) | For related posts: Christmas Knitting 2005, For Jason, Socks
April 18, 2005
Hello, Good-bye
Even though I fear that saying so will instantly bring on a freak April blizzard, I can no longer restrain myself: spring has arrived in Boston. Mercifully, gloriously, FINALLY -- we have survived another winter!
Past springs have seen increased activity here at Casa Gringa, and I'm hoping that I can get back in the swing of things this year as well. Let me start by introducing you to two projects I've been working on without bothering to blog about.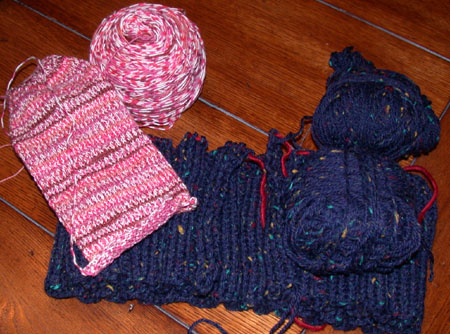 Pinky Socks: When I finally decided that I can want to make the socks after all, I immediately became enamored of self-patterning socks. After I finished these little numbers, I started surfing around for new options. I stumbled upon Sweet Georgia's gorgeous pink, red, and orange-y socks and had to have them, stat. It took some sleuthing, but I finally found the yarn: it's Regia Jubilee 4-ply and the colorway is India. (It's hard to find -- the place I bought it no longer carries the colorway!) And Georgia wasn't kidding about being able to make at least three socks from a skein; I'm planning to make a matching pair for a baby or toddler with my extra.
Jason's Zip-Up Raglan: During the Wild & Woolly sale in January, I picked up a big bag of Smart Superwash in Navy Tweed. I didn't have a particular pattern in mind, but I did know that it would be a sweater and that it would be for Jason. It turns out that if you knit two strands of Smart together on US10s, you get the exact gauge called for in Men's Zip-Up Raglan in Last Minute Knitted Gifts. Zip-up sweaters are Jason's favorite kind, so it was a perfect match.
So now that I've introduced you to those two lovely projects, I'm taking them away. Yep, just like that. These woolly, heavy, cold-weather projects are going on the back burner while I enjoy spring and summer. Bring on the cotton!
Posted by shannon at 1:46 PM | Comments (1) | For related posts: For Jason, For Me!, Socks, Zippy
March 2, 2005
Y lo que es bueno es doblemente bueno...*
I know, it's been over two weeks since Valentine's Day and here I am posting about it. But after two crazy weeks at work, I've finally found a moment to show you this: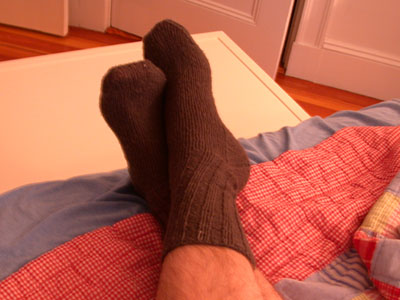 Jason enjoying his Valentine socks
Now do you understand why I couldn't tell you who the Morehouse Merino socks were for?
The socks aren't really meant for wearing outside the house, the merino is so soft and lightly plied that without reinforcement those heels wouldn't survive a day in shoes! But he wears them to bed every night, and seems to genuinely love them. Good thing, since now that he's making an honest woman out of me, the curse has expired and I'm free to knit for him at will. Yee-haw!

*From Pablo Neruda's Oda a los calcetines ("Ode to My Socks"), the last bit of which reads:

Y es esta la moral de mi Oda:
Dos veces es belleza la belleza,
y lo que es bueno es doblemente bueno,
cuando se trata de dos calcetines
de lana en el invierno.

So this is the moral of my tribute:
Beauty is beauty twice over,
and good things are doubly good,
when you're talking about a pair
of wool socks in winter.
Posted by shannon at 3:00 PM | Comments (3) | For related posts: For Jason, Socks
January 28, 2005
Socks? What Socks?
My general perspective on socks is the same as Alison's: I can't want to make the socks.
I had tried numerous times to overcome this prejudice, but all previous attempts left me with nothing more than half a sock. I'd grow tired of the fiddliness, get bored with the slow progress and cast it aside in favor of something, well, less annoying.
How, then, did this happen?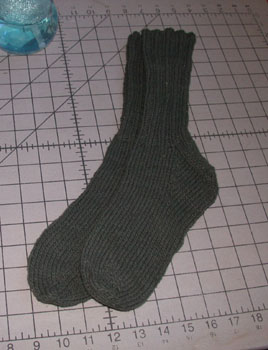 Who are they for? I'll never tell.
I don't know if it was the pattern (Ann Norling's Adult Basic Sock), the yarn (Morehouse Merino 3-strand), or the needle size (6) but I managed to get through two whole socks this time. And it wasn't that bad!
Don't get me wrong, I'm not saying that all of a sudden I can want to make the socks. But after this turn of events, who knows?
Posted by shannon at 8:03 AM | Comments (5) | For related posts: For Jason, Socks
February 3, 2003
Jason's Matching Hat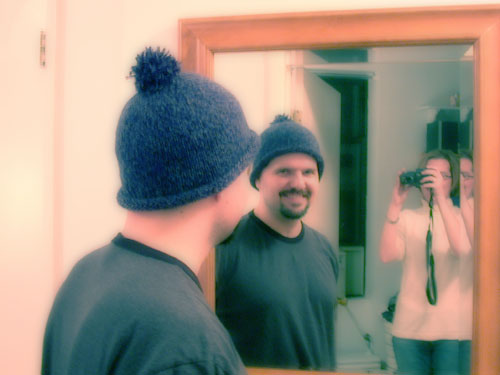 When my mother taught me to knit last May, she provided me with the yarn and needles from a LYS in my hometown. The very first thing that I made with that yarn -- a soft wool acrylic blend of black, blue and white -- and #10 needles was a scarf for Jason.
Part of my Christmas knitting haul was the yarn and supplies that my mother bought for me using money from my grandmother. She didn't want to chance a guess on what yarn and tools I needed, so a few days after Christmas we went to that same LYS and she turned me loose.
Almost as we were leaving my mother and I asked the woman who owns the shop if she remembered the yarn my mother bought for me in May, and if she still had any. After some thinking, and then some searching in the back of the store, she found it.
I bought a few skeins for two reasons -- first, I'm pretty sure that first scarf is going to require some repair and/or patching at some point in the future. You see, when I first started knitting I didn't know about changing skeins at the end of a row (so I changed in the middle), or weaving in ends (so I just tied knots and cut the ends off). Second, I wanted to make Jason a matching hat for his scarf.
It's a simple roll-brim hat knitted on the round with a pom-pom (obviously). I finished most of it while traveling back and forth to Delaware and Washington over my break. Normally, I'm absolutely terrible at keeping secrets, but I managed on this one. Though this picture isn't of the moment of surprise, I think you can still tell he likes it. :)
(In fact, he likes it so much that he did the retouching on the above picture for me!)
Posted by shannon at 12:09 AM | Comments (2) | For related posts: For Jason, Miscellaneous Small Projects