« All done! | Main | Blockhead »
July 23, 2003
Close-up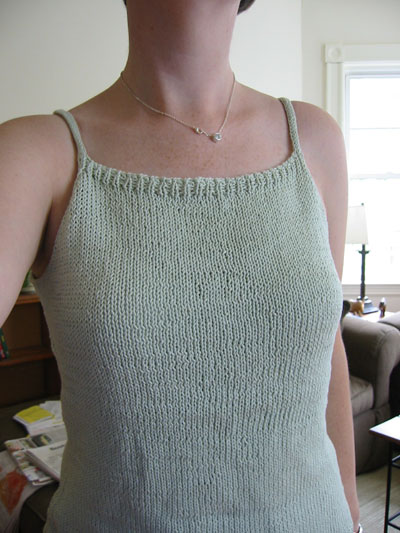 Ta-da! Here's a close-up of the ChicKami. I love it so much that I might be able to forget how boring it got toward the middle, and make another.
Posted by shannon at July 23, 2003 1:39 PM | For related posts: ChicKami
Comments
the Kami looks great. I'm almost up to separating for front and back. cant wait to finish!!!
Posted by: deb at July 23, 2003 5:47 PM
That looks great! I love the color on you. :)
Posted by: Alaina at July 23, 2003 11:46 PM
Shannon, Did you change the pattern in any way? I love how the neckline looks on your Kami--it looks higher than other versions I've seen. More my style! :)
Posted by: Sharlene at July 24, 2003 10:56 AM
congrats on the kami! great job!
yeah, it does get kinda boring in the middle, but this is the opportunity to develop your 'knitting without looking at it' skills.
usually when i have large areas of stockinette stitch, i read or watch tv while knitting.
the piece in question comes with me to work (for lunchtime knitting) or to the movies as well.
i worked on the sitcom chic cardigan while watching Matrix: Reloaded.
guy sitting behind me: is she knitting???
girl sitting next to him: ohmygod!
me to myself: tee-hee!
: )
Posted by: tllgrrl at July 24, 2003 11:16 AM
Your Kami does indeed look 'Chic' :¬) the colour looks wonderful against your skin tone. I'm zipping along with mine too.
Posted by: Lydia at July 25, 2003 7:39 AM
It really does look spectacular on you. It makes me want to sort through my cotton glace stash and make another one!
Posted by: alison at July 27, 2003 8:34 AM
Perfect! Wise decision on changing the length of the straps. Fabulous.
Posted by: Marie at July 28, 2003 1:44 PM