« Yaaaaaaaaaaaarn | Main | Nicer with Two »
August 11, 2003
Berries!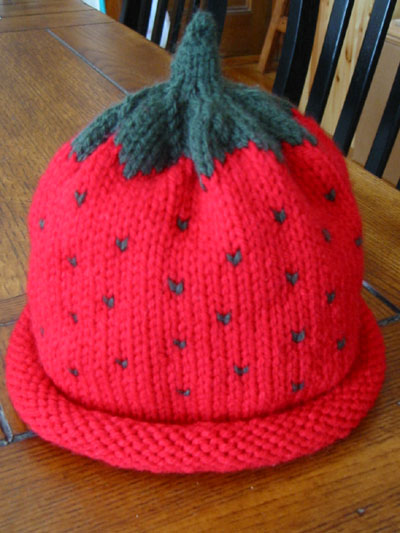 When at the Yarn Barn in San Antonio last March, I broke down and bought the pattern for Ann Norling's berry caps. I didn't do anything with them right away, but I recently found myself without a major project so I decided to try one.
I did most of it during the KnitSmiths yesterday, and finished it last night. Now I'm on to a blueberry!
Posted by shannon at August 11, 2003 12:22 PM | For related posts: Baby Hats
Comments
So cute! Wish I'd been able to witness it's creation yesterday, I'll be there next Sunday though, and possibly with new recruits! Thanks for sharing :)
Posted by: Amber at August 11, 2003 12:59 PM
That was fast!! Great job. You should open a fruit stand. :)
Posted by: Kerstin at August 11, 2003 1:13 PM
Knit-picking berries? Yeah... It's the season! Love the strawberry. Can't wait to see the blueberry! What else do you have in your fruit bowl coming up? Any banana hat?
Posted by: Marie at August 12, 2003 10:25 AM
Looks great! Blueberry... yum.
Posted by: alison at August 12, 2003 1:54 PM
Oooh... That is so bloody cute. I need to knit one of those fruity hats for my friend's baby.
Take Care.
Posted by: Michelle C at August 12, 2003 7:11 PM