November 19, 2008
Hey, I Knit Something!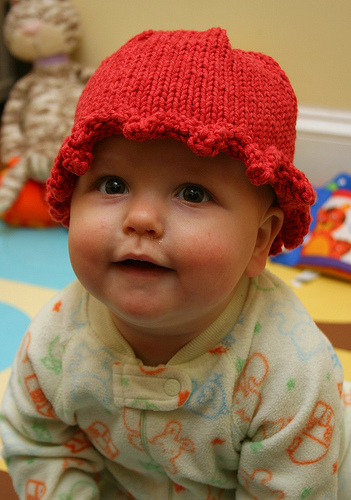 Nobody's more surprised than me, but I started and finished an entire knit object last week. The arrival of cold weather meant Annabelle was wearing the knit hats friends had knit for her quite a bit, and I was fielding a lot of "did you knit that?" questions. I just couldn't stand saying "nope!" all the time, so I went looking for a cute hat pattern. I settled on the Lilly Hat (Ravelry link) and used leftovers from my Very Necessary Sweater.
I made it a bit longer than the pattern calls for so it would cover her ears a bit. I actually think I went a bit overboard on the length, but I'm trying not to over-focus on the imperfections. The pleasure I get from answering the "did you knit that?" in the affirmative makes it much easier -- as does the extremely high cute quotient of the model!
Posted by shannon at 10:20 AM | Comments (4) | For related posts: Baby Hats, Cheezit
November 16, 2003
Hail to the Redskins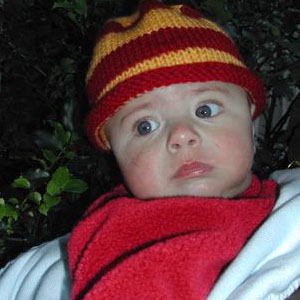 Long-time readers of La Gringa Tejedora may remember that I made Jason's brother-in-law a Redskins hat last Christmas. When I learned that his wife (Jason's sister) was preggers, I made a baby hat to match even though Henry was seven months from his arrival. In the frenzy of other things I've made him since then, I had almost forgotten about this little cap until Jason's mom sent us this picture!
Hopefully, it's not the hat that's making him look so distressed!
Posted by shannon at 12:16 PM | Comments (2) | For related posts: Baby Hats
September 21, 2003
Boo-berry!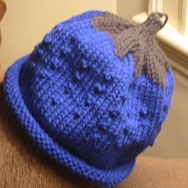 Since making a strawberry hat when I found myself without anything major on the needles worked so well last time, I did it again last week. This time, blueberry! I'll likely give this one to Jason's nephew Henry.
Posted by shannon at 10:01 PM | Comments (3) | For related posts: Baby Hats
August 11, 2003
Berries!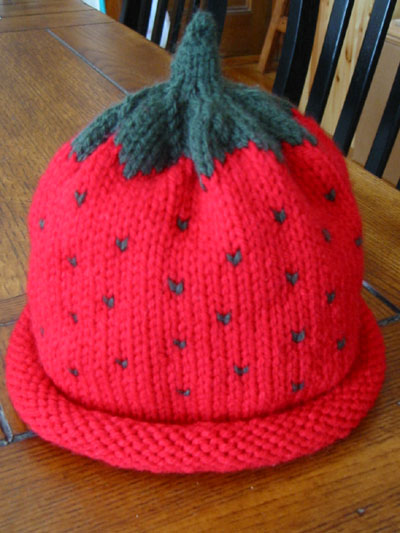 When at the Yarn Barn in San Antonio last March, I broke down and bought the pattern for Ann Norling's berry caps. I didn't do anything with them right away, but I recently found myself without a major project so I decided to try one.
I did most of it during the KnitSmiths yesterday, and finished it last night. Now I'm on to a blueberry!
Posted by shannon at 12:22 PM | Comments (5) | For related posts: Baby Hats
January 9, 2003
Hats, Revisited


I posted about both of these hats when I finished them, but for obvious reasons I just had to post these pictures as well.
The hat on the left didn't stay around long -- not 2 hours after this picture was taken, the hat was misplaced during the shuffling that went along with a picture-taking extravaganza at the Christmas Tree at Rockefeller Center. There was no harm done, though... I still had more of the yarn, the pattern is super easy and I was able to quickly churn out a new one
I am told the the Christmas Tree Hat (on the right) was a big hit for the holidays. I credit the model.
Posted by shannon at 12:33 AM | For related posts: Baby Hats
December 8, 2002
No peeking!
My most recently completed project is in the "more" section...
Ñaña: No te vayas a la sección de "more" hasta que me visites en la Gran Manzana, si? No seas malita! Si?

It's for the Cutest Baby Ever, of course. Pattern by Debby Ware, as featured in her book Too Cute!.
Posted by shannon at 10:00 PM | Comments (2) | For related posts: Baby Hats
November 24, 2002
Perfect in Pink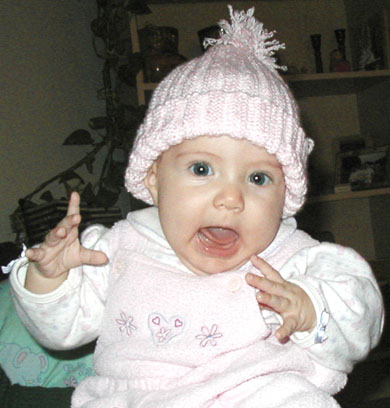 This is a project that I finished ages ago -- I didn't take a picture of it before I sent it off so I never mentioned it here. I used this pattern*, and a pretty pink yarn.
Most importantly, this is a picture of the oft-mentioned Bulis (a.k.a., the Cutest Baby Ever), who is making her first photographic appearance here in gringa-land. Being this far away from her for this long makes my heart hurt.
*This link wasn't working tonight, so I went to the cached version, and copied the pattern into the "more" section of this post.
Tea Cozy Hat
A Free pattern from The Knitting Fairy
Sizes: preemie (newborn, 6 months, 1 year)
Materials:
150 yards (150 yards, 300 yards, 300 yards) sport weight yarn
US #5 needle
Tapestry needle
Gauge:
6 sts = 1 inch on #5 needles
Hat:
CO 36 (42,48,54) sts LOOSELY, leaving a 12 inch tail
Row 1: Knit
Row 2: Purl
Row 3: Knit
Repeat rows 1-3 until piece measures 11 (14,16,18) inches slightly stretched.
Bind off loosely.
Whip stitch cast on and bind off edges together.
Thread tail onto tapestry needle and gather top tightly and secure tail.
Weave in ends.
Add a pom-pom or other topper to really make your hat unique!
We at the Knitting Fairy hope you have enjoyed working with this free pattern. You are welcome to copy and distribute it to your friends so long as this copyright notice remains attached.
Copyright 2000, The Knitting Fairy.
The Knitting Fairy / JTI
P.O. Box 540279
Grand Prairie, Tx 75054-0279
www.knittingfairy.com
Posted by shannon at 10:10 PM | Comments (1) | For related posts: Baby Hats, For Juli
November 12, 2002
Christmas is Coming!
Things are going to be a little slower around here since I'm knitting a lot of things right now for people who read my site, and might stumble into their Christmas presents! I do want to record one thing for myself, though...
In order to make a newborn Roll Brim Baby hat on a #6 circular needle with worsted weight yarn, use this pattern:
Cast on 56 stitches, and join.
K all stitches, all rows.
When the work measures 4.5 - 5 inches (with brim unrolled), move work to double-pointed needles and begin decreasing:
K6, K2TOG, repeat around
K5, K2TOG, repeat around
K4, K2TOG, repeat around
K3, K2TOG, repeat around
K2, K2TOG, repeat around
K1, K2TOG, repeat around
K2TOG, repeat around
You will have 7 stitches remaining. Continue knitting until this "tail" is long enough to tie into the top-knot. Bind off, and weave in ends.
Posted by shannon at 11:46 PM | For related posts: Baby Hats
October 31, 2002
Baby Hats!

Today I finished my third baby hat using this easy, no-fuss pattern.
I used #6 circular needles until it was time to decrease, and then I used double-pointed needles. I think this yarn is so dang kicky, and a bargain too! It's Red Heart Super Saver Multicolor, and the color is Mexicana.
One of the hats is for my cousin Tiffanie's new baby (he'll have to grow into it!) and the other is for Ñaña's Bulis, of course.
Posted by shannon at 12:09 AM | For related posts: Baby Hats