« El Mango Negro! | Main | Photographic Evidence »
August 18, 2003
ChicKami for Mom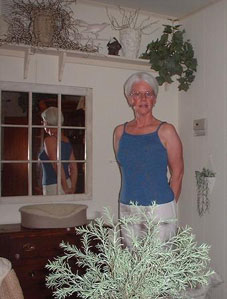 My mom is so cute. She sent me this picture of her in the ChicKami that I made her since I didn't have time to take a picture of her before she left town two weekends ago.
I was sure that I was finished with making ChicKami, but yesterday at the KnitSmiths, somebody (I think it was Amber?) mentioned the idea of a ChicKami with some cables. Hmmm.
Posted by shannon at August 18, 2003 2:33 PM | For related posts: ChicKami
Comments
Isn't she attractive in her new tank! Maybe some KnitSmiths had seen Rachael's cabled Kami at http://myglasshouse.typepad.com/. All you gals have inspired me to hop on the CK bandwagon here at the end o'season, so I got the pattern from Bonne Marie today.
Posted by: Maggi at August 18, 2003 3:36 PM
Yes, I just saw Rachael's cabled-cami today. It is awesome. A must make.
Your mom looks great! My mom (at least part of her) will be making an appearance in my blog in a couple of days.
Posted by: alison at August 18, 2003 5:14 PM
Yeees, that would have been me, after seeing http://myglasshouse.typepad.com/ and the purty cable cami. Your mom is so cute! (and in excellent shape, go her!) The cami looks great on her too! (go you!) See you Sunday ;)
Posted by: Amber at August 20, 2003 11:25 AM
Beautiful ChicKami and beautiful Mom!
Posted by: Kerstin at August 20, 2003 2:48 PM