« Knitting for Sanity | Main | Farewell, Francine »
August 29, 2003
Secret Project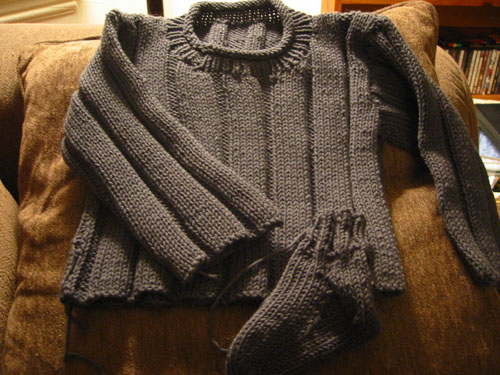 So this is what I've been hiding from you. Last week, Alison and I went to the far-away yarn shop and I (desperate for a project amidst my stress), picked up this pattern. I figured it was a good pattern to have around, and I decided that I would make it for Jason's nephew Henry and that it would be this year's first Christmas project.
I used Debbie Bliss' wool cotton in Ultramarine, and when the sweater was done I had some yarn left... so, I started my first-ever sock! I used this pattern (changed it a bit, of course) and it was pretty straight-forward. It turned out a bit big, but I'm hoping that Henry can wear them as "shoes" over smaller socks this winter.
I'm off to knit that lonely sock's partner!
Posted by shannon at August 29, 2003 11:36 PM | For related posts: For Henry, Miscellaneous Small Projects
Comments
Very cute, and I love the color! Henry's going to be adorable in his little set.
Posted by: alison at August 30, 2003 8:04 AM
I really love this little sweater, Shannon. I'm sure Henry will, too. :) Great job!
Posted by: Kerstin at September 1, 2003 6:33 AM