« Farewell, Francine | Main | First Time for Everything! »
September 1, 2003
Size (and Color!) Matters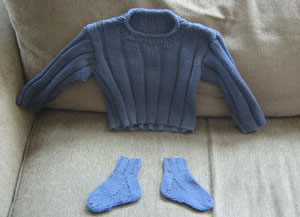 After being told that previous pictures didn't do justice to the sweater's size and color, I'm trying again! Remember how I started these socks because I had extra yarn? Well, turns out that I didn't have quite enough to finish the tippy-toe of the second sock (of course). I ended up buying another ball of yarn to finish it. I couldn't just let that first sock be lonely!
Posted by shannon at September 1, 2003 10:35 PM | For related posts: For Henry, Miscellaneous Small Projects
Comments
Shhhhhh, don't tell Henry size matters. We wouldn't want him gettin' any complexes in infancy. :) The sweater is FAB, no matter what color it truly is. Why did I think it was navy???
Posted by: Kerstin at September 2, 2003 9:11 PM
Hey! NOW I can see the real size of the sweater! :) Of course, seeing it in person made it clear as a bell to me! haha! I think you should make your boyfriend one too! It's a great sweater, no matter what size it's in.
Sandy
Posted by: Sandy at September 4, 2003 7:08 PM
did you get that adorable soft, cuddly chemo cap done? and did you get to sleep at all??
:)
Posted by: Sandy at September 9, 2003 9:12 PM