« An Embarassment of Riches | Main | At Long Last... »
October 1, 2003
The Goose is Getting Fat!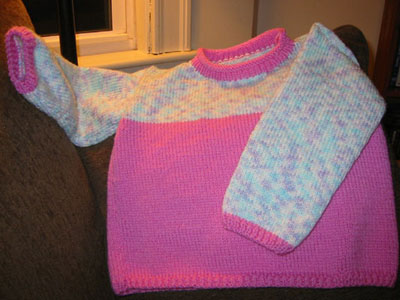 My eyeballs bled from the screaming pink, and my wrists and fingers ached from the tiny stitches... but it's done. And cute, I think.
There are, of course, a few imperfections. When I went to seam the shoulders, the back sections were wider than the front sections. (I'm talking only about the parts of the front and back that you seam together from the top of the armhole to the neckline; the front and back were exactly the same width below the armhole decreases.)
In my zeal to finish this sweater, and characteristically incapable of exercising any restraint whatsoever, I opted to wing it. As I mentioned before, I altered the pattern a bit -- I added stitches on width-wise to make up for knitting the whole thing in stockinette stitch rather than the K6P3 ribbing that the pattern calls for. I'm not sure how, but I think my on-the-fly calculations were factor in my seaming problems. :)
Anyway, I think I managed to hide the uneven-ness pretty well, but I'm annoyed that you can see the seaming if you're looking down on the shoulders (which many people will be doing, since this is a sweater for a toddler!). Any suggestions for invisible seaming? (The three-needle bindoff, while I love it, wasn't an option here because of the pattern.)
Posted by shannon at October 1, 2003 2:43 PM | For related posts: For Juli, Miscellaneous Small Projects
Comments
It's soooo cute! I love how you added the contrasting color at the neck and wrists. Adorable!
Not sure what seaming problems you had exactly. Everything looks awesome in the picture. Did you weave the stitches together from the right side? Was it the extra stitches that made things more visible? I'm sure it looks great. And when anyone looks down at the cutest baby in the world, they're not going to be looking at your seams anyway!
Posted by: alison at October 1, 2003 5:58 PM
It's adorable! Love the pink. :)
Posted by: Kerstin at October 7, 2003 10:53 AM