October 28, 2005
Flower Girls
For the last few months, I've had "A bouquet of flowers for some special people" in the Projects in Progress list on the right hand side of this page. The vagueness was intentional, I was knitting the flower washcloths for my bridesmaids -- some of whom read this site on occasion!
Instead of getting the girls one big gift, I spent the last year or so picking up little things here and there for each of them. They did so much for me that I loved doing something little for them, and it turned out to be a tried-and-true stress reliever. (Everybody wins!) An on-call notebook for Lauren, a votive candleholder that Jillay had been coveting, a new pop-up brush for Ņaņa, and so on. To each girl's washcloth I also added a matching scented soap. I remember laying them all out in my parents' basement the night before I gave them away, and loving the way the colors looked. Yet, despite the fact that I had been reminding myself to do it for about three months before the wedding, I forgot to take a picture of them. Oh, the humanity.
So you'll just have to take my word for it: they were very pretty all laid out and ready to be given away. And since I can't show you the girls' flowers, I'll show you the flower girl (wearing her capelet!) instead: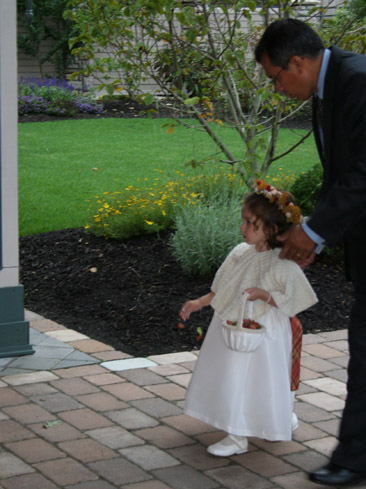 Juli was escorted to the beginning of the aisle by her daddy*.
You've never seen a flower girl carry out her duties with such dramatic
flourish and showmanship as did ours. Brava!
*Juli's Daddy is Tony, the recipient of the paisano gloves. As predicted, he was a hero the whole weekend!
Posted by shannon at 4:53 PM | Comments (3) | For related posts: For Juli, Nuptial Knitting
August 29, 2005
Capelet! Capelet! The word has lost all meaning!*
Since our wedding is outside in early fall, I decided a few months back that I wanted to make a capelet for Juli the Flower Girl . When my mom and I visited the Morehouse Merino store in early July, I found that their natural yarn (undyed) matched Juli's dress perfectly, so I snapped up a few skeins.
Next step: find a pattern. I looked through my magazines and books, but didn't find anything that matched the picture in my head. I wanted a capelet -- open in the front, not a pullover (that's a poncho); nothing too long (that's a cape). I tried twice to design something, but it did nothing but reinforce my belief that I am knitter and not a designer. When I found this pattern, I cast on with very low expectations. Why? Because this was the picture that accompanied it: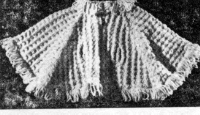 Huh?
Maybe some of you can see details there, but I sure couldn't. All I knew was that the sizing looked to be right for Juli, and by skimming the pattern I could tell that it had the major characteristics I wanted. (Actually, it only sorta did... that's what you get for skimming the pattern!... but I was able to modify it the rest of the way.)
Who would have thought it would turn out this gorgeous?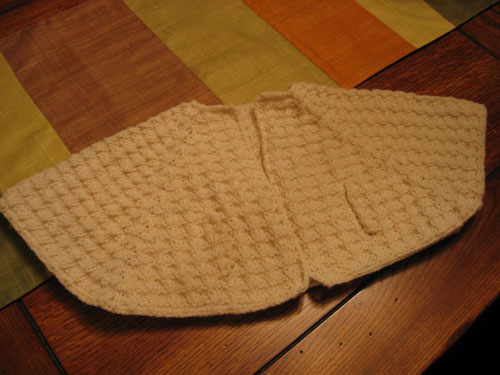 I left off the loopy fringe for cleaner lines. I also think it might have been too much with the mock cables. I'm still somewhat stumped about a closure, though the folks at Knitsmiths gave me some good ideas last night. What do you think?
*Every time I say the world "capelet", Jason exclaims "Capelet! Capelet! The word has lost all meaning!" This is apparently an homage to the episode of Friends when Jon Lovitz's character, totally stoned out of his gourd, says "Tartlets! Tartlets! The word has lost all meaning!"
Pattern: Child's Loop Fringe Cape
Yarn: Morehouse Merino 3-Strand
Needles: 8s
Posted by shannon at 10:09 PM | Comments (4) | For related posts: For Juli, Nuptial Knitting
October 1, 2003
The Goose is Getting Fat!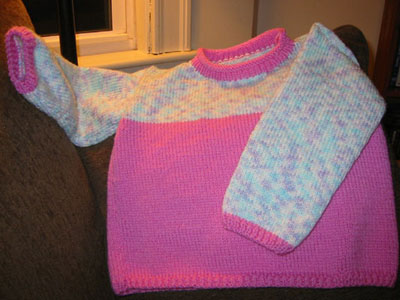 My eyeballs bled from the screaming pink, and my wrists and fingers ached from the tiny stitches... but it's done. And cute, I think.
There are, of course, a few imperfections. When I went to seam the shoulders, the back sections were wider than the front sections. (I'm talking only about the parts of the front and back that you seam together from the top of the armhole to the neckline; the front and back were exactly the same width below the armhole decreases.)
In my zeal to finish this sweater, and characteristically incapable of exercising any restraint whatsoever, I opted to wing it. As I mentioned before, I altered the pattern a bit -- I added stitches on width-wise to make up for knitting the whole thing in stockinette stitch rather than the K6P3 ribbing that the pattern calls for. I'm not sure how, but I think my on-the-fly calculations were factor in my seaming problems. :)
Anyway, I think I managed to hide the uneven-ness pretty well, but I'm annoyed that you can see the seaming if you're looking down on the shoulders (which many people will be doing, since this is a sweater for a toddler!). Any suggestions for invisible seaming? (The three-needle bindoff, while I love it, wasn't an option here because of the pattern.)
Posted by shannon at 2:43 PM | Comments (2) | For related posts: For Juli, Miscellaneous Small Projects
September 21, 2003
SO Pink!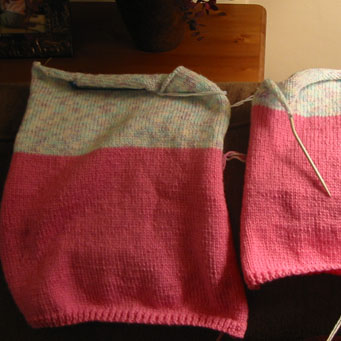 We had a yarn swap last week at the KnitSmiths, and I picked up a bunch of Bebe Lang Superwash in pretty baby colors. I decided to use it to make a Christmas sweater for Bulis, my best friend's baby girl. Well, she'll be 18 months old by Christmas... making her my best friend's toddler I suppose.
Anyway, I'm using a derivation of the Sirdar pattern that I used for Henry's sweater. I've taken out the ribbing, and have added some stitches width-wise to make up for the stretchiness that I've lost by knitting it all in stockingette.
It's going pretty well, I made a small mistake and didn't decrease enough on the armholes but I don't think it will matter. I'm planning to use the pink again for the roll-neck, and perhaps for the ribbing on the sleeve cuffs. This is my first attempt at "designing", we shall see how I fare!
Posted by shannon at 10:37 PM | For related posts: For Juli, Miscellaneous Small Projects
January 6, 2003
All Done!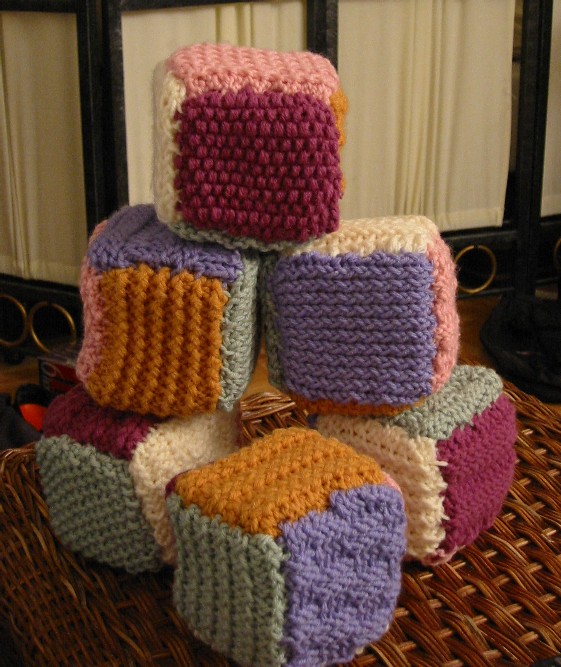 OK, so I decided I would finished them tonight after all. Despite all of my swearing and protestations, I would be lying if I said that I wasn't really, really happy with them. And just in time for my visit to Bulis tomorrow!
Having said that, I don't know if I'll do them again any time soon.
P.S. -- The colors aren't perfectly accurate in this picture. I took another with the flash, but the colors in that one are a little washed out and too-bright. It's somewhere between the two.)
P.P.S. -- Boogie helped.
Posted by shannon at 2:33 AM | Comments (3) | For related posts: For Juli, Juli's Baby Blocks
November 24, 2002
Perfect in Pink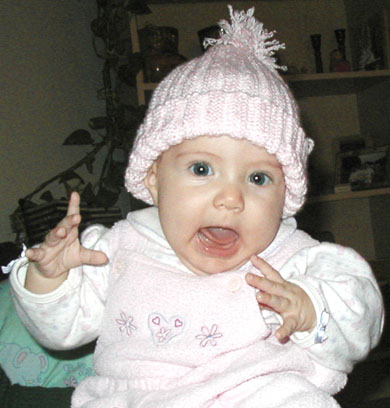 This is a project that I finished ages ago -- I didn't take a picture of it before I sent it off so I never mentioned it here. I used this pattern*, and a pretty pink yarn.
Most importantly, this is a picture of the oft-mentioned Bulis (a.k.a., the Cutest Baby Ever), who is making her first photographic appearance here in gringa-land. Being this far away from her for this long makes my heart hurt.
*This link wasn't working tonight, so I went to the cached version, and copied the pattern into the "more" section of this post.
Tea Cozy Hat
A Free pattern from The Knitting Fairy
Sizes: preemie (newborn, 6 months, 1 year)
Materials:
150 yards (150 yards, 300 yards, 300 yards) sport weight yarn
US #5 needle
Tapestry needle
Gauge:
6 sts = 1 inch on #5 needles
Hat:
CO 36 (42,48,54) sts LOOSELY, leaving a 12 inch tail
Row 1: Knit
Row 2: Purl
Row 3: Knit
Repeat rows 1-3 until piece measures 11 (14,16,18) inches slightly stretched.
Bind off loosely.
Whip stitch cast on and bind off edges together.
Thread tail onto tapestry needle and gather top tightly and secure tail.
Weave in ends.
Add a pom-pom or other topper to really make your hat unique!
We at the Knitting Fairy hope you have enjoyed working with this free pattern. You are welcome to copy and distribute it to your friends so long as this copyright notice remains attached.
Copyright 2000, The Knitting Fairy.
The Knitting Fairy / JTI
P.O. Box 540279
Grand Prairie, Tx 75054-0279
www.knittingfairy.com
Posted by shannon at 10:10 PM | Comments (1) | For related posts: Baby Hats, For Juli