« Update! | Main | Knitting 911! »
October 5, 2003
Crazy Cat Knitting Lady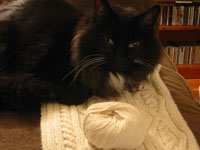 Progress continues on the hoodie sweater. I don't think I mentioned in the last post that when I went to cast on the first piece, I realized that I hadn't copied the first page of the pattern from the book before leaving for New Jersey to visit my parents. Since I was about to get on a train back to Boston (a five hour trip!) with only this project to keep me occupied, rather than start on the back as the pattern calls for I started on one of the front panels. That's what you see Boogie lounging on in the picture above.
Now that I'm back in Boston and have access to the book, I've cast on for the back. Cabling at the KnitSmiths is never a good idea (too much conversation and not enough concentration!), but I did manage to make some progress. More pictures to come as it grows!
Posted by shannon at October 5, 2003 10:28 PM | For related posts: Cable Hoodie
Comments
Oooh, black fur on white cotton - nothing better. (Well, I suppose it could be white velour!) Kitty has great taste.
Posted by: alison at October 6, 2003 2:06 PM
It really is beautiful, Shannon. Love your new look over here as well. Cable on, baby!
Posted by: Kerstin at October 7, 2003 10:52 AM