April 18, 2004
The Half-Year Sweater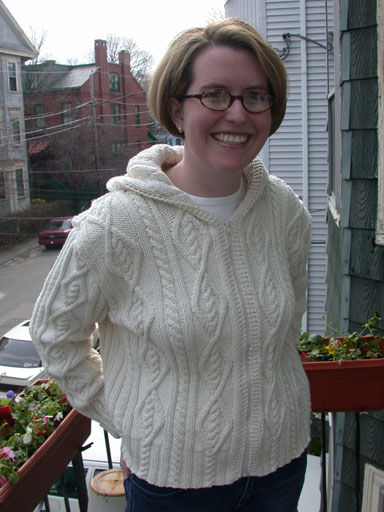 Bet you didn't think I'd ever finish it... I sure didn't! This jacket took much longer than I thought -- the cabling was pretty tedious, so it was easy to put this aside when other projects caught my attention. But I stuck with it, and I'm glad I did.
Here's a picture of the cable pattern which, despite being tedious, is very pretty. Putting in the zipper wasn't so pretty -- it took several frustrating tries before I got it right.
There are a lot of things that I wish were different about this pattern*, but one of the parts I really like is how the pattern continues from the front panel up onto the hood.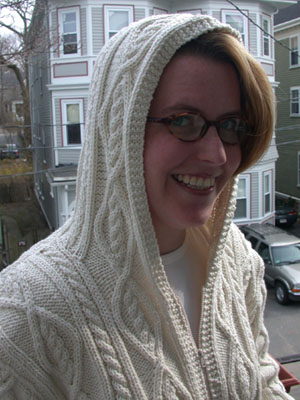 *I'll write them up soon and add them to this entry!
Posted by shannon at 10:13 PM | Comments (8) | For related posts: Cable Hoodie
January 17, 2004
Proof!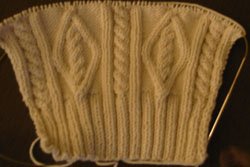 Proof that I really am knitting! I had to rip out part of the left side panel and correct the decreases, but that didn't take as long as I thought it would. Now I'm working on the first sleeve.
I can see the light at the end of the tunnel!
Posted by shannon at 6:15 PM | Comments (2) | For related posts: Cable Hoodie
October 23, 2003
Slow goings...
So, after a blissful week of straight knitting on Cherry Mango, I grew antsy and put it aside in favor of returning to my beloved Cable Hoodie. I'm not sure why I didn't just tough it out and finish Cherry, since all I have left now is the second sleeve and the finishing...
In any event, I am up to the armhole decreases of the left front panel of Hoodie. No picture because, well, it would look just like this, only reversed.
Once I get through this panel, I'll probably go back to Cherry Mango and polish it off before starting Hoodie's sleeves. Then, I'm really going to get started on more Christmas presents. I swear.
Posted by shannon at 12:15 AM | Comments (1) | For related posts: Cable Hoodie
October 14, 2003
Kitty con Cables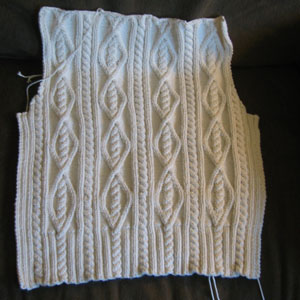 Let me preface this by saying that I'm really pleased with how the cabling is progressing. I think that the final product -- assuming that it fits -- is going to be really nice.
But seriously, the cables. Cables, cables, cables. Cables are no more boring than straight knitting, but they require so much more attention. It's hard to multi-task while cabling -- any attempts to watch TV or carry on a conversation lead to errors, ripping and frustration. I don't mind giving this project the necessary attention, but I've found myself craving mindless knitting.
I made a deal with myself that once I finished the back (pictured above), I could start something new and blissfully mindless. Stay tuned for those pictures soon!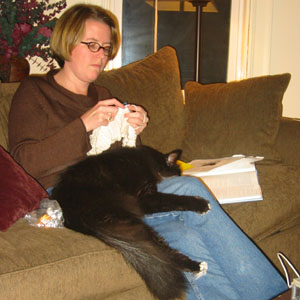 Boogie likes the cables because I sit still for once!
Posted by shannon at 10:25 PM | Comments (7) | For related posts: Cable Hoodie
October 5, 2003
Crazy Cat Knitting Lady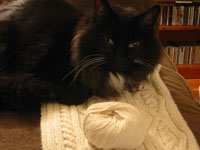 Progress continues on the hoodie sweater. I don't think I mentioned in the last post that when I went to cast on the first piece, I realized that I hadn't copied the first page of the pattern from the book before leaving for New Jersey to visit my parents. Since I was about to get on a train back to Boston (a five hour trip!) with only this project to keep me occupied, rather than start on the back as the pattern calls for I started on one of the front panels. That's what you see Boogie lounging on in the picture above.
Now that I'm back in Boston and have access to the book, I've cast on for the back. Cabling at the KnitSmiths is never a good idea (too much conversation and not enough concentration!), but I did manage to make some progress. More pictures to come as it grows!
Posted by shannon at 10:28 PM | Comments (2) | For related posts: Cable Hoodie
October 2, 2003
At Long Last...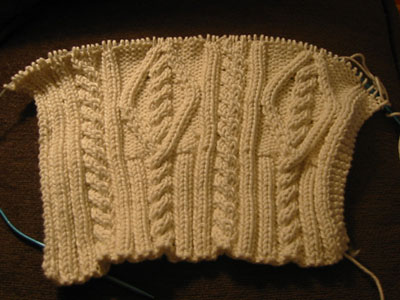 I've been kicking around the idea of making this cable hooded sweater
by Debbie Bliss, but as I mentioned in this entry the yarn was prohibitively expensive.
Johanna, a fellow KnitSmith, tipped me off to a woman who frequently sells Debbie Bliss DK Cotton on Ebay, so I started watching it like a hawk. Sure enough, there was quite a bit of DK Cotton up for bidding, but for weeks and weeks it seemed like every color except cream.
Finally, there it was. I waited to bid until the very last minute and I won -- netting $120 worth of yarn for $42, with a $12 shipping charge to get the goodies from the UK to my greedy little hands.
I was a good girl and waited until the pinky sweater was finished before casting on. I'm glad that I held out for the right yarn. With the onset of chilly weather suddenly upon us here in the Bay State, I'd better get knitting!
Posted by shannon at 11:16 PM | Comments (1) | For related posts: Cable Hoodie