« Kitty con Cables | Main | Slow goings... »
October 18, 2003
Cherry Mango!
As is my custom, I've gone full speed ahead on a project without documenting it very well here. Let me try and get up to speed.
I decided to dedicate some of the yarn that I snapped up at the Knitsmiths yarn swap to make a sweater for my mother for Christmas. My mother is, like me, allergic to wool so the cotton-acrylic blend that I had grabbed was perfect.
At about this time, Alison announced her plans for Sooty Mango and since I'd had such good luck with my Mango Negro I decided to do the same.
Like Alison, I'm adding sleeves and I'm going to try and change the neck as well. (The big turtleneck is pretty cool, but might be just a little bit too much for my oh-so-classy mom.) The current plan is to use the body of Mango, and then add the sleeves and neck from Picking Cherries (a.k.a. "Cherry Boobs", copyright Shannon and Alison Ann and Kay at masondixonknitting.com*), both from the Rowan All Seasons Cotton book.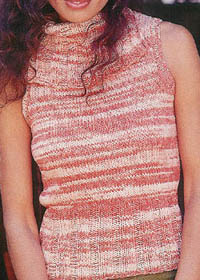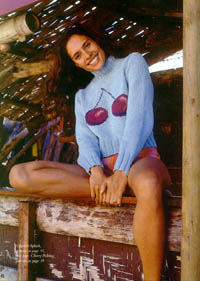 Put them together and you get Cherry Mango!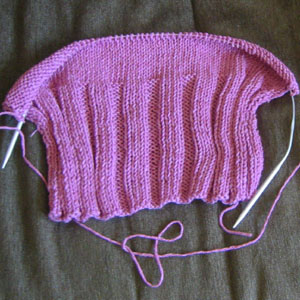 *Ed: In the comments to this post, Alison points out that she got "Cherry Boobs" from Ann and Kay at masondixonknitting.com, and since I probably first heard it from Alison it looks likely that I was a little overzealous in giving us credit for the clever name. :)
Posted by shannon at October 18, 2003 1:51 AM | For related posts: Cherry Mango, For Mom
Comments
Love cherry mango! You've gotten far. I'm way behind, but hey, I'm on vacation, dammit. I gotta give credit and my copyrights to Ann and Kay over at masondixonknitting.com for the Cherry Boobs monniker, though.
Posted by: alison at October 19, 2003 5:48 AM
Picking cherries, feh, what an awful name for a sweater with that kind of fruit placement! Though the Cherries are done rather well... I'm sure your mother will love the sweater! :)
Posted by: Amber at October 20, 2003 1:32 PM