January 4, 2004
Pictures!
This weekend, Jason and I went to his sister's house in Dutchess County, NY to meet up with his family and throw his Dad a big ol' surprise party for his 60th birthday. My parents came up from New Jersey for the festivities, and they both wore their Christmas sweaters! And I remembered to take pictures this time!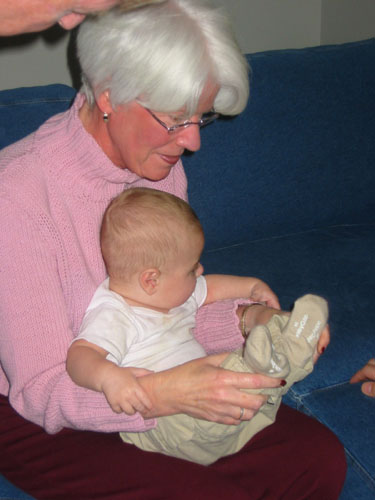 Mom in her Cherry Mango sweater with Jason's nephew Henry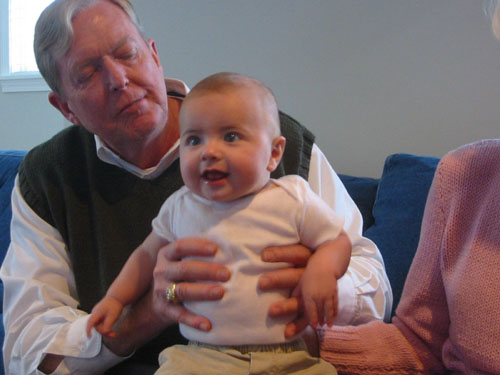 Dad in his Strike Vest, also with Jason's nephew Henry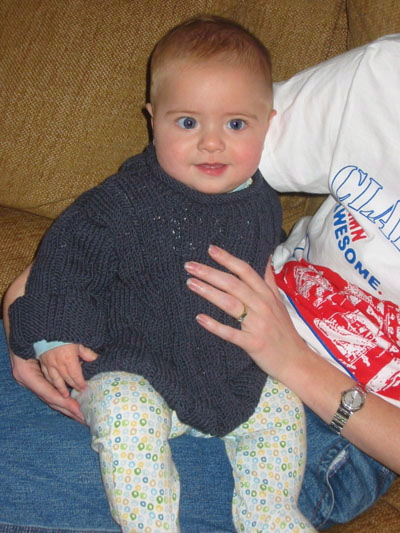 Baby Henry in his Christmas sweater, finished after the New Year -- yikes!*.
*You might remember that I had finished this sweater in plenty of time for Christmas, but after seeing Henry in early December I realized it was way too small and needed to be totally re-knit. I didn't have time to wash the yarn before re-knitting, so the sweater desperately needs to be blocked. I finished the sweater late last night, so I didn't have time to block it before we left but Jason's sister promised she would do it! Also, I made it big on purpose so that he could wear it for longer. And really, what's cuter than a baby in a sweater with the sleeves rolled up?
Posted by shannon at 7:31 PM | Comments (1) | For related posts: Cherry Mango, For Mom
November 25, 2003
Success!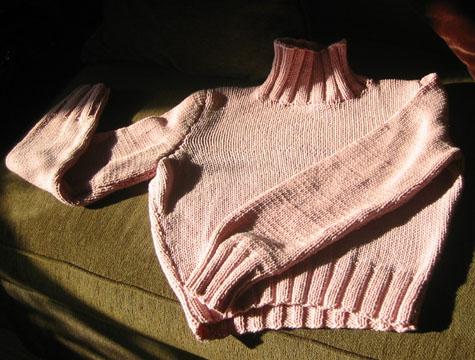 Yippee, Cherry Mango is finally done!
The only little thing that is sort of bothering me is that I made it a little shorter (like, a centimeter!) than the pattern indicated because my mom is really short-waisted. Only problem is that the pattern is for a cropped look. Woops.
With a little luck, my mother's as short as I remember her. If not, Alison will have to teach me how to cut the ribbing so I can add some more on!
Posted by shannon at 9:56 AM | Comments (2) | For related posts: Cherry Mango, For Mom
November 13, 2003
Back on Track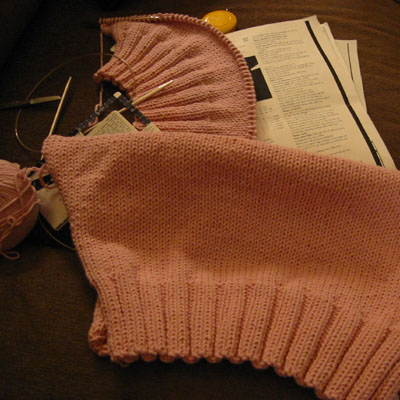 After frogging Cherry Mango, and then totally reworking my plans for this sweater, I'm making progress again. I had a long trip (for work and pleasure) last week, and had hoped to get a lot accomplished en route. I was thwarted by an expectation that I would work on the train ride down (can you imagine?) and then by a pounding headache (possibly the result of a the bachelorette party the night before) on the way home.
I'm trying to make up for it now, and considering joining Alison's Holiday Gift-Along (see right column) to keep me motivated on this (and other) Christmas presents. I'm pretty sure that my tally would be similar to Dava's: 3 of "aaargh!" completed!
Posted by shannon at 1:47 PM | Comments (2) | For related posts: Cherry Mango, For Mom
October 29, 2003
Doubts
While traveling last weekend I finished the second sleeve on Cherry Mango and last night I picked up the stitches around the neck and started knitting the turtleneck. While picking up the stitches, I found myself suddenly plagued by doubts regarding this project.
With good reason, it turns out.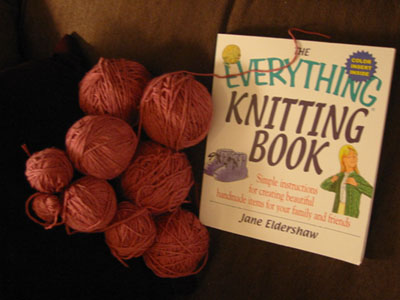 I had been worrying all along about the quality of the yarn I was using -- it was rough to the touch, and the plies separated easily. I knew quickly that the drape was going to be different than the All Seasons Cotton that the pattern(s) call for -- but I just crossed my fingers and kept on knitting.
Tonight, I finished the turtleneck and I tried to slip it over my head -- and I tried, and tried and tried. No luck, the yarn just didn't give enough. I couldn't tell if the problem was with the combination of two patterns or the replacement yarn. Either way, I had no choice but the rip out the whole thing. Grrrr.
Stay tuned for my plans to try these patterns again!
P.S. - The new book was a gift from Jason's mom, who saw it at Barnes and Noble and thought of me. So this weekend wasn't a total knitting loss!
Posted by shannon at 3:10 PM | Comments (4) | For related posts: Cherry Mango, For Mom
October 18, 2003
Cherry Mango!
As is my custom, I've gone full speed ahead on a project without documenting it very well here. Let me try and get up to speed.
I decided to dedicate some of the yarn that I snapped up at the Knitsmiths yarn swap to make a sweater for my mother for Christmas. My mother is, like me, allergic to wool so the cotton-acrylic blend that I had grabbed was perfect.
At about this time, Alison announced her plans for Sooty Mango and since I'd had such good luck with my Mango Negro I decided to do the same.
Like Alison, I'm adding sleeves and I'm going to try and change the neck as well. (The big turtleneck is pretty cool, but might be just a little bit too much for my oh-so-classy mom.) The current plan is to use the body of Mango, and then add the sleeves and neck from Picking Cherries (a.k.a. "Cherry Boobs", copyright Shannon and Alison Ann and Kay at masondixonknitting.com*), both from the Rowan All Seasons Cotton book.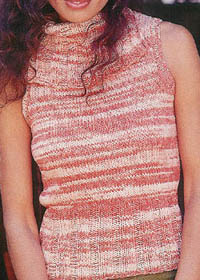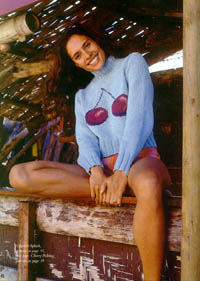 Put them together and you get Cherry Mango!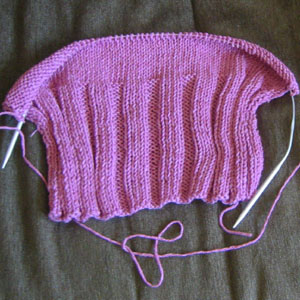 *Ed: In the comments to this post, Alison points out that she got "Cherry Boobs" from Ann and Kay at masondixonknitting.com, and since I probably first heard it from Alison it looks likely that I was a little overzealous in giving us credit for the clever name. :)
Posted by shannon at 1:51 AM | Comments (2) | For related posts: Cherry Mango, For Mom