« ...And All to Goodwill | Main | Success! »
November 20, 2003
At Last, Some Progress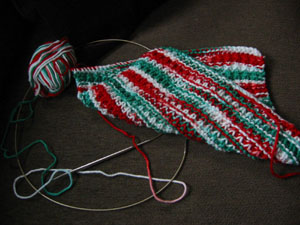 I've been struggling with a few projects and generally not feeling terribly productive on the Holiday Gift-Along, so I decided that a quick project was in order.
Last Christmas, my grandmother sent my mother some money and told her that she should buy me something I would really like. My mother, knowing me well, took me and the money to a yarn store and let me go a little nuts. Part of my haul was six balls of Lion Brand Sugar and Cream in Christmas colors (you can see it toward the top of this photo). It was a few days after Christmas, so I got a great deal.
So far, I'm using it to make Christmas dishcloths for people to whom I'd like to give small gifts. (The dishcloth in the picture is for the elderly woman who rents me my parking space.) I'll make a few more than I need to keep as "reserve gifts" that inevitably crop up. I might also make a baby hat or two, but we'll see. It sure is nice to finish something!
Posted by shannon at November 20, 2003 8:20 AM | For related posts: Miscellaneous Small Projects