« Hello? | Main | Pictures! »
January 1, 2004
Happy Ending
You all remember the many trials and tribulations of the Calmer Cap. I finally finished it, and my mother delivered it to Jillay and snapped this picture: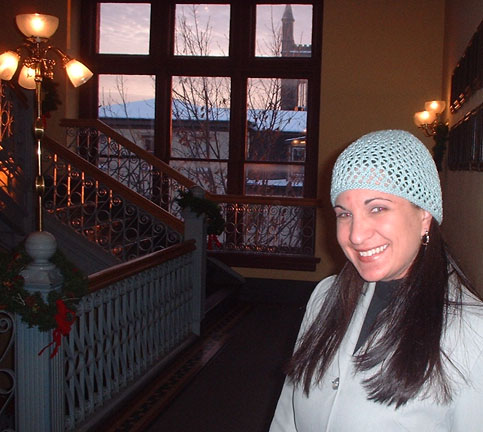 Oh, and this gift exchange and picture-taking took place right after Jillay was CALLED TO THE NEW JERSEY BAR! Woohoo, Jillay -- congratulations, I'm so proud of you!
Posted by shannon at January 1, 2004 10:19 PM | For related posts: Miscellaneous Small Projects
Comments
The calmer cap came out great! How could it not with the number of times you reknit it, right? What a good friend you are!
Posted by: alison at January 2, 2004 8:16 AM
Posted by: jillay at January 9, 2004 9:48 AM