« Happy Ending | Main | Proof! »
January 4, 2004
Pictures!
This weekend, Jason and I went to his sister's house in Dutchess County, NY to meet up with his family and throw his Dad a big ol' surprise party for his 60th birthday. My parents came up from New Jersey for the festivities, and they both wore their Christmas sweaters! And I remembered to take pictures this time!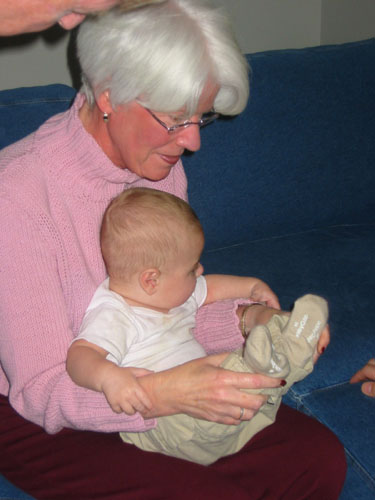 Mom in her Cherry Mango sweater with Jason's nephew Henry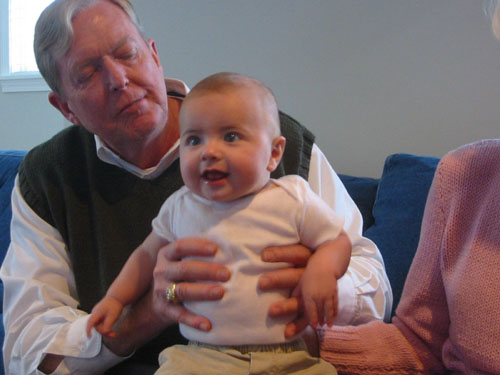 Dad in his Strike Vest, also with Jason's nephew Henry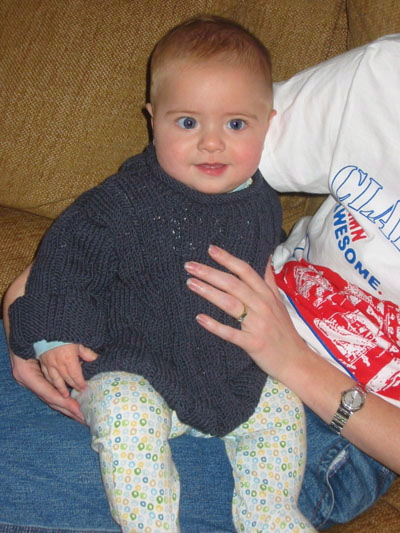 Baby Henry in his Christmas sweater, finished after the New Year -- yikes!*.
*You might remember that I had finished this sweater in plenty of time for Christmas, but after seeing Henry in early December I realized it was way too small and needed to be totally re-knit. I didn't have time to wash the yarn before re-knitting, so the sweater desperately needs to be blocked. I finished the sweater late last night, so I didn't have time to block it before we left but Jason's sister promised she would do it! Also, I made it big on purpose so that he could wear it for longer. And really, what's cuter than a baby in a sweater with the sleeves rolled up?
Posted by shannon at January 4, 2004 7:31 PM | For related posts: Cherry Mango, For Mom
Comments
What great pictures! All the knits look fabulous. You really did an awesome job on them. The pink looks perfect on your mom, your dad's vest is made to fit and Henry has even got some growing room. That little Henry is such a cutie! I love the pic of him in his onesie shirt. Adorable.
Posted by: alison at January 5, 2004 11:36 AM