« Not So Lucky? | Main | Long Story, Little Tank! »
March 2, 2004
Loose Ends
The button saga ends tomorrow! I'm going to Windsor Button after work on the advice of two fellow Knitsmiths. One of them reported an actual shamrock button sighting during her last visit to the store! Could it be true? Have I found the end of the rainbow? All I know for sure is I'll be walking out of that place with the buttons -- shamrock or otherwise -- for the Bulky Baby Bibby. At this rate, the Bulky Bibby will be too small for the Baby if I delay much longer!
You'll recall in my last round-up entry, I displayed a picture of a finished hat for my friend V. My satisfaction was short lived. Despite the fact that it was a ridiculously easy pattern, I'd been struggling with that damn hat for quite a while. For some reason I just couldn't get it right; it was always too big, too small, or too short. I was still unhappy with the hat the "final" time I knit it (too big and too short), but I knew that the yarn just wouldn't hold together for another session of ripping and re-knitting. There was only one thing I could do: I bought new yarn! This time I took my time checking my gague and doing calculations to avoid the problems I'd had previously. I'm so pleased with the way it turned out, and I really enjoyed the yarn. Best part? I'm pretty sure I have enough yarn leftover for another hat! Behold, V.'s new hat!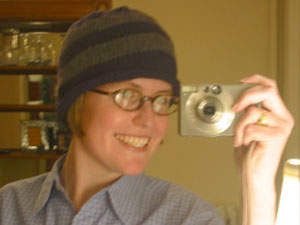 Knit on US7 DPNs with Debbie Bliss Merino Aran in 301 and 206. CO 84 Sts First stripe is 14 rows, all others are seven rows.
Oh, and Henry's fuzzy hat? I forgot to take it to him last weekend on our trip to the Big Apple. Fortunately for him, we're headed back (again!) this weekend.
Stay tuned for the tale of yarn that once was lost, but now is found -- and the new project its finding has enabled!
Posted by shannon at March 2, 2004 11:39 AM | For related posts: Green Bulky Baby Bibby, Miscellaneous Small Projects
Comments
Nice hat, but what happened to the power boat?? ;0) Hee, hee.
Posted by: alison at March 4, 2004 10:42 AM
Very funny! You better hope Jason doesn't see that! ;)
Posted by: shannon at March 4, 2004 11:20 AM