« All Coming Up Roses... | Main | Critters! »
April 7, 2004
Finito!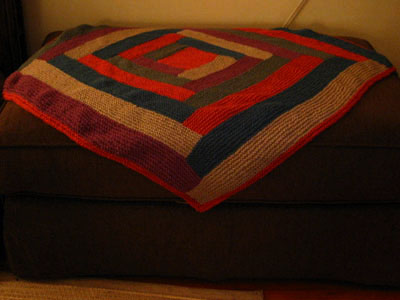 The log-cabin blanket is done (save for weaving in ends), and I'm really happy with the way it turned out. It still doesn't have an intended recipient, so I think I might hang on to it. After all of those stitches, I've grown attached to it! You can see the whole blanket here.
You might remember from this post that Sammie really loved this blanket when I started it. It only got more intense -- you would think that catnip was woven into the strands Mission Falls 1824 Cotton the way the cats carried on. Every time I laid out the blanket, there was quickly a cat on it, under it, next to it....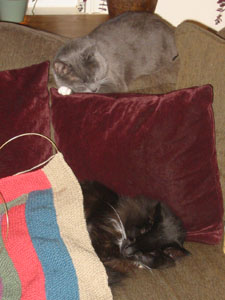 (Note: I apologize that the pictures are so dark -- I'll try to clean them up when I get home. They didn't look this bad on my computer last night! Update: I adjusted the pictures somewhat, and you can see the details a little better, but now the colors are off. Just imagine muted jewel tones as you look at the blanket!)
Final Notes!
Project Name:
Log Cabin Blanket
Pattern Source:
No pattern needed, but tutorial on long cabin knitting found at
Mason Dixon Knitting
Name of Yarn Used:
Mission Falls 1824 Cotton
Amount of Yarn Used:
3 balls Sand (104), 3 balls Coral (201), 2 balls Phlox (405), 3 balls Sea (402) and 2 balls Fennel (301) [I started out with two of each, thinking that I'd need the same amount of each color. Wrong! Remember,
each stripe
requires more yarn than the previous stripe. Also, the center patch burns up a lot of that color's yarn.]
Needles Used:
No. 6 Addi Turbo circulars (the balls band calls for No. 7s but I couldn't find mine and my No. 6 circulars are longer [40"], which is necessary when making a blanket of indeterminate size!)
Other notions used:
n/a
Deviations from the Pattern:
n/a
Other Comments (what I wished I'd known before I started this project):
*Don't forget to do a loose bind-off to avoid the "gathered" effect at the top of every stripe. *I love the colors that I picked, but looking back I sort of wish that I had chosen colors that contrasted each other more. Also, I should remember to try to be more daring next time -- I only chose five colors and I've been using them in the same order. Next time, go crazy! *Next time try a light color as the center square. *When picking up stitches for the next row, be consistent. Pick up stitches between garter ridges when traveling perpendicular to the stripe, and pick up stitches on a one-to-one basis when traveling parallel to a stripe. Be sure to pick up the last stitch as close to the end of the fabric as possible to keep the next stripe from sloping down at the end.
Posted by shannon at April 7, 2004 10:48 AM | For related posts: Log Cabin Blanket
Comments
thats a really pretty blanket.I like the colours you used.Your cats are very pretty too!
Posted by: sue at April 7, 2004 12:35 PM
Looks great! You should definitely keep it. Looks like the perfect thing to keep you warm while you knit!
Posted by: alison at April 7, 2004 3:12 PM
Congratulations on a job well done. That is a very beautiful blanket. It made me think about next Fall! Powerful!
Posted by: Marie at April 8, 2004 9:51 AM
Your blanket is so nice. I need to finish mine now!
Posted by: Lynette at April 8, 2004 9:42 PM
Posted by: Kerstin at April 12, 2004 6:53 AM