« Finito! | Main | An Offering to the Yarn Gods »
April 12, 2004
Critters!

I'm trying to tame (read: "purge") my stash these days. Lucky for me, Wendy and Liz provided the perfect way to use up some remnants -- and help out some four-legged friends at the same time! (It's an especially good outlet for all the acrylic yarn I accumulated when I was learning to knit, since the blankets have to be hardy enough for their new owners and frequent washings.)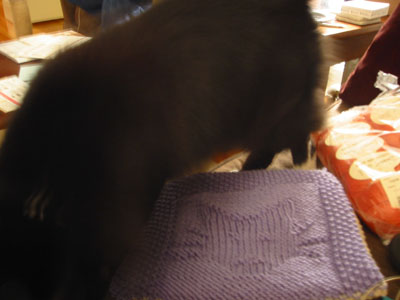 My first Critter blanket, with my own critter trying to steal the limelight. As usual.
I hope to post this pattern for use by fellow Critter Knitters -- I'm just waiting for one small piece of information before I write it up!
Posted by shannon at April 12, 2004 11:17 AM | For related posts: Miscellaneous Small Projects
Comments
Very cute blanket!
Happy pattern writing!
Posted by: Marie at April 13, 2004 8:00 AM