« Goin' to the Chapel... | Main | I'm Relaxed Just Looking at Her »
July 25, 2004
Francisca Bonita
Frustrated by my ability to correctly complete a project in the last few months, I decided to take on something more straightforward. This is Francisca*.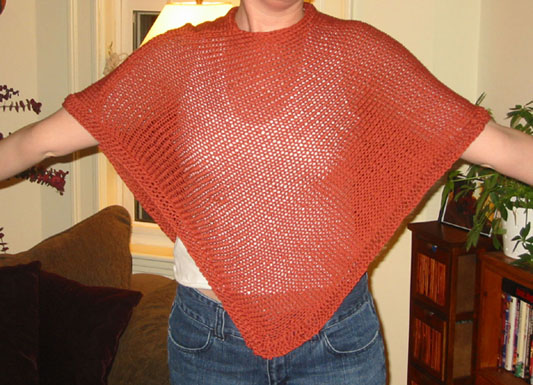 [normal view]
[side view]
The yarn is Reynolds Cabaret in Terra Cotta, which I found on sale (yay!). After mulling it over, I bought five skeins; two for each of the halves of the poncho and one for fringe. I knit two rectangles and sewed them together -- voila, it's a poncho! (As you can see, I ultimately decided against the fringe and went with a garter stitch edging instead. The yarn didn't lend itself to fringe [it frays when cut], and it just seemed too fussy for me.)
Jason and I are going to a wedding on Nantucket next weekend, and I think it will be perfect to throw on when it gets chilly. This was my first poncho, and I can assure you that it won't be my last!
*Why Francisca? Every time I hear the word "poncho" I think of the name Pancho, which is a nickname for Francisco. I thought of naming this project Francisco, but it turned out to be quite feminine so I went with Francisca instead. (Of course that makes her nickname Pancha rather than Pancho, but this process of naming projects is an imperfect art.)
Posted by shannon at July 25, 2004 12:45 AM | For related posts: Miscellaneous Small Projects
Comments
I just love it. By the way, the name of my daughter is Franciska, so I'll make one for her. What a perfect present!
Posted by: Sandra at July 26, 2004 3:09 AM
Wow, it looks awesome on you! I swear that in my two days shopping in NYC, we must have seen about 50 of those lacy ponchos. They couldn't be more in. Yours looks great, especially that color. Woohoo an FO!
Posted by: alison at July 27, 2004 8:55 AM
Sandra -- that sounds like a terrific idea! I don't know how old your daughter is, but there's really, truly nothing cuter than a little girl in a poncho. Alison -- thanks! It's so exciting to have an FO that I *like*. I may knit ponchos exclusively from now on!
Posted by: shannon at July 27, 2004 3:53 PM