September 1, 2004
A Confession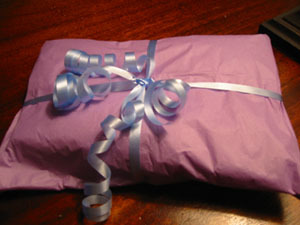 When I posted a little bit ago that I had made a cute sweater for Jason's (wait -- our :) ) niece-to-be, I wasn't telling the whole truth. While I did use that pattern and that yarn to make Rachel a baby sweater, the sweater I posted was actually for Amy's baby Ginger!
I made Ginger's in the 3-6 month size so that she can wear it once it cools off -- I made Rachel's in the newborn size because she's expecting at the end of the year. Laid out next to each other, they are just about the cutest things ever: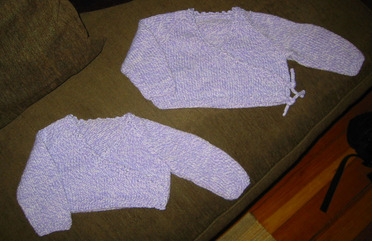 Click to enlarge
For a picture with slightly truer colors, click here
Not long after I took that picture, I hurried to wrap it up and get it to Amy before Ginger decided to make her arrival. Looks like I made it!
Posted by shannon at September 1, 2004 11:24 PM | For related posts: Baby Wrap Sweater, Miscellaneous Small Projects
Comments
Seriously, I have an insulin coma every time I see those.
Posted by: delfuego

at September 3, 2004 8:13 PM
Where did you get the pattern and do they have it in sizes for bigger girls(6-6x)?
Posted by: Kathy at September 6, 2004 1:17 PM