May 20, 2005
Good Things in Threes
You'll all be happy to know -- 'cause I know you were worried -- that the postal service's package tracking service just informed me that my box o' baby gifts (which includes the most recent Sirdar wrap sweater sweater) was delivered this very afternoon. Good thing, considering that the baby shower for which I knit it is tomorrow!
Speaking of baby showers scheduled for tomorrow, we're heading to New York tonight. Tomorrow is the baby shower for Jason's sister-in-law, for whom I have acquired some of the coolest baby gifts ever. I can't wait to give them to her. I'm hoping that the coolness of the other presents will make up for the fact that there is a very good chance that Mickey (also intended as a shower gift) won't be finished in time. What can I say? Intarsia -- though I've finally got the twisting of the colors down pat -- is just not. my. thing.
In addition to delivering cool baby gifts, I'm also excited to go to New York because we're having dinner at Carne tomorrow night to celebrate my 30th birthday with Jason's family and mine. Carne was where we ate after my graduation and after we got engaged, so it seemed like the right place for this, as well.
Have a great weekend everybody!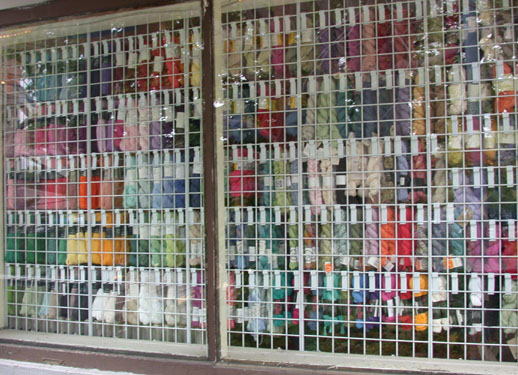 An unrelated good thing: Jason was waiting for me to come out of the post office the other day, and he snapped this picture of my
LYS
from outside. He told me he thought that the symmetry and arrangement of colors was really eye-catching. No kidding; that's how I end up spending so much money on yarn!
Posted by shannon at 5:35 PM | Comments (1) | For related posts: Baby Wrap Sweater, Miscellaneous Small Projects
May 18, 2005
Oh, baby!
People having babies faster than I can knit for them! For my own planning purposes, here's what's currently on my plate (with "due dates"):


Sirdar wrap sweater for Taylor (Mail by 5/17) Done! Mailed!

Mickey from Rowan Pipsqueaks for Robbie (Finish by 5/21) Finished!

Secret present for Fiona (ASAP, she's already here!)

Undecided present for Sheri's baby (start when she's born)

Now that the the wrap sweater is finished (no picture but trust me - it looks just like the other two, same yarn and everything!) and in the hands of the postal service, all of my energy is focused on Robbie's sweater. I was worried the Rowan 4-ply Cotton would be overly stiff, but I'm finding it remarkably easy to knit with. And it knits up fast for how fine the gauge is -- the back and sleeves are already done! Tonight I'll steel myself and tackle the front with the intarsia star. Wish me luck!
Posted by shannon at 11:17 AM | Comments (1) | For related posts: Baby Wrap Sweater, Miscellaneous Small Projects
March 15, 2005
Knitting Boomerang
As I've made clear on this site before, I love knitting for babies. Here's one aspect of it that I don't think I've talked about yet: the Baby-Knitting Boomerang. Here's how it works: you knit something for a baby, and you present it to the baby's parents. Baby gets a handknit, parents are touched that you put the time and energy into their progeny, and you get the gratitude and warm-fuzzies of having done something nice. Everybody's happy.
Every once in a while you also get a delayed reward. It's a picture of an adorable baby in a sweater that you made arriving by e-mail. Better still, it's arriving at baby's house to find her dressed in duds you knit months ago. Such were the two Baby-Knitting Boomerangs that came back to me last week.
Boomerang One
I love to get pictures of babies in handknits, but I know it doesn't always work out. Having a new baby around is hard work, after all, whether it's the total life change of the first baby or the exponential increase in demands that comes with any thereafter. So every time I do get a picture, it's a guaranteed Day Improver. In the midst of a grindingly-boring project at work and a sense that this wedding planning is just NEVER GOING TO END, I got a much-needed Day Improver last week.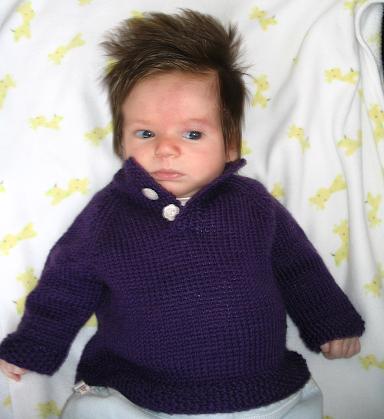 Hey, are you lookin' at my hair?
Is that the greatest baby hair of all time, or what? That's one of our most recent baby friends, modeling the (in)famous Purple Placket Sweater. It's enough to make a girl forget about pattern errors.

Boomerang Two
Remember the teeny-tiny Christmas baby who required an emergency sweater? It's amazing what 10 weeks will do.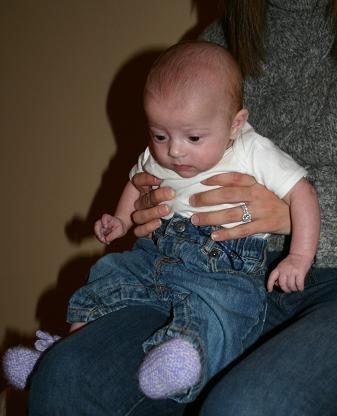 Those booties look familiar?
Last weekend, Jason and I were in New York for his dad's birthday celebration. Every year, they have a "guys lunch" at Peter Luger's, and two years ago we started a complementary "girls lunch". I arrived at Jason's sister's home to find Syd decked out in her Wrap Sweater and booties. When she went for a walk later, they even had the hat at the ready.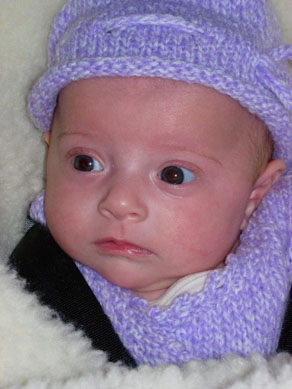 Who's cuter than me? Nobody, that's who.
May many Knitting Boomerangs come winging your way!
Posted by shannon at 5:00 PM | Comments (4) | For related posts: Baby Wrap Sweater, Purple Placket Sweater
December 12, 2004
On-Demand Knitting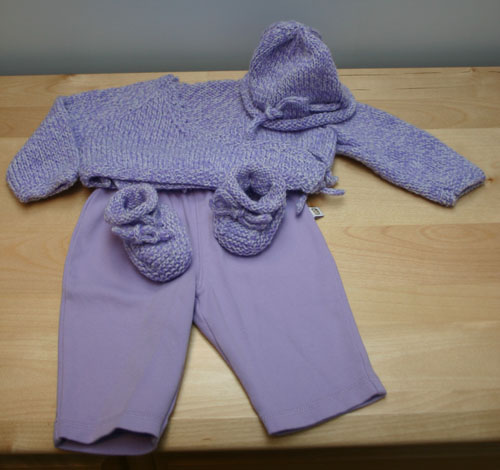 Can I just say that I love giving baby knits? The sweater and the booties were a big hit, and R. (Jason's sister and the baby's mother) already had a pair of lilac pants that matched! A few hours later she happened to mention that she was a little short on tiny knit caps for the baby's first few weeks. Say no more! Over the next day and a half, I knit up a little cap to match.
One of Jason's cousins (hi Peter!) was also in town, and he snapped a picture of the whole get-up. He's got a great eye and a fantastic camera. Check out the the detail on the booties and hat from the picture when you enlarge it to 100%!

Posted by shannon at 11:22 PM | Comments (6) | For related posts: Baby Wrap Sweater
September 1, 2004
A Confession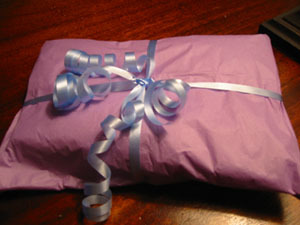 When I posted a little bit ago that I had made a cute sweater for Jason's (wait -- our :) ) niece-to-be, I wasn't telling the whole truth. While I did use that pattern and that yarn to make Rachel a baby sweater, the sweater I posted was actually for Amy's baby Ginger!
I made Ginger's in the 3-6 month size so that she can wear it once it cools off -- I made Rachel's in the newborn size because she's expecting at the end of the year. Laid out next to each other, they are just about the cutest things ever: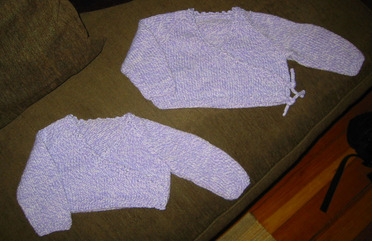 Click to enlarge
For a picture with slightly truer colors, click here
Not long after I took that picture, I hurried to wrap it up and get it to Amy before Ginger decided to make her arrival. Looks like I made it!
Posted by shannon at 11:24 PM | Comments (2) | For related posts: Baby Wrap Sweater, Miscellaneous Small Projects
August 24, 2004
Tied Up in Knots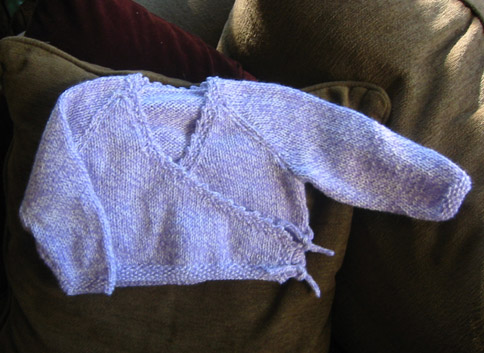 I was (rightly) admonished by Alison on Sunday while at Knitsmiths for not posting, since I am still knitting fairly regularly. It seems that it takes only the littlest thing to knock me off of my blogging game -- recently, it's been the Olympics that have been distracting me.
I feel like I've been knitting for baby boys at a disproportionate rate, so I was happy to hear that the next baby I'd be knitting for (a niece for Jason!) is a girl. Knitting for baby girls is my Holy Grail of knitting -- fast, adorable, and likely to be well-received. It didn't take me long to find a pattern (Sirdar 1559, can you believe how cute that baby is?!), and I was off and knitting.
Everything on this sweater went fast until I added the buttons. No matter how or where I sewed them on, they pulled and puckered the fabric. I studied the pattern picture intently, and after trying all possible combinations have come to the conclusion that they must have stapled the sweater together and hot glue-gunned the buttons on afterwards. 'Cause there ain't no way those buttons are really buttoned like that.
So, what to do? The answer came to me shortly -- hadn't Alison had a similar problem with a baby wrap sweater? Why yes, she did! I adopted her I-cord tie solution and it worked like a charm.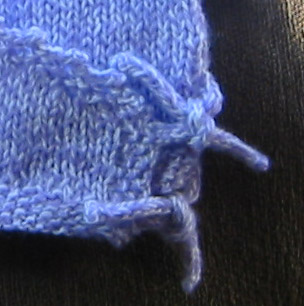 Next stop: matching booties!
Posted by shannon at 12:00 PM | Comments (4) | For related posts: Baby Wrap Sweater