« | Main | "Uh...I made it!" »
December 12, 2004
On-Demand Knitting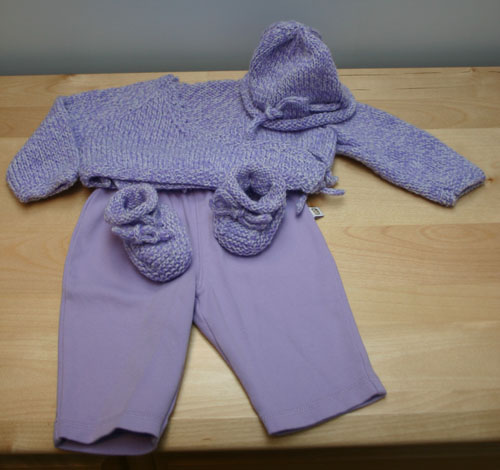 Can I just say that I love giving baby knits? The sweater and the booties were a big hit, and R. (Jason's sister and the baby's mother) already had a pair of lilac pants that matched! A few hours later she happened to mention that she was a little short on tiny knit caps for the baby's first few weeks. Say no more! Over the next day and a half, I knit up a little cap to match.
One of Jason's cousins (hi Peter!) was also in town, and he snapped a picture of the whole get-up. He's got a great eye and a fantastic camera. Check out the the detail on the booties and hat from the picture when you enlarge it to 100%!

Posted by shannon at December 12, 2004 11:22 PM | For related posts: Baby Wrap Sweater
Comments
Yeah baby ensemble! I love the I-cord detail on the hat. That's one special little baby. She will certainly be loved (and well dressed!).
Posted by: Johanna at December 13, 2004 12:06 AM
Perfect! Love the matching little tie on the hat. I guess she can come now that her layette set is all complete. ;0)
Posted by: alison at December 13, 2004 10:15 AM
Wow, you have some fantastic projects going on! Did you have a pattern for the baby booties, or did you make them up? I would love to try making a pair!
Posted by: Anne-Caroline at December 14, 2004 3:06 AM
Anne-Caroline, the booties are from the Knitting for Babies book -- the pattern is called "Stay-On Baby Bootie". Good luck!
Posted by: Shannon at December 14, 2004 11:17 AM
Wow, that set is ADORABLE. And I'm so with you, I love baby knits. I'm always looking around for babies I can knit for. Is that yarn you used Classic Elite Flash? I used it last summer for a few baby knits, and it was wonderful! Thanks for the Spanish help! If I'd remembered you were here, I would have asked you. There are just SO MANY BLOGS it's almost a full-time job keeping up!
Posted by: Norma at December 17, 2004 9:27 AM
Great Photo....but alas, where are the pics of you and hubby to be?!
Posted by: Peter at December 19, 2004 7:31 PM