« Christmas 2004 Round-Up (Vol. 2) | Main | »
December 29, 2004
Christmas 2004 Round Up (Vol.3): The Best Present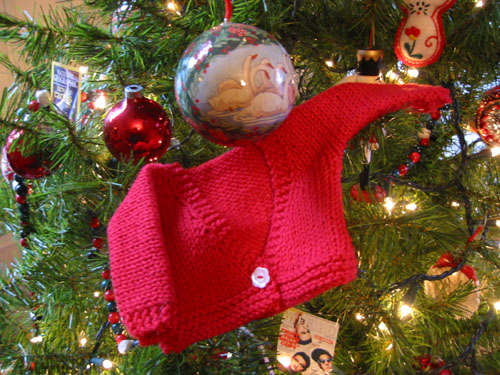 Looks like I joined this year's the mini-sweater ornament craze, right? Well, not exactly.
Just before Christmas, Jason's sister was heading into the last month of her pregnancy. When her blood pressure started creeping up, they decided to play it safe and have this baby sooner rather than later. Baby was very nearly full term, and looked to weigh around five pounds during the last scan. Imagine everybody's surprise then when baby Sydney arrived, a few days before Christmas, at a whopping three pounds, 13 ounces.
Jason spent Syd's Birth Day patiently explaining to everybody in his family the three things that preemies tended to struggle with: breathing, eating and regulating their temperature. Sydney pulled off all three with aplomb from the beginning; except for her petite stature she seemed for all the world to be a healthy, full-term newborn.
A healthy, full-term newborn with no clothes that fit her, that is. News trickled up from New York: preemie clothes were too big, Jason's mom was quickly sewing up buntings as fast as she could. All I knew was that this child needed a sweater, and quick. Auntie Gringa to the rescue!
I did some research on the chest and length measurements of preemies and some back-of-the-envelope calculations to convert the Bulky Baby Bibby pattern into a Worsted Preemie Bibby pattern. Not counting a few ripping interludes, I'd guess that the whole thing took 90 minutes and less than a ball of Classic Elite Spotlight. (The bib didn't "down-size" well, so I eventually scrapped it, and made it a Worsted Preemie Cardie.) The final result was impossibly small. I kept measuring it and comparing it to the preemie stats I had found because I just couldn't believe that it would fit a human being.
On Christmas Eve morning, we raced down to New York, eager to meet the newest family member. Jason sister called: the doctors had given Sydney the green light to go home. The siblings conspired; we were to head directly to Jason's parents house where his sister would meet us with the baby. The parents were not to know. By the time they arrived the whole family had congregated for festivities, and there was -- as you can imagine -- much rejoicing.
A few hours later, when Jason was showing his sister the art of swaddling (I know! Swaddling a baby! On CHRISTMAS EVE! Oh, the symbolism!), he grabbed the sweater and slipped in on her.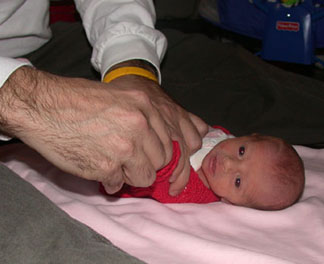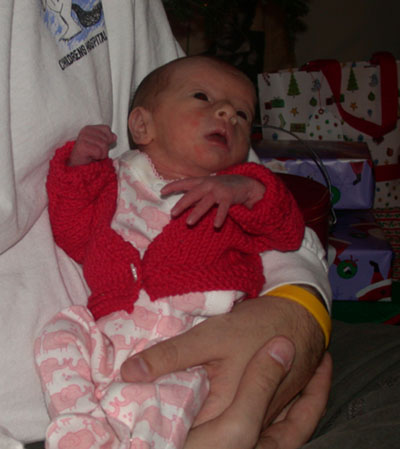 Merry Christmas, indeed.
Posted by shannon at December 29, 2004 6:00 PM | For related posts: Christmas Knitting 2004, For Sydney
Comments
Oh so tiny! Great to hear that she's doing well. That tiny tiny sweater almost looks big on her. Aren't infants amazing?
Posted by: Johanna at December 29, 2004 7:57 PM
Oh my god. She's so tiny!!! I remember thinking my 8lb. 3oz. Max was "small" and "delicate" but . . . wow. Congratulations! Glad to hear the good news. (The sweater is very cute.)
Posted by: Kerstin at December 29, 2004 8:26 PM
It fits perfectly! Great job!
Posted by: alison at December 29, 2004 10:07 PM
Great job on the preemie sweater. Aww, Syd is so tiny. The sweater fits great. Glad Auntie Gringa was there to the rescue! I have a feeling Syd will be the recipient of many knitted items!
Posted by: Wanda at December 30, 2004 2:26 PM
Wow! What a story! Those are the moments when you're so proud to know a usefull skill! Thanks for sharing.
Posted by: Jenifer at January 1, 2005 5:21 PM
That is such a great Christmas story! Love the sweater and I too can't believe that it fits her. :)
Posted by: Sharlene at January 1, 2005 6:48 PM
oh that sweater is so great. my brother and i were both born early and weighed about 4 pounds each. my dad told me he couldn't even find doll clothes to fit us so he cut the top off of a pair of socks to use as makeshift hats. too bad we didn't have a knitterly friend like you around. good job!
Posted by: thuy at January 5, 2005 3:06 PM
I just came across your site for the first time and can't help but post because that baby (and the sweater) are absolutley adorable! What a wonderful story...so glad she is doing well.
Posted by: Lee Anne at January 6, 2005 10:18 PM
that has to be the sweetest thing I've ever seen! And she's a good weight! My best friend had twins and they were born early...1lb 10oz and 3lb. It's such a relief they're now 14lb and 16lbs!!
Posted by: tania at January 16, 2005 1:13 PM