April 3, 2006
be still my beating heart...
The fabulous, non-stop pretzel-eating, diva known as Syd in her Christmas sweater. (Before you ask, her mom said she wasn't wearing the denim skirt and matching legwarmers because it was just too cold that day for skirts!)


Posted by shannon at 3:16 PM | Comments (2) | For related posts: Christmas Knitting 2005, For Sydney
January 3, 2006
Christmas 2005: Last Things First, Vol. IV
When I said I would be done the Christmas wrap-up by January 1, I failed to anticipate that we would be so unplugged this weekend that I would scarcely think about blogging. So I've given myself a wee extension, and hope to be done by tomorrow. Speaking of wee...
What a Difference a Year Makes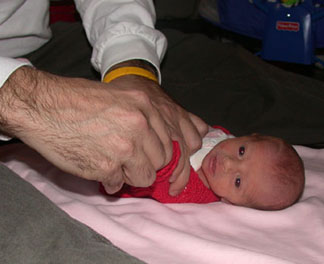 Christmas 2004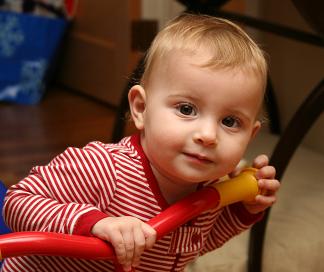 Christmas 2005
You might remember that last year's Christmas knitting had an last-minute addition when baby Sydney arrived a little bit early and a lot bit tiny. This Christmas she's a rambunctious chunk of a girl who is in the 95th percentile for height. Oh, and she started walking at 11 months. But that doesn't mean she's too big to get a hand-knit sweater from Auntie Gringa!
This year Syd's mom, Rachel, put in a request for a brown sweater with a pink heart for Christmas. I took it on the honeymoon, and finished it with time and yarn to spare. I've always thought this sweater would look adorable with a little denim skirt, so when I was trying to think of an appropriate accessory to make with the extra yarn the answer was obvious...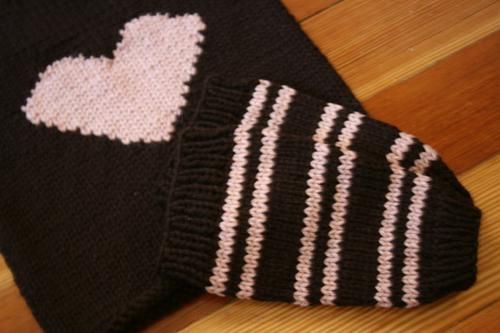 ...Leg Warmers
The leg warmers were easy-cheesy, I basically used a sleeve pattern and added some ribbing at the top and bottom. And they came out so dang cute that I had to make sure that she had the full outfit. It just so happened the BabyGap had a denim skirt on sale in her size.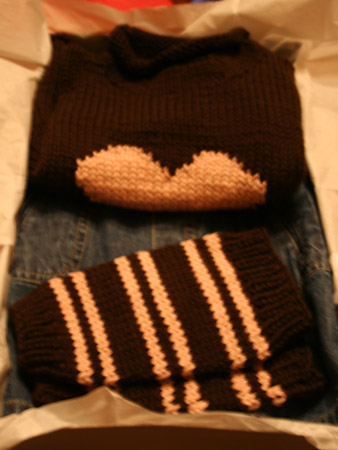 I can't wait to see pictures of her in this!
Posted by shannon at 1:17 PM | Comments (3) | For related posts: Christmas Knitting 2005, For Sydney, Roll-Neck Heart Sweater
November 22, 2005
Like Mother...
Remember the Mommy sweater I knit for Jason's sister, Rachel? No? Let me jog your memory...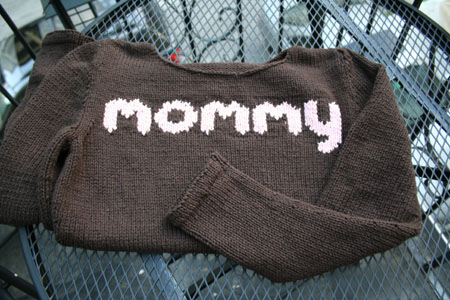 The rest of the story is here

You may also remember that Rachel is mommy to Syd, who despite being born at under four pounds is an adorable butterball as she approaches her first birthday. An adorable bald butterball, that is. Much to Rachel's chagrin, and despite the fact that she dresses her in the girliest of girly clothes, Syd is routinely referred to as "he" and "him" by strangers. (Rachel to a supermarket employee: "She's wearing a tutu for God's sake -- she's a GIRL.")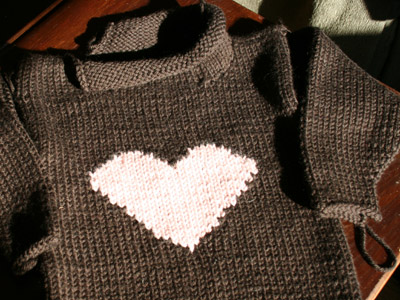 So is it any surprise that when Rachel decided that Syd needed a handknit sweater for Christmas, it would (1) involve a pink heart, and (2) incorporate Rachel's favorite color combo of pink and brown? The pattern is from Knitting for Baby and the yarn is the super-soft Cashmerino Aran. I had to make some adjustments for gauge difference, but the sweater went very fast (cast on in Granada, finished before we got to Seville!). The only thing keeping me from the seaming -- besides laziness, of course -- is trying to decide if the roll-neck is too long. I knit it exactly as long as the pattern calls for but it seems awfully bulky, especially for Syd, whose sensitivity to animal fibers is still an open question.
There's enough yarn left for an accessory, and I have just the thing in mind. I'll post it once I'm sure it's going to work -- but if it does, it's going to be so fabulous.
Posted by shannon at 11:52 AM | Comments (0) | For related posts: Christmas Knitting 2005, For Rachel, For Sydney, Long-Sleeved Chocolate Tee, Roll-Neck Heart Sweater
March 16, 2005
Seamed Until My Fingers Bled
After yesterday's baby-fest, I really should mix it up and talk about my New Old Faithful cardigan or the plan for my salvaged Calmer or my pink socks or... well, you get the idea. But I have to indulge in just one more adorable baby-with-handknits picture to celebrate the fact that Syd's baby blocks are DONE.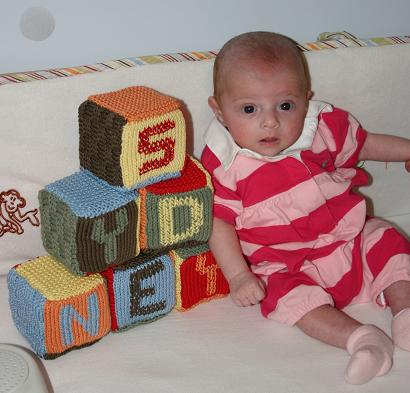 You can't really tell in this picture, but the 'S' is duplicate stitched in red "sparkle shit".
The sparkles also make appearances in some of the other red pieces.
I think that the colors turned out great -- and they match the nursery (check out the crib bumper)! Plus, I managed to put every block together correctly for the first time in the history of knitting baby blocks . ("Correctly" means that relative to the letter side, each of the patterned squares is in the same place on all of the blocks. For example, the garter stitch square is the top, the backet-weave square is the left side, etc. It's an entirely artificial standard imposed for the purpose of satisfying my insatiable desire for order ensuring even color distribution.)
I used Tahki's Cotton Classic except for the green, which was Rowan Handknit DK. I cast on and off with 6s, knit with 4s, and chose duplicate stitching for the letters. This turned out to be way easier than my previous attempts at intarsia. Looking back at pictures, I also see that my most valuable skill acquisition since Henry's blocks is the mattress stitch for seaming -- everything is much more even and sturdy!
These blocks remain among the most labor-intensive and least knitting-focused projects I've done; I'd say that the knitting part represents well under 50% of the work. But while the process drives me absolutamente loca, the finished product is among my very favorites of all time. Oh, the irony!
Posted by shannon at 3:12 PM | Comments (1) | For related posts: For Sydney, Syd's Baby Blocks
January 13, 2005
Deja Vu, All Over Again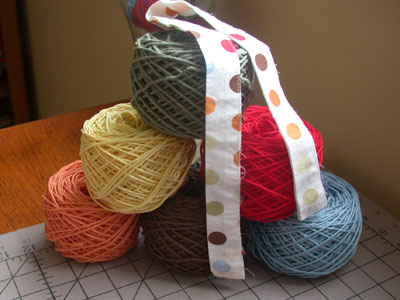 Her wardrobe crisis now behind her, I'd say that Sydney needs some baby blocks! I picked out the yarn colors and wound the yarn over the weekend, and I've already started making process on the squares. I always forget how fast they go.
The yarn is Tahki Cotton Classic except the sage green, which is Rowan Handknit DK. I nabbed the fabric swatch from Syd's grandma (Jason's mom), who was hemming curtains for the nursery last time we were visiting. Made color selection much easier!
Posted by shannon at 1:45 PM | Comments (4) | For related posts: For Sydney, Syd's Baby Blocks
December 29, 2004
Christmas 2004 Round Up (Vol.3): The Best Present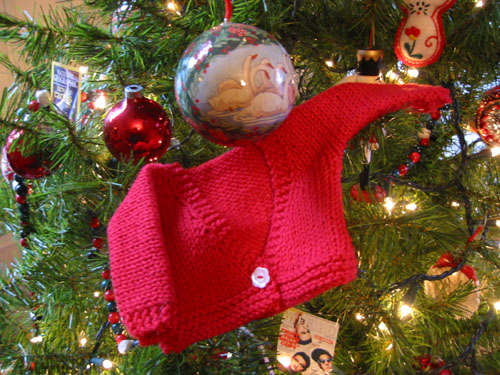 Looks like I joined this year's the mini-sweater ornament craze, right? Well, not exactly.
Just before Christmas, Jason's sister was heading into the last month of her pregnancy. When her blood pressure started creeping up, they decided to play it safe and have this baby sooner rather than later. Baby was very nearly full term, and looked to weigh around five pounds during the last scan. Imagine everybody's surprise then when baby Sydney arrived, a few days before Christmas, at a whopping three pounds, 13 ounces.
Jason spent Syd's Birth Day patiently explaining to everybody in his family the three things that preemies tended to struggle with: breathing, eating and regulating their temperature. Sydney pulled off all three with aplomb from the beginning; except for her petite stature she seemed for all the world to be a healthy, full-term newborn.
A healthy, full-term newborn with no clothes that fit her, that is. News trickled up from New York: preemie clothes were too big, Jason's mom was quickly sewing up buntings as fast as she could. All I knew was that this child needed a sweater, and quick. Auntie Gringa to the rescue!
I did some research on the chest and length measurements of preemies and some back-of-the-envelope calculations to convert the Bulky Baby Bibby pattern into a Worsted Preemie Bibby pattern. Not counting a few ripping interludes, I'd guess that the whole thing took 90 minutes and less than a ball of Classic Elite Spotlight. (The bib didn't "down-size" well, so I eventually scrapped it, and made it a Worsted Preemie Cardie.) The final result was impossibly small. I kept measuring it and comparing it to the preemie stats I had found because I just couldn't believe that it would fit a human being.
On Christmas Eve morning, we raced down to New York, eager to meet the newest family member. Jason sister called: the doctors had given Sydney the green light to go home. The siblings conspired; we were to head directly to Jason's parents house where his sister would meet us with the baby. The parents were not to know. By the time they arrived the whole family had congregated for festivities, and there was -- as you can imagine -- much rejoicing.
A few hours later, when Jason was showing his sister the art of swaddling (I know! Swaddling a baby! On CHRISTMAS EVE! Oh, the symbolism!), he grabbed the sweater and slipped in on her.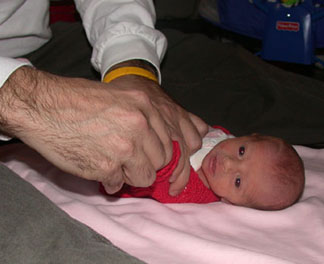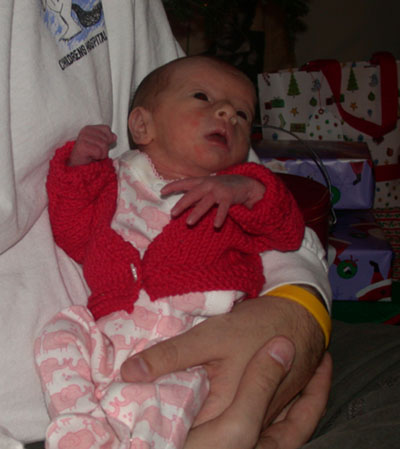 Merry Christmas, indeed.
Posted by shannon at 6:00 PM | Comments (9) | For related posts: Christmas Knitting 2004, For Sydney
December 25, 2004
Holiday Knitting
Merry Christmas to those who celebrate!
Just to keep the knitting pressure on, this post will stay on top until Christmas Day. (In other words, new content will appear below -- so scroll down!)
Done!
Mother-in-law Cowl (due date: 12/25)
--Status: Done, and headed for New York! (1/18)
New baby blanket (due date: 12/25)
--Status: Finished! (12/23)
Redskins scarf for John (due date: 12/25)
--Status: Finished!
(12/24).
Late Breaking Addition! Teeny-tiny baby sweater (due date: 12/24)
--Status: Finished! (12/23)
Yankee Swap Scarf (due date: 12/15)
--Status: Done!
Scarf for Lauren
--Status: Done!
New baby booties (to match wrap sweater) (due date: 12/10)
--Status: Finished 12/9, just have to weave in ends during the car ride to NYC tonight.
Blueberry Mango (due date: 12/18)
--Status: Finished 12/5! Done! Maybe a little too long in the arms, but done! (Pictures to come.)
Still Working On...
...nothing! It's all DONE!
Posted by shannon at 12:00 AM | Comments (3) | For related posts: Christmas Knitting 2004, For John, For Lauren, For Mom, For Shirley, For Sydney