« Good thing I waited | Main | »
March 1, 2005
This Is Not a Test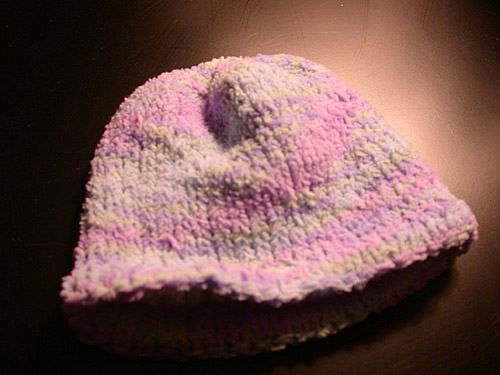 We interrupt your normally scheduled knitting with an emergency knit.
Yesterday, I learned another teeny-tiny baby -- this one much earlier and smaller -- was about to make an unexpected arrival. Using Wendy's Velvet Touch, I made her this little hat last night. (I wish there was something in the picture for scale, it's incredibly small.) As soon as the hat was finished, I cast on for a tiny robe/wrap/bunting in the same yarn.
She's doing as well as could be expected. I wish I weren't getting so good at knitting for preemies.
Posted by shannon at March 1, 2005 1:48 PM | For related posts: Miscellaneous Small Projects
Comments
I'm sorry - I hope everything is okay! Those preemie babies are amazingly strong for such little munchkins! The hat is adorable and I'm sure will keep her head nice and cozy.
Posted by: Cara at March 1, 2005 7:24 PM
Thanks, Cara! Baby A is doing very well, and the prognosis is good at this point. It's just so scary!
Posted by: Shannon at March 2, 2005 3:02 PM
Hey Shannon--I have a hat I made for an adult that I thought was too big and zealously felted down to preemie size. It's very cute, but I have no preemies to give it to--could you find a nice home for it?
Posted by: dava at March 4, 2005 9:21 AM