« | Main | Slow Learner »
April 11, 2005
The Goldilocks Option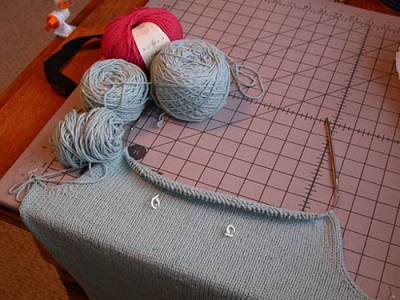 Spring colors make me happy. Unless my gauge sucks.
Once I had made my peace with the color variation in my recycled Calmer, I made fast progress on the T-Shirt back. I should mention here that when I swatched for this, I was way loose - as I almost always am. The pattern calls for US8s but my swatch was still loose using 7s. So I stuck with the 7s, but cast on for one size down to compensate for my loosey-goosey knitting.
Calmer is one of my all-time favorite yarns, but it sure is tricky when it comes to gauge. I started getting the ominous, low-level "this doesn't feel quite right..." feeling about halfway up the back. I surpressed it until after the armhole decreases, when the uneasy feeling went from low-level to undeniable. Something was definitely amiss.
When I'm really serious about getting accurate measurements (which, as this tale will tell, I should be more often), I use the blocking board. I toted my unfinished back to my study, and pinned the widest part of the bust to the blocking board. This is what I found: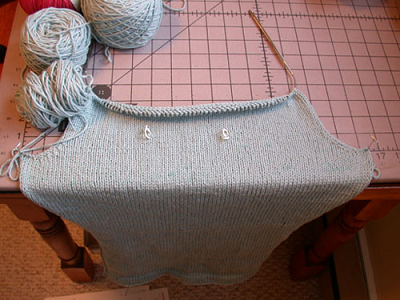 It's 16.5 inches across the back, which would make for a 33 inch bustline.
Did I mention that I have a size 36 bust?
So, evidently my gauge wasn't as loosey-goosey as I thought. In fact, for the first time in my knitting career, I was knitting too tightly.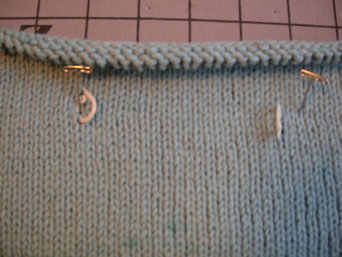 Gauge for the pattern is 19 stiches over 4 inches. The stitch
markers are 19 stitches apart. The blocking pins are 4
inches apart. You see the problem.
Reminder: Back when I thought my gauge was too loose, I (over-)adjusted by going down a pattern size and a needle size. This meant that I had to decide whether I should (1) go up to the US8s called for in the pattern, (2) go up a pattern size or (3) both. Never wanting to be accused of doing something half-way, I went with the third option (both) and got to work.
That was totally wrong, of course -- it was coming out much too big. At this point, I was so frustrated and angry that I banished the T-Shirt for the next two days while I cranked out two baby hats over the weekend.
By the time I got back to the T-shirt on Sunday night, I was feeling much better. And as any reader of Goldilocks will tell you, after "too small" and "too big" comes "just right". In this case, I'm hoping that "just right" means the bigger needles and the smaller pattern size.
Posted by shannon at April 11, 2005 5:17 PM | For related posts: Fixin' Vixen in a T-Shirt
Comments
You have my sympathies...you'll feel much better once you decide if she go up a size w/7's or knit with 8's! I just went through the same maddening experience trying to get the correct gauge - I was convinced that myt gauge was off twice only to start over with different needles and then making a size down too! I find that my knitting is less loose w/INOX needles (over bamboo and turbos).
Posted by: Leslie at April 12, 2005 4:38 PM
Posted by: Rebecca at April 12, 2005 10:55 PM
Rebecca -- Fours?! Really?! Are you getting gauge? And I thought *my* knitting was loose!
Posted by: Shannon at April 13, 2005 9:13 AM
I had to make adjustments for gauge too - I was too tight. I'm almost done and the measurement seem fine - I still have this irrational fear that somehow when I sew it all together, it won't fit. Weird, huh? Even weirder if it actually happens! :-)
Posted by: Vicki at April 18, 2005 3:51 PM