June 22, 2005
Having My Cake
I haven't been blogging, but I have been knitting... which means it's catch-up time!
My birthday was about a month ago, and we spent it in New York. Jason's sister-in-law's baby shower was during the day and after everybody rested and recovered from that, the whole gang (Jason's family and mine) went out for dinner. Once we were all stuffed with steak, the waiter brought out a cake for my birthday!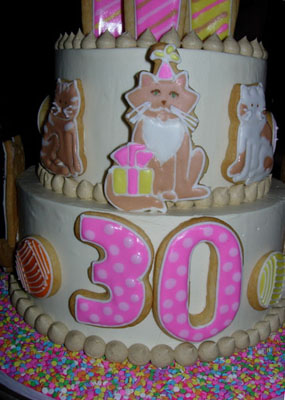 Cool, yes? Jason's sister is a trained pastry chef, and though she doesn't bake anymore she knows the most creative and festive bakeries in town. (Flour Girl Bakery made my cake.) If you had told me that my cake would have cat cookies all over it, I would have probably scoffed... but this thing was like art. Even the candles were cookies! Here's the part that tickled me the most: between the cats were cookies in the shape of yarn balls.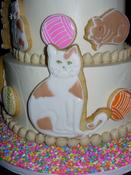 Click picture to enlarge
The next day, I showed Jason's sister my Nothin' But a T-Shirt, and she raved about it. At first I thought she was loving the theme of the tee (I am the "blushing" bride of her brother, after all), but it turned out she was just loving the tee in general. "Can I commission one of these? I'll pay for the yarn!" Sweeter words have seldom been spoken.
R. decided she wants the main color to be chocolate brown and the contrast color to be light pink. She also wants long sleeves, which led to us nixing the contrasting color for the sleeve trim. Which, in turn, led to us nixing the contrasting color for the collar. She still does want a graphic embellishment in light pink, though.
Considering all R. has done for me this year, I'm excited to knit her something she seems to genuinely want. Her birthday is in two weeks, so I'm knitting as fast as I can. And because Jason is a good brother, he paid for the yarn as a birthday present for his baby sister.
I can't keep my hands off this yarn -- I'm up to the armholes on the back already!
Posted by shannon at 10:57 PM | Comments (4) | For related posts: Fixin' Vixen in a T-Shirt, Long-Sleeved Chocolate Tee
May 16, 2005
Bridezilla in a T-Shirt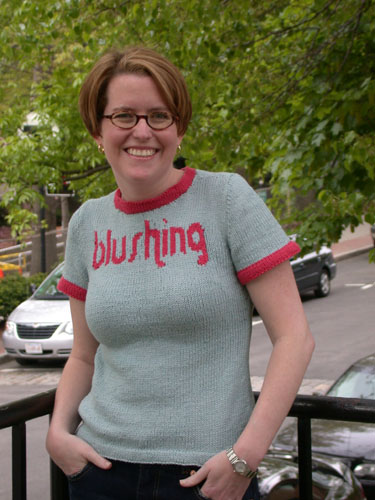 Here's the back. (Notice that it's not laying flat? Blame the photographer -- he didn't tell me!)
My Nothin' But a T-Shirt is done, and I love it. I'm so happy that I found a way to reuse this Calmer, and the pattern gets a big thumbs up from me. I can't wait to make another one!
Why "blushing", you might ask? Well, because I'm about to be a blushing bride. But wait! Before you roll your eyes and decide that I've become one of those women who allows her wedding to dominate every single thing she does, allow me a bit of explanation.
I've been knitting for a few years now, and I really enjoy the fact that looking back at a finished project takes me back to the period of time I was knitting it. Just seeing the Waikiki tank makes me think about the end of graduate school (and Jason's surprise birthday party, of course!), my ChicKami brings back memories of our first weeks in Boston and my first trip to the Knitsmiths, the log cabin blanket reminds me of our trip to Austin for SXSW, and so on.
I know that when I think of making this T-Shirt it will bring back memories of planning the wedding. I knit a lot of it during wedding-related travel -- heck, I bought the original Calmer right after we got engaged, and justified the cost as an engagement present to myself. So why not make the association explicit? Alison kindly provided a chart for the word "blush" in the pattern, so it only took a bit more work on Excel to add the -ing. (Also, I figured it was as good a time as any to induldge the small part of me that enjoys cutesiness, even though my credibility as a no-frills girl will likely suffer as a result. But don't tell anybody, OK?)
So that's two knit-alongs completed at once: the Nothin' But a T-Shirt knit-along hosted by the lovely and funny Nona, and Alison's Feburary Fixin' knit-along. Thanks for letting me join, ladies!
Posted by shannon at 2:05 PM | Comments (11) | For related posts: Fixin' Vixen in a T-Shirt
April 20, 2005
Grump-elstiltskin
Top Five Reasons I Will Soon Be Emerging from My Brief Fit of Grumpiness*
Reason 1: By sheer luck, I happened to be the first person to comment on Amy's offer to sell the yarn and pattern for the Copacabana tank. It arrived Monday - what says spring more than this?



Thank you, Amy!
Originally uploaded by ShannonC.


Reason 2: It's not pretty, I know. But of the four attempts to do intarsia on this T-shirt, this was far and away the best I could do. Yes I know it's puckering some, but I'm hoping for a minor blocking miracle. I'm now frantically knitting the sleeves. Why frantic? Because I'm perilously close to running out of yarn. *gulp*


Originally uploaded by ShannonC.

Reason 3: Noting improves your mood like a good yarn-buying experience -- which I recently had with Yarnware. I've used them before -- their prices are good and their service prompt. Last week I decided to buy T. (best buddy and fledgling knitter) this afghan kit for her birthday. She's expecting a baby in September, and I thought it would be a great opportunity to graduate her from knitting dishcloths and scarves. Yarnware doesn't have a gift option, which is fine since it probably keeps overhead down. As I was checking out via PayPal, I added a comment at the last minute that it would be great if they would remove the invoice from T's package, and just send it to me instead. Not only did her package arrive on her birthday (I had told her it would be a few days late), but I got the invoice in the mail yesterday. So thanks, Yarnware!
Reason 4: Despite the fact that booking our honeymoon flights was a less-than-ideal experience from a website user perspective, the fact remains: we booked our honeymoon flights. (If you read Jason's post about the Air France site, I should add that this is not the first time I've had trouble with my passport number. My passport was stolen in Ecuador, and I had it replaced at the US Embassy in Quito. Despite the fact that this happened in 1999, the replacement was circa 1970s -- complete with a passport number that doesn't seem to match current-passport number format. The picture is bad, too.)
Reason 5: I mentioned a few days ago that I've been familiarizing myself with Flickr and its various bells and whistles. So you can imagine my excitment when Anil generously gifted me with a one-year FlickrPro account. No limits on storage, bandwidth or photosets -- yeehaw! Thanks, Anil.
*Onset of spring allergies = grumpiness, accompanied by attempts to enucleate myself because my eyes itch so badly!

Posted by shannon at 11:56 AM | Comments (3) | For related posts: Fixin' Vixen in a T-Shirt, Lola
April 11, 2005
The Goldilocks Option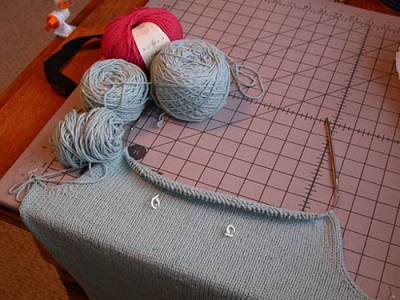 Spring colors make me happy. Unless my gauge sucks.
Once I had made my peace with the color variation in my recycled Calmer, I made fast progress on the T-Shirt back. I should mention here that when I swatched for this, I was way loose - as I almost always am. The pattern calls for US8s but my swatch was still loose using 7s. So I stuck with the 7s, but cast on for one size down to compensate for my loosey-goosey knitting.
Calmer is one of my all-time favorite yarns, but it sure is tricky when it comes to gauge. I started getting the ominous, low-level "this doesn't feel quite right..." feeling about halfway up the back. I surpressed it until after the armhole decreases, when the uneasy feeling went from low-level to undeniable. Something was definitely amiss.
When I'm really serious about getting accurate measurements (which, as this tale will tell, I should be more often), I use the blocking board. I toted my unfinished back to my study, and pinned the widest part of the bust to the blocking board. This is what I found: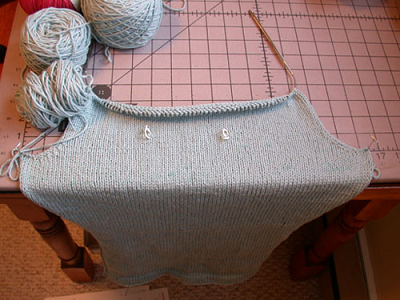 It's 16.5 inches across the back, which would make for a 33 inch bustline.
Did I mention that I have a size 36 bust?
So, evidently my gauge wasn't as loosey-goosey as I thought. In fact, for the first time in my knitting career, I was knitting too tightly.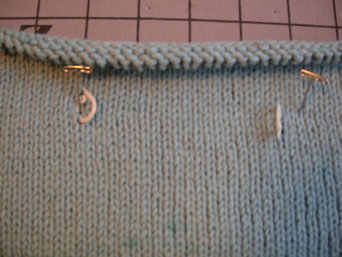 Gauge for the pattern is 19 stiches over 4 inches. The stitch
markers are 19 stitches apart. The blocking pins are 4
inches apart. You see the problem.
Reminder: Back when I thought my gauge was too loose, I (over-)adjusted by going down a pattern size and a needle size. This meant that I had to decide whether I should (1) go up to the US8s called for in the pattern, (2) go up a pattern size or (3) both. Never wanting to be accused of doing something half-way, I went with the third option (both) and got to work.
That was totally wrong, of course -- it was coming out much too big. At this point, I was so frustrated and angry that I banished the T-Shirt for the next two days while I cranked out two baby hats over the weekend.
By the time I got back to the T-shirt on Sunday night, I was feeling much better. And as any reader of Goldilocks will tell you, after "too small" and "too big" comes "just right". In this case, I'm hoping that "just right" means the bigger needles and the smaller pattern size.
Posted by shannon at 5:17 PM | Comments (4) | For related posts: Fixin' Vixen in a T-Shirt
March 31, 2005
(Yarn) Blood in the Water
I mentioned yesterday that I had some worries about the Calmer I will be using for my T-Shirt. My first worry was that I wouldn't have enough usable yarn. The top I knit with it last fall required several ripping and re-knitting sessions, so I had a ton of "yarn fragments". I cast on for the back and used up as many of the fragments as a I could to see how far they would get me. Fortunately, they went a lot further than I thought they would, so I think I'm in the clear.
The second worry was the one I wanted to share with the blog world. When I recovered this yarn in February, I washed it as directed and hung it up to dry. Imagine my surprise -- and chagrin! -- when I discovered flecks of darker color on one section of some of the drying hanks. It was as if some of the dye ran down the hank and "pooled" at the bottom. It was not terribly dramatic, but it was definitely there.
Here, I'll show you. I managed to use most of the yarn with the darker flecks before I did the hem, so look between the bottom of the garment and the hemline. I know it's not clear, but take my word for it: any variation you see there is the result of the bleeding color.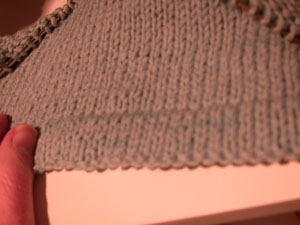 Help, I'm bleeeeeeeding...
The T-Shirt pattern calls for the collar, sleeve edging and design to be knit in a contrast color, so the bleeding color worried me. I did a little research but found no mention of this problem with Calmer. I'm hoping my experience was a freak reaction caused by some external substance. (I'm thinking body lotion, deodorant, etc that got on the top when I wore it. This seems to make sense, since the hanks of yarn that bled were mostly from the sleeves, shoulders and collar -- areas that fit most closely.)
I thought about swatching the two colors together and washing it to see if there was any color transfer. But I'm already concerned about not having enough of the main color to complete a project, and I don't want to lose more of it if the contrasting color does bleed. I know that Nona's T-Shirt knit-a-long doesn't start until tomorrow, but I'm curious -- has anybody else experimented with washing two Calmer colors together? If so, how did it come out?
Posted by shannon at 2:09 PM | Comments (3) | For related posts: Fixin' Vixen in a T-Shirt
March 30, 2005
Two for One
One project means one knit-a-long, right? Well yes, unless you're a compulsive joiner like me!

NumberOne: When I joined Alison's February Fixin' knit-a-long, I reclaimed a bunch of Calmer from a top I never wore. I didn't have a perfect project in mind for the Calmer, so I bided my time...

Number Two: Alison made my patience worthwhile with her Nothin' But a T-Shirt pattern in MagKnits. It took me all of about two seconds to ask Nona if I could join the knit-a-long.
So here I am, signed up for two knit-a-longs for one project. Because this is my house and I make the rules, I'm gonna go with it -- let's call it the Fixin' Vixen in a T-Shirt project, shall we?
Nona's T-shirt knit-a-long officially starts in two days (April 1), but I've already started knitting. Not (just) because I'm impatient, but also because I have some worries about my Calmer and I wanted to be sure it was going to work for this project. At least one of the concerns might be of interest to others working on this project, so I'll do my best to post about it later today or tomorrow before the knit-a-long officially gets under way.
Posted by shannon at 3:33 PM | For related posts: Fixin' Vixen in a T-Shirt
February 28, 2005
Good thing I waited
I was starting to get antsy about having liberated all of this Calmer, and no ideas for a project. Alison's been saying that I should wait for her MagKnits pattern. She was right.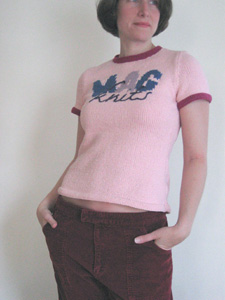 Alison's project archive / Pattern on MagKnits
Waist shaping? Capped sleeves? Sassy design element? Check, check and check.
Posted by shannon at 1:23 PM | For related posts: Fixin' Vixen in a T-Shirt
February 3, 2005
Dream On
Did I ever tell you about my Dreamy Creamy? No? Well, here's the short version.
Dreamy Creamy was my engagement present to myself. I saw the pattern (WARNING: Links to a Word document.) on J-Strizzy's blog and loved the idea of a sweet, empire-waist top made of Calmer. She had designed the shirt for herself, so I knew I'd have to make a some adjustments. It took a while, but by the time I finished it I was satisfied that I had adapted the pattern for myself.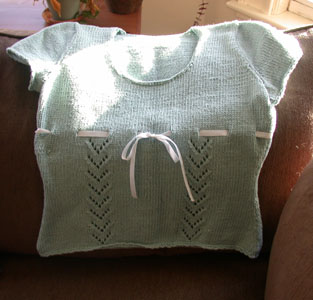 Success! Well, kind of...
Cute, right? Well, sure, when it's laying there all pretty on my couch. I actually wore it a few times, but I had missed one important adjustment: it was a bit short in the upper torso. This meant it rode up every time I so much as lifted an arm, and that pretty ribbon band landed right in the middle of my... well, you get the idea. Next thing I knew, all that pretty Calmer was just hanging in the "eh" section of my closet. And that just won't do.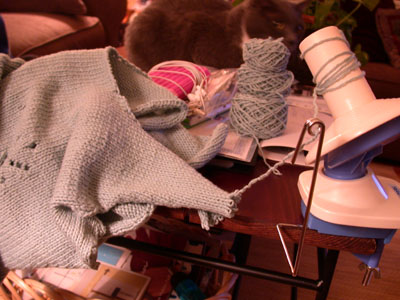 Let's get fixin'!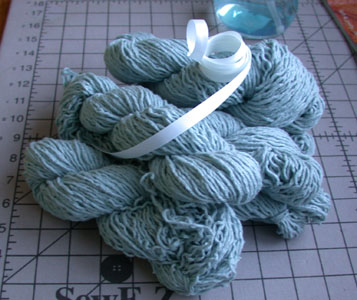 In hanks, ready for a thorough bathing
Here's where you come in. Does anybody have any experience with recycling Calmer? How does it do? Any tips? And most importantly, what should I make with this yarn?
Posted by shannon at 11:00 AM | Comments (1) | For related posts: Fixin' Vixen in a T-Shirt