« Two by Two | Main | »
August 11, 2005
New Baby, New Boomerang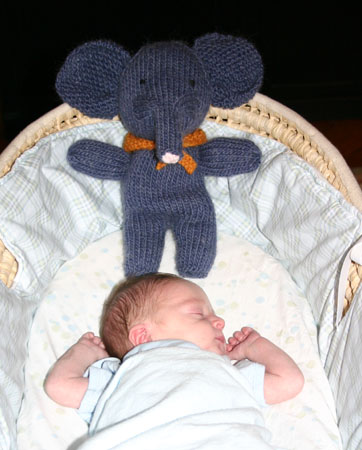 He's here, he's here! Jason's brother and sister-in-law are the proud parents of Robbie, who will be two weeks old tomorrow. He was barely a week old when his mama sent me this picture of him, with Ephraim the Elephant standing watch over him. Now that's a quick karmic boomerang! (Now all I have to do is wait for him to be big enough to wear this.)
I'm New York-bound this weekend, so not only is tomorrow Robbie's two-week birthday but it's the first time that I get to hold him and kiss him! We were able to squeeze in a half-day visit to New York the weekend he was born, but were limited to grinning and gesturing at him through the window of the nursery. I'm even staying with Robbie and his parents so as to maximize baby cuddling and kissing time. I can't wait!
Posted by shannon at August 11, 2005 3:50 PM | For related posts: For Robbie, Miscellaneous Small Projects
Comments
What a sweetheart! I'll be cuddling my babes this weekend too - have a great time with Robbie!
Posted by: Cara at August 11, 2005 10:13 PM
Posted by: alison at August 15, 2005 9:43 AM
Such a cutie! I love your term boomeranged, I've been using it now. And the elephant toy is still a sweet thing.
Posted by: Wanda at August 18, 2005 5:54 PM