November 13, 2005
Seville
(Note: I know it's taking me a long time to get through these honeymoon entries, but after this one there should only be one left. Then I'll get back to normal [i.e., non-honeymoon-related] knitting content!)
The day before we left for Seville, we spent a few hours reading our guide books and figuring out what we wanted to do when we got there. At one point, Jason handed me the Rough Guide open to a page in the Seville section and said, "you're going to like this." It said:
On every manhole cover, bus and public building in Sevilla you will see the curious cipher NO 8 DO. What looks like a figure 8 is actually the symbol of a twisted skein of wool (madeja in Spanish). During the eleventh-centry reconquista [reconquest, when the Catholics took southern Spain back from the Moors], Alfonso the Wise, King of Castile, tired of the endless war, made a truce with the Moors. This so angered his excitable son Sancho, that he rebelled against his father and launched a civil war. When the people of Sevilla stayed loyal to Alfonso, the king lauded them with the royal testimonial "No me han dejado" ("You have not deserted me"). In medieval Spanish this came out as "no ma dejado" from which the sevillanos -- long aficionados of word riddles -- came up with NO MADEJA DO, soon encrypted as NO 8 DO and swiftly adopted as the city's crest.
After reading the paragraph, I looked up at him and said: "We gotta get pictures of that for my blog!" As we wandered around Seville taking pictures a few days later, it was so cool to see skeins of yarn embossed, engraved, and sculpted all around!
Outside the tourist office
Click here to see a close-up of the crest
Finally, I took Saleknitter's advice -- when I posted about the Honeymoon Cami that Alison made me, she left a comment saying that I should wear the Cami when we went to watch flamenco in Seville. So on our last night in Seville, I donned the cami and we headed out to La Carboneria. We really enjoyed the flamenco (and some sangria, of course), and I felt very saucy in my orange top. Jason snapped a few shots when we came back late that night, this one is the clearest. (Excuse the bad hair, on the way to the bar we were caught in a furious rain storm. After 20 minutes huddled in a doorway [which gave me the opportunity to teach Jason the word escampar] it tapered off from a Biblical flood to just a normal everyday downpour and we made a run for it. We were soaked by the time we made it to the bar!)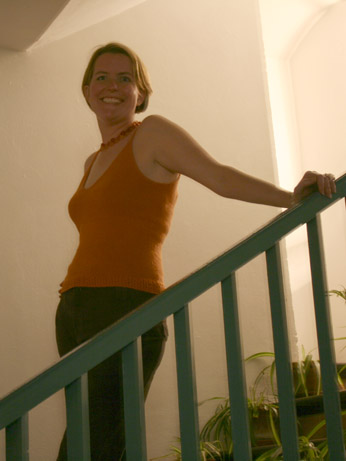 Thank you, Alison!

Posted by shannon at November 13, 2005 2:18 PM | For related posts: Nuptial Knitting
Comments
You look fabulous! I'm glad you enjoyed the flamenco...it was one of my fondest memories. I never noticed "NO 8 DO" in the city. What interesting facts about how this encryption came into existence. I will definitely pass on this history to my fellow knitters.
Posted by: Saleknitter at November 14, 2005 12:27 AM
That Honeymoon Cami really looks saucy and such a perfect fit for you. It really looks great!
Posted by: Wanda at November 14, 2005 1:40 AM
Yay! I've been dying to see you in your honeymoon cami. You were one of the first bloggers I knew to make it, so it feels only right that you should have one of your own. You look fabulous.
Posted by: Julia at November 15, 2005 3:43 PM
Wowza! That top looks great on you. Lucky Jason! ;0)
Posted by: alison at November 20, 2005 1:09 PM