« Seville | Main | The Pinnacle of Knitting »
November 15, 2005
Madrid
As I mentioned earlier, we decided to honeymoon in Spain because of our fascination with Andalucía. Granada and Seville were the major attractions, with a stop or two on the beach and in the country to help us relax. And while we would have been content to have stayed in Andalucía for the duration of our trip, airline schedules and budget considerations made it clear that Madrid was the logical place from which to leave. So we ended our Spanish adventure with 36 hours in Madrid, which isn't enough time to properly "do" the city but plenty of time to do last-minute souveneir shopping and relaxing before heading home. (Darn, guess we've got to go back!)
Seeing as how we weren't going to do the tourist-y stuff in Madrid, I dropped Betty (blogs in Spanish but speaks English; feel free to comment!) -- the only Spanish knitblogger I knew of at the time -- a note to ask her about Madrid's yarn store offerings once we checked in to our hotel. As soon as I finished sending the e-mail to Betty, Jason and I headed out to get the lay of the land. We ended up on the Plaza Mayor when it happened again: we found a yarn store! El Gato Negro (The Black Cat) was large, bustling, and stocked from floor to ceiling with colorful unlabeled hanks.
It took a bit of time and observation for me to figure out that to buy some of this yarn, you had to have a salesperson fetch and weigh it to see how much it would be. Though attractive and -- did I mention? -- large, El Gato Negro presented La Gringa with two challenges. First, like most of the yarn stores in Spain much of the yarn was behind the counters and not immediately touchable. Since I like to see and touch pretty much every yarn in a store before making a purchase, this would have resulted in hours of "Puedo ver eso? De que es hecho? Cuanto vale?" ("Can I see that one? What's it made of? How much is it?"). I've worked in retail, I just can't do that to a salesperson. Second, even if I knew the price it would have been in the form of Euros per gram of yarn... which, as an American, would have been about as helpful as knowing the price of eggs in China. So despite my appreciation for its size and my affection for a certain gato negro of my own, I settled for a picture of myself by their pretty window.
That evening at the hotel, I checked my e-mail and saw that Betty (who was traveling at the time) had forwarded my message to the Madrileña knitblogger Urraca (blogs in French, maintains the Madrid knitters' meet-up blog in Spanish, and based on her link list also speaks English. Holy polyglot, Batman!), who had already written back! Are these ladies fast, or what? The gist of Urraca's e-mail was that for those with little time in Madrid, she recommended two centrally-located yarn store: Lanas Sixto and De Puntillas. (She said she wasn't crazy about El Gato Negro because so much of their yarn was acrylic. Good to know!) She also said she wished she had known that I was going to be passing through Madrid since she would have organized something with the other knitters. Isn't that sweet? Now I really have to go back sometime! [Note: I've translated Urraca's descriptions and directions for the yarn stores in central Madrid and put it in the extended entry section for any other gringas tejedores who might end up here via Google!] Rather than rely on my occasionally spotty translation skils, I recommend that you read Urraca's review of Madrid yarn stores on the Madrid Knitting Meet-Up blog. It begins here, and Urraca herself has assured me there is more to come!]
On our last full day in Spain, we hit both of Urraca's recommended yarn stores. I found Lanas Sixto to be just as she had described it: warm, friendly, and well-stocked with Spanish (and some Italian) yarns. Best part: a fair amount of yarn was not. behind. the. counter! I bought two balls of Lana d'Irlanda for Alison -- in blue, of course. It was the perfect Euro-yarn: made in Italy, named for Ireland, and purchased in Spain!
Lanas Sixto
De Puntillas was more of a mixed bag. It did have the best selection of international brands, and I fixated on the Gedifra Byzanz. I've been needing a new scarf, and this combination of colors and sparkle seemed like just the thing. The woman at the store was friendly, and kindly showed me a drop-stitch pattern that looked good with the yarn. My only quibbles are that I somehow I managed to end up with mixed dye lots (mostly my fault, I know) and when I got back to the hotel I realized that the yarn reeked of cigarette smoke. I suppose that's the peril of shopping in smoke-friendly Europe!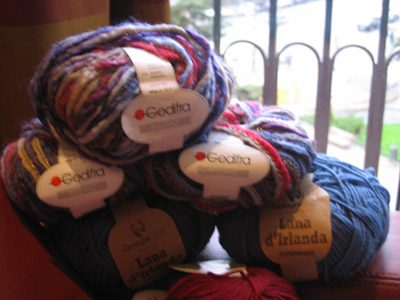 My yarn haul from Madrid -- blue worsted for Alison and colorful sparkly for me!
Click the picture to see a bigger version that includes the view out our hotel
room window. The statue in the background is Cervantes.
The next morning, we checked out of our hotel and winged our way back to Boston and real life. Now that I've told you about my yarn adventures in Spain, now I can start telling you about what I knit while I was there!
Posted by shannon at November 15, 2005 10:20 PM | For related posts: Nuptial Knitting
Comments
I see you found time to put to good use our recommendations. ;-) Glad I could be of some help. And thanks for linking to my blogs.
I forgot to tell you that I am posting a bilingual (Spanish/English) review of Madrid yarn stores by installments on my Spanish blog. So, if you don't mind, I'd rather have you link to the posts I wrote directly in English (the intro is posted, the rest is coming) instead of translating into English my email to you. Just to avoid some "lost in translation" syndrome. Hope you don't mind. For instance, "Rosários" and "Taller de cañamazo" are two yarn brands (the first is Portuguese, the second Spanish). "De puntillas" sell their tapestry yarn (not upholstery yarn).
Now that you mention it, it is true they smoke a lot at "De puntillas". ;-) Last time I was there I coughed my lungs off.
See you next time!
Posted by: Urraca at November 16, 2005 3:29 PM
I'm so happy to read everything worked out fine! It was a lucky coincidence, as I was on holiday in Lisboa, and your mail got in the inbox in the one and only visit I made to a cybercafe while I was there! :)
Just in case some of your visitors wants to know, there's a Barcelona Knitting Meet Up, too, and we usually make extra arrangements to meet when some foreigner knitter visits (and lets us know!).
Here it is: barcelonaknits.blogspot.com
:)
Posted by: betty at November 17, 2005 2:18 AM
Ooh, that's so cool that some of the Spanish knitbloggers hooked you up with the happening yarn stores! Coolness! Now looking forward to seeing what you worked on while you there and what you're working on now!
Posted by: Wanda at November 17, 2005 4:58 PM