December 28, 2005
Christmas 2005: Last Things First, Part I
Finally, I can share my Christmas knitting with the world!
We had Christmas in two waves this year: first with my parents on Christmas Day, and then with Jason's family yesterday (the 27th) in New York. First let me tell you about the knitted things I gave away to the out-in-laws, starting with...
A Shawl for Shirley
Jason's mother, Shirley, made our huppah. In fact, she made a huppah for each of her three kids' weddings. Each one of them involved hours upon hours of consulting with the bride and groom, designing, hand-dying silk, and sewing. And though each one of them is a work of art, I'm partial to ours.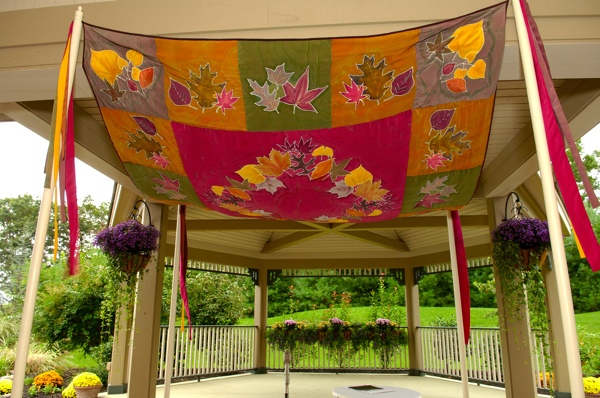 Obviously, by the time it was all said and done I wanted to knit Shirley something really special. I knew the Leaf Lace Shawl was the right pattern as soon as I saw it: leaves everywhere -- just like our huppah. And once the pattern was settled I knew it had to be red, since my fascination with the rich, brilliant red of autumn leaves was an inspiration when Shirley was designing the huppah.
What I don't know is why I settled on Kid Silk Haze (color: Liquer) for my first real attempt at a large lace project. I wanted to finish the shawl it in time for the wedding weekend in early October. Hypnotized by how quickly the first 30 or so rows went, I really thought I could do it. As the wedding drew nearer and the rows got longer, I grew more distractable and made more mistakes. Knitting mistakes are normally no big deal for me (just un-do and re-do!) but with the Kid Silk Haze? It's a beautiful, luxurious yarn that makes delightful, gauzy fabric -- but it's a b*tch to rip.
So I Did the Right Thing. I put the shawl down, and didn't come back to it until after the wedding when I could give it my full attention. And when I did, I became a compulsive life-line user, did away with all but the most necessary stitch markers, and printed out a bunch of copies of the lace chart that I could highlight (when I was working on a row) and cross off (when it was finished). In short, I became an enormous lace-knitting nerd.
And what do you know... it worked. Know what else? I now understand why knitters get so. excited. when they block their lace shawls. After a half hour with the water sprayer and blocking pins I discovered that inside the shapeless, tangle-prone mass I'd been wrestling with for two months, this had been hiding all along:
Two balls of Kid Silk Haze, and it's 60 inches across. No, really.
Bathed in sunlight
Clearer view of the red leaves
Shirley was pleasantly surprised to get the shawl, and immediately got the connection between the red leaves. I hope she enjoys it!
Pattern: Leaf Lace Shawl
Yarn: Two (!!) balls Kid Silk Haze (Liquer)
Lessons Learned

The Lace Leaf Pattern is an excellent pattern, even for first-time shawl makers.

On the other hand, Kid Silk Haze probably isn't the best yarn for a first-timer. (But wow is the final product worth it if you can manage it.)

Embrace your inner lace-knitting nerd; if you can't do that, at least use a lifeline for Pete's sake.
Posted by shannon at December 28, 2005 4:05 PM | For related posts: Christmas Knitting 2005, For Shirley
Comments
Beautiful! And the Chuppah is GORGEOUS! What a keepsake. Can you use is as a quilt or a wall hanging? Really wonderful.
Posted by: Cara at December 28, 2005 4:48 PM
Shannon,
The lace leaf shawl is AMAZING and I really appreciate the thoughtfulness and hard work that went into it. I'll cherish it! Thank you again.
Mother-in-law Shirley
Posted by: Shirley at December 28, 2005 8:23 PM
Posted by: Zabet at December 28, 2005 9:33 PM
I am in awe of the huppah.......seriously!!!
Posted by: Bonnie at December 28, 2005 11:27 PM
The huppah is beautiful as I've mentioned before. The shawl is simply amazing and gorgeous! What a great job Shannon.
Posted by: Wanda at December 29, 2005 12:59 AM
Now you all know why I'm so partial to our chuppah -- it's awesome, isn't it? We hope to find a place to display it at home, but I forgot to mention that Shirley made us a pillow with one of the unused panels of leaves. It's a small reminder that will hold us over until we find a place for the whole thing. :)
Posted by: shannon at December 29, 2005 11:45 AM
I love those turtles!
Hopefully you will still be knitting away if/when someone agrees to conceive with one of our sons!
PT
Posted by: Peter at December 29, 2005 10:19 PM
Ooooh, it looks gorgeous! What a beautiful project. It's nice to make something so special after she made you two that wonderful chuppa.
Posted by: alison at January 1, 2006 10:33 AM