December 28, 2005
Christmas 2005: Last Things First, Part I
Finally, I can share my Christmas knitting with the world!
We had Christmas in two waves this year: first with my parents on Christmas Day, and then with Jason's family yesterday (the 27th) in New York. First let me tell you about the knitted things I gave away to the out-in-laws, starting with...
A Shawl for Shirley
Jason's mother, Shirley, made our huppah. In fact, she made a huppah for each of her three kids' weddings. Each one of them involved hours upon hours of consulting with the bride and groom, designing, hand-dying silk, and sewing. And though each one of them is a work of art, I'm partial to ours.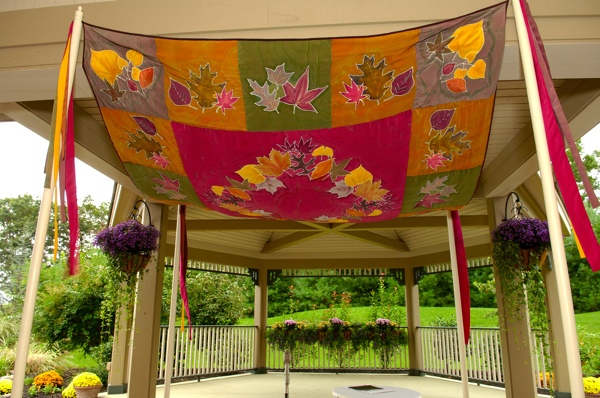 Obviously, by the time it was all said and done I wanted to knit Shirley something really special. I knew the Leaf Lace Shawl was the right pattern as soon as I saw it: leaves everywhere -- just like our huppah. And once the pattern was settled I knew it had to be red, since my fascination with the rich, brilliant red of autumn leaves was an inspiration when Shirley was designing the huppah.
What I don't know is why I settled on Kid Silk Haze (color: Liquer) for my first real attempt at a large lace project. I wanted to finish the shawl it in time for the wedding weekend in early October. Hypnotized by how quickly the first 30 or so rows went, I really thought I could do it. As the wedding drew nearer and the rows got longer, I grew more distractable and made more mistakes. Knitting mistakes are normally no big deal for me (just un-do and re-do!) but with the Kid Silk Haze? It's a beautiful, luxurious yarn that makes delightful, gauzy fabric -- but it's a b*tch to rip.
So I Did the Right Thing. I put the shawl down, and didn't come back to it until after the wedding when I could give it my full attention. And when I did, I became a compulsive life-line user, did away with all but the most necessary stitch markers, and printed out a bunch of copies of the lace chart that I could highlight (when I was working on a row) and cross off (when it was finished). In short, I became an enormous lace-knitting nerd.
And what do you know... it worked. Know what else? I now understand why knitters get so. excited. when they block their lace shawls. After a half hour with the water sprayer and blocking pins I discovered that inside the shapeless, tangle-prone mass I'd been wrestling with for two months, this had been hiding all along:
Two balls of Kid Silk Haze, and it's 60 inches across. No, really.
Bathed in sunlight
Clearer view of the red leaves
Shirley was pleasantly surprised to get the shawl, and immediately got the connection between the red leaves. I hope she enjoys it!
Pattern: Leaf Lace Shawl
Yarn: Two (!!) balls Kid Silk Haze (Liquer)
Lessons Learned

The Lace Leaf Pattern is an excellent pattern, even for first-time shawl makers.

On the other hand, Kid Silk Haze probably isn't the best yarn for a first-timer. (But wow is the final product worth it if you can manage it.)

Embrace your inner lace-knitting nerd; if you can't do that, at least use a lifeline for Pete's sake.
Posted by shannon at 4:05 PM | Comments (8) | For related posts: Christmas Knitting 2005, For Shirley
January 21, 2005
Holidays (Extended Play Version)
File under sad, but true: it's late January and I'm still winding up my Holiday Knitting.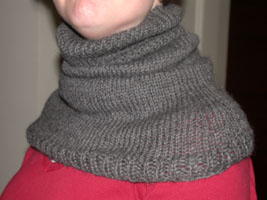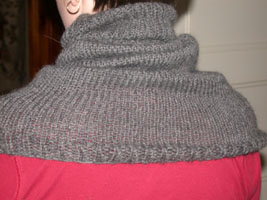 This was a special order item. Jason's mom has a bright red neck warmer/cowl that she absolutely loves. She asked me to replicate it in a more subdued color, and I jumped at the chance. Before I jump into my normal project description, however, let me say a few words about my knitting instincts. They are not what you would call "good". In fact, they are usually dead W-R-O-N-G. For a reason that I cannot explain, I was blessed with good instincts for the duration of this project. Such a rare series of good decisions is worthy of enummeration!
Good Instinct #1
I used Peruvian Collection Highland Wool in Oxford Gray Heather. In the interest of warmth, I initially cast on enough stitches to double-knit the cowl. I made it about four inches before I realized that it just wasn't going to work. The double knitting made the tube very stiff, and Jason's mom is all about the drape. (The Good Instinct here is that I only knit about four inches before I realized it wasn't working.)
Good Instincts #2 and #3
I ripped it back and started again (#2). To avoid a roll at the bottom, I cast on with size 11s and did several rows of K1P1 ribbing (#3) before switching to the size 7s I used for the rest of the cowl.
Not only did the loose ribbing keep rolling to a minimum at the bottom, it also matches the ribbing at the top. The top ribbing is modeled exactly on Jason's mom's current cowl. In fact, she told me that her favorite thing about it is that it stays up when she pulls it "up to my glasses" to keep her face warm in the cold. In order to insure this effect, I went down a needle size for the last inch of the top ribbing. Bad call - when I bound off and went to try it on, the opening at the top was too small. (IF we were keeping track, this would be Bad Instinct #2; #1 would have been to try to double knit it.)
Good Instinct #4
I ripped back an inch, and stayed with the no. 7s up to the last row. Then I did something radical: I switched up a needle size and did the tubular cast-off. Montse Stanley, who was gifted to me for Christmas, held my hand as I finished it off.
If anybody's interested in the pattern for this, leave a comment and I'll type it up for you. It's a pretty fast knit and in the brief period that I had it on for picture taking purposes ("Quick, take the picture before the hives kick in!"), I found it to be very warm.
Oh, and one more thing... any ideas about what I can do with several unused balls of this yarn?
(ETA: I've added the pattern in the "more" section!)
Pattern
Yarn and needles: Whatever strikes your fancy, so long as you get gauge. (The needles must be circular, 20" or shorter)
Gauge: 4 stitches to the inch (16 sts = 4")
CO 112 stitches onto needles several sizes larger than the needles you'll use for the body. Place marker and join
Rows 1-6: K1, P1, repeat to end. (Ribbed section should be 1.5 inches)
Row 7: Switch to smaller sized needles. K 56, pm, K to end.
Continue knitting all stitches. When stockinette stitch section measures 1.5 inches, knit the following decrease row: K1, K2tog, K to 3 stitches before first marker, SSK, K1, slide marker, K1, K2tog, K to 3 stitches before second marker, SSK, K1.
Continue stockinette section, doing a decrease row every 1.5 inches, until piece measures 15 inches and there are 80 stitches. (You will probably have to knit about 1.5 inches even after the last decrease row in order to reach the 15 inch length.)
Next Row: K1 P1, repeat to end.
Repeat this row until the ribbed section measures 6.75 inches (or desired length).
Bind off using tubular bind-off method, or your preferred elastic bind-off.
Posted by shannon at 4:00 PM | Comments (6) | For related posts: Christmas Knitting 2004, For Shirley, Mother-in-Law Cowl
December 25, 2004
Holiday Knitting
Merry Christmas to those who celebrate!
Just to keep the knitting pressure on, this post will stay on top until Christmas Day. (In other words, new content will appear below -- so scroll down!)
Done!
Mother-in-law Cowl (due date: 12/25)
--Status: Done, and headed for New York! (1/18)
New baby blanket (due date: 12/25)
--Status: Finished! (12/23)
Redskins scarf for John (due date: 12/25)
--Status: Finished!
(12/24).
Late Breaking Addition! Teeny-tiny baby sweater (due date: 12/24)
--Status: Finished! (12/23)
Yankee Swap Scarf (due date: 12/15)
--Status: Done!
Scarf for Lauren
--Status: Done!
New baby booties (to match wrap sweater) (due date: 12/10)
--Status: Finished 12/9, just have to weave in ends during the car ride to NYC tonight.
Blueberry Mango (due date: 12/18)
--Status: Finished 12/5! Done! Maybe a little too long in the arms, but done! (Pictures to come.)
Still Working On...
...nothing! It's all DONE!
Posted by shannon at 12:00 AM | Comments (3) | For related posts: Christmas Knitting 2004, For John, For Lauren, For Mom, For Shirley, For Sydney
January 8, 2003
Satisfying


I went to Jason's sister's new apartment last weekend to help them move in. I was coming directly from the bus station (just back from a quick out-of-town trip), so I asked R. (Jason's sister) where I should throw my stuff so that it would be out of the way. She directed me to the guest room, and as I entered I noticed that both Jason's mom and brother had worn the scarves I made them for Christmas (picture on the left). That made me smile.
I dropped my stuff on the bed, and as I turned to leave I saw that Jason's brother-in-law has his Gringa-knit Redskins* hat on the dresser (picture on the right). If you look closely, you can see that the baby-sized companion hat underneath.
Anyway, it made my day to see that everybody likes their presents!

*Because I'm a big believer in being nice during the holidays, I resisted the temptation to make a baby Eagles hat instead. But rest assured, it's coming.
Posted by shannon at 11:44 PM | For related posts: Christmas Scarves, For Henry, For John, For Noah, For Shirley
November 7, 2002
Soft Scarf


Finished another project! This is a scarf for Jason's mom -- it's made from Lion Brand Homespun Yarn, and the color is Mediterranean -- it's really very soft. I used #11 needles.
In the end, I ended up doing a really simple scarf: I cast on 30 stitches and then knit like a fiend. No purling, no fancy pattern, nothing -- just k30 all the way.
Originally, I cast on 35 stitches and was alternating rows of knitting with rows of purling. But the end of the scarf was rolling badly and the size of the needles combined with the slipperiness of the yarn made purling a little bit of a pain. Plus, the scarf was too wide and I was running out of yarn too fast. So I pulled it all out and started again. It turned out to be a good decision -- I had enough yarn (I bought two skeins, and I have some leftover) and it was much easier.
Did I mention the softness? I have a skein in browns that I bought to make a hat for myself -- I can't wait! Any pattern suggestions for an adult hat made from bulky yarn?
Posted by shannon at 10:29 PM | Comments (1) | For related posts: Christmas Scarves, For Shirley