« We Dream On | Main | I'm Wondering... »
January 17, 2006
Big Boomerang
I love this part.
Boomerang #1
Here we have Ceci, adorable in her Lottie sweater a little while back.
It looks a bit big in the picture, which is a good thing; last week T. (Ceci's mama) referred to Ceci as "my linebacker of a daughter".
Boomerang #2
In order to motivate myself a few months back, I took some finishing to Knitsmiths and announced that I wasn't going to knit a stitch until I seamed and buttoned the baby sweaters you see here. The top sweater in that picture (same pattern as Ceci's pictured above) was meant to be for my cousin's baby girl, but I was so behind that by the time I took it to Knitsmiths it was already going to be too small for her. In an effort to atone for my slacking-ness, I decided I would finish it up and donate it to Goodwill. While I was working on it, Knitsmith Claire persuaded me to let her take it to a craft show where she was going to be selling her scarves. I balked at first, but she promised me that if it didn't sell that she'd see it got to Goodwill. That sounded good to me.
A few weeks later I missed Knitsmiths because we were out of town. Mid-week, Alison told me she had something for me from Claire. I assure you that nobody was more surprised than me when she handed me this: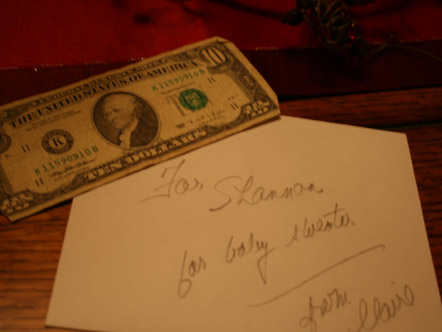 The fist time anybody's paid for something I knit! *sniff*
Posted by shannon at January 17, 2006 9:19 AM | For related posts: For Ceci, Miscellaneous Small Projects
Comments
Congratulations! You're a cottage industry! Now you can claim knitting needles as a business expense! I'm so proud of you, Ñaña!
:)
T
Posted by: Trish at January 17, 2006 9:09 PM