« Big Boomerang | Main | Helping Hands »
January 18, 2006
I'm Wondering...
It's Wednesday and I'm wondering:
What's the best way to bind off a toe-up sock?
I've been knitting more socks lately, and have had a few mishaps with estimating how long to make the leg before turning the heel. (I usually make the leg too short because I worry -- needlessly -- about running out of yarn; in the end I have a bunch of leftover yarn and a too-short sock.) These frustrations led me to try my first toe-up sock using Wendy's pattern. I loved knowing that I could maximize my yarn without scrimping on the leg length, but once I got to the end I was stumped: how was I going to bind this thing off without making it too tight to wear?
I tried a number of methods, and got the stretchiest result from the double crochet bind-off. The only problem was the floppiness of the bind-off edge. Look: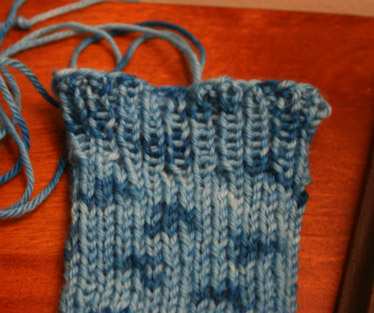 Artyarns Supermerino #132
Any words of the wise from committed toe-uppers?
Posted by shannon at January 18, 2006 9:40 AM | For related posts: Wondering Wednesday
Comments
Tubular or sewn cast off is great, probably the least noticeable. Various picot bindoffs would work if you want the picots. I often use the bindoff that goes bindoff two, cast on one stitch, bindoff 3, cast on one stitch, bo 3, co 1.... etc.
Posted by: carrie at January 18, 2006 11:13 AM
I like the tubular bind-off; it's very much like Kitchener, and yields a bind-off that's stretchy and looks like the rib just keeps going up and over the edge and back down the inside. I use the version described in the techniques section in the back of Interweave Knits now and then, for 1x1 rib, and I remember reading that there is a similar bind-off for other types of rib too.
Posted by: J Strizzy at January 18, 2006 2:00 PM
Hi! I LOVE Artyarns SM yarns! Yummy! I used Elizabeth Zimmerman's loose, stretchy Sewn Cast-off found in her Knitting Without Tears book. It's also at http://www.socknitters.com/toe-up/lessonsix.htm.
BTW, Wendy's generic toe-up sock pattern is one of my all-time faves! Congrats on your gorgeous toe-up! =)
Posted by: Rossana at January 18, 2006 3:24 PM
hmmm...i hope people have some good suggestions cause i'm not too fond of this one...the yarn is too fabulous for a mediocre bind off
Posted by: lisa b at January 18, 2006 5:12 PM
Is that a 2x1 rib at the top? If it's a 1x1 rib, I've had success with the knit-one, purl-one bind off from Vouge Knitting.
Posted by: Dena at January 19, 2006 7:57 AM