« I'm Wondering... | Main | aČ + bČ ≠ my sweater »
February 17, 2006
Trust the Math
Just when the Boston area weather has started to beat me down -- as it does every February -- here's something to get happy about: progress on the Olympic Sweater!
I started the first sleeve last Sunday. (I know! Two whole days after the opening ceremonies! I wasn't kidding when I said I was going to be crazy busy last weekend.) I had some trouble with the increases, but eventually calmed down and tried to believe that all of my measuring, calculating, and converting was right. You can't imagine my relief when I laid the sleeve on top of the model sweater on Tuesday night, and saw this: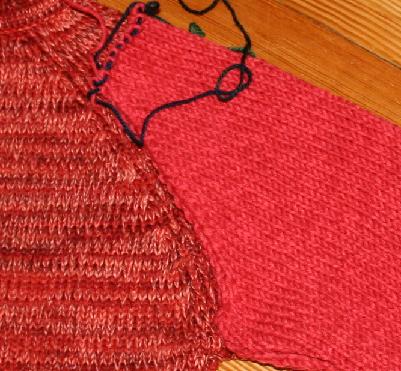 It's working!*
Heartened by my success, I cast on for the back and started knitting with abandon. Now that I knew my calculations were generally on target, I could knit much more quickly -- that is to say, without stopping at the end of every row to measure, hold up to my body, hold up to the model sweater, re-measure, etc. On Wednesday night I finished the 5 3/4" of ribbing on the back, and by the time I put the needles down last night I was through the 7 inches of stockingette stitch and had started the armhole decreases. Zooooooom!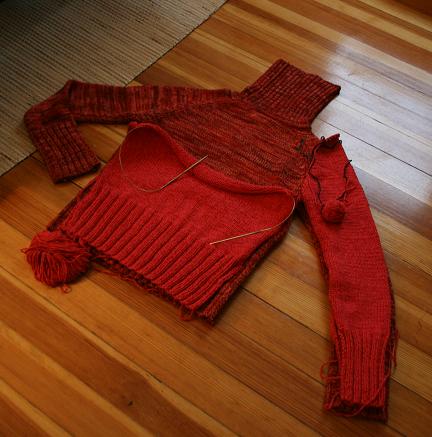 My progress as of last night. Knitting goes fast when you're watching Seth Wescott. Rawr.
(I'm fairly certain the back piece looks smaller than the model sweater because the edges are rolling.)
Just a few details on how I'm making this sweater. As you might recall from this picture, the ribbing does not really "pull in" on my favorite sweater. I'm guessing that this is because of the fiber (mostly acrylic!), but whatever the reason I was sure that the Samoa was not going to behave the same way. So instead of ribbing with smaller needles and switching to larger ones for the body, I'm doing the reverse. I'm doing the ribbing with US7s, and switching to US6s for the stockingette sections. So far, it seems to be producing a straighter transition from one section to the other, rather than the "pouf" created by ribbing on the smaller needles. (I could have sworn I read about Claudia doing this same thing, but I've scoured her archives over the last week and found nothing!)
My progress this weekend will determine whether I've got a speed skater's chance in Hades of getting this sweater done before the flame is extinguished. One thing is for certain, though: these knittin' hands and wrists are going to be sore by the end of the Games. Pass the Tylenol and ice packs, please.
*This is not the actual color. The light was so low I had to use the flash -- it's not that pink!

Posted by shannon at February 17, 2006 3:16 PM | For related posts: For Me!, Olympic Knitting
Comments
Awesome job - it looks perfect! Can't wait for those instructions. ;0)

Posted by: alison at February 17, 2006 5:42 PM
Wow, I'm so impressed! It's looking great.
Posted by: katie at February 17, 2006 7:52 PM
Shannon, I cannot WAIT for this pattern!!
Posted by: colleen at February 18, 2006 9:11 AM
I'm with Colleen, I love the sweater and already have a potential yarn in the stash.....
Posted by: thea at February 19, 2006 9:03 AM