« Too Full for a Title | Main | »
November 19, 2008
Hey, I Knit Something!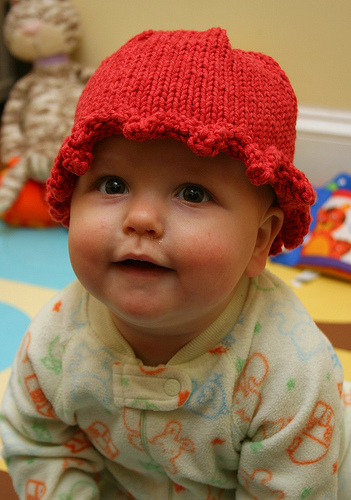 Nobody's more surprised than me, but I started and finished an entire knit object last week. The arrival of cold weather meant Annabelle was wearing the knit hats friends had knit for her quite a bit, and I was fielding a lot of "did you knit that?" questions. I just couldn't stand saying "nope!" all the time, so I went looking for a cute hat pattern. I settled on the Lilly Hat (Ravelry link) and used leftovers from my Very Necessary Sweater.
I made it a bit longer than the pattern calls for so it would cover her ears a bit. I actually think I went a bit overboard on the length, but I'm trying not to over-focus on the imperfections. The pleasure I get from answering the "did you knit that?" in the affirmative makes it much easier -- as does the extremely high cute quotient of the model!
Posted by shannon at November 19, 2008 10:20 AM | For related posts: Baby Hats, Cheezit
Comments
What a very cute model indeed! And the hat looks wonderful. Nice to see you again :).
Posted by: Sarah at November 20, 2008 1:18 AM
Posted by: byjthhw at November 26, 2008 7:26 PM
What a cutie! She's really looking like you.
Posted by: colleen at December 14, 2008 7:17 PM
Posted by: NeamnSoalelen at December 19, 2008 10:19 PM