November 18, 2003
...And All to Goodwill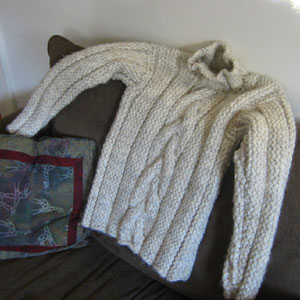 I've moved a lot, and one of the very few things that I like about doing it is the opportunities it presents for change. New habits, which I find next to impossible to begin under normal circumstances, are practically effortless in a new home and a new town.
One of the things that I've been trying to do since we moved into this apartment is get rid of stuff. While I still can't seem to throw papers away ('They might be important!'), I'm making progress on most other fronts -- particularly clothing. So as the weather cooled down and my teeny-tiny closet started getting full with heavier clothes I started pulling things out that I just don't wear in preparation for a trip to our local Goodwill.
I came across my first-ever sweater. You might remember this as the twisted-stitches sweater, or the slightly-too-small sweater. In any case, I know I'll never wear it. I'm allergic to wool, and it's just small enough that I can' t wear a turtleneck under it. As it is I'd end up clawing at my skin if I tried to brave it.
I felt a bit sentimental as I debated whether or not to keep it. Sure, it was a bit of a failure... but it was my first sweater! In the end, it was its warmth that swayed me toward giving it away. The sweater really is very, very warm and Boston winters really are very, very cold. I tossed it on the "donate" pile -- if I won't wear it, hopefully a smaller, less allergic person will.
Posted by shannon at 7:56 AM | Comments (1) | For related posts: Cream Cabled Sweater
April 8, 2003
Too little, Too Late
Well. The cabled sweater (see links below) turned out okay. I finished it a day or two before I left for Texas and Puerto Rico for Spring Break and discovered that it was a bit small.
I may reblock it before next winter to see if I can make it closer to my size. But by the time I finished it, we were experiencing the first hints of spring and believe me when I tell you, friends -- this sweater is W-A-R-M. Though it would have been perfect for our surprise, post-"Spring Forward" snow storm we had today, I've already packed it away for the season.
So anti-climactic, no?
Posted by shannon at 1:36 AM | For related posts: Cream Cabled Sweater
February 19, 2003
All Twisted Up
I woke up this morning to find a comment on this entry about my sweater. Janet from Big Sky Knitting pointed out that it looked like my stitches were twisted.
Initial reaction: What's she talking about?! My stitches are PERFECT!
Secondary reaction: Well, just in case -- lemme look at them more carefully.
Tertiary reaction: Damnit. My stitches are twisted.
Janet was onto something when she asked if I feed yarn from my left or right hand. As you can see in the left-hand column, I knit continental style -- in other words, I feed with my left hand. I can only imagine that knitting this way is more conducive to making this type of mistake.
I tucked my knitting tail between my legs and skulked over to StitchGuide to look at the knitting video. I am embarassed -- nay, ashamed! -- to admit that I've been doing the knit stitch wrong for quite some time. At least since I started this sweater.
Jason and I are driving to Boston tomorrow night, so I'm going to grab some worsted weight yarn and needles and re-teach myself (and then re-train my hand muscles to do it on autopilot) on the drive.
I thought very briefly about ripping out the whole sweater and starting over again. But I just finished the second sleeve, and all I have left is the collar, the blocking, and the sewing. So I'm just going to leave the twisted stitches and call it "texture".
Gah. I feel like such a rookie.
Posted by shannon at 11:06 PM | Comments (7) | For related posts: Cream Cabled Sweater
February 10, 2003
My First Sweater!
I've mentioned the Knit It! magazine that Jason bought me at the end of December. I decided that I would use one of the patterns in it to make my first "real" knitting project -- a cabled sweater! Since I'm not sure how it's going to turn out, I decided that it would only be fair to make it for myself. I wouldn't want to subject anybody to my first ever knitted garmet, right? This makes me a good friend, right?
It's a simple pattern (called Woman's Quick Cable Sweater, number 26 in the magazine), and it's knitted with Lion Brand's Wool-Ease in Wheat using #11 needles. The picture is of the back, which I finished this weekend. I'm about 30 rows into the front. Whee!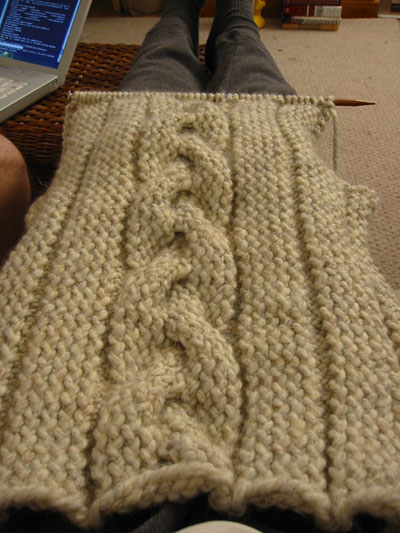 Posted by shannon at 12:06 AM | Comments (1) | For related posts: Cream Cabled Sweater
February 9, 2003
Crazy Cat Lady
I was working on my sweater (pictures and description to come shortly), and Boogie just had to get in on the act. As any cat should, he resents any time I spend doing anything other than paying attention to him. Witness the results: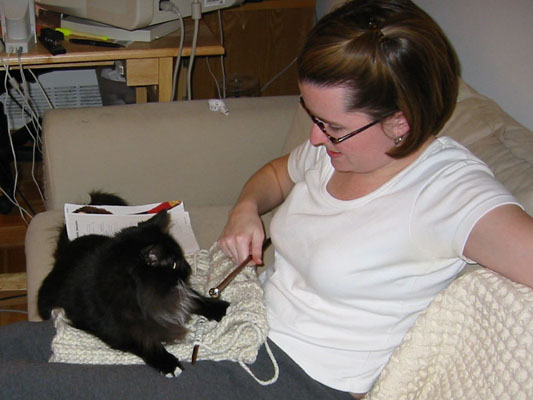 "Boogie, you're not making this very easy."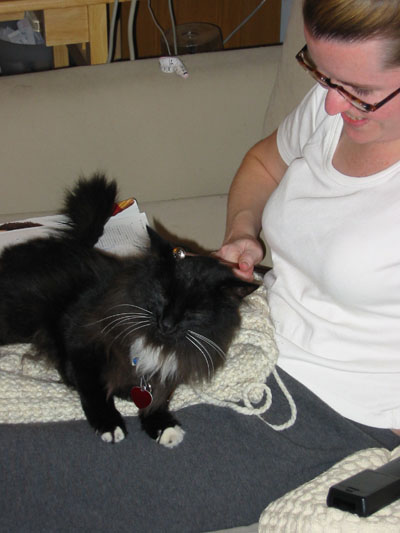 "Maybe if I scratch your head a little, you'll behave."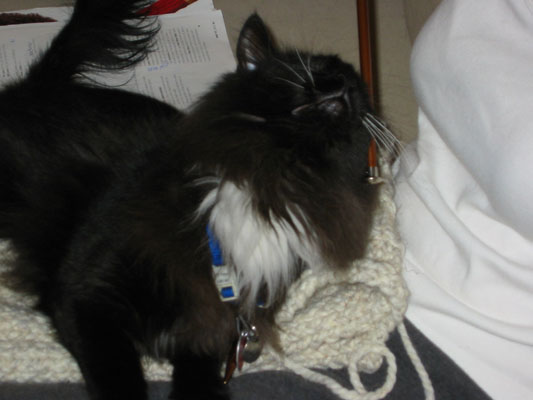 "Yeah, Mama. That's the spot."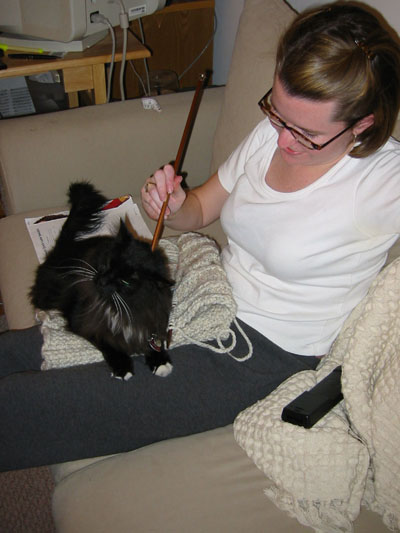 "Ooooh, the pointy end is gooooood."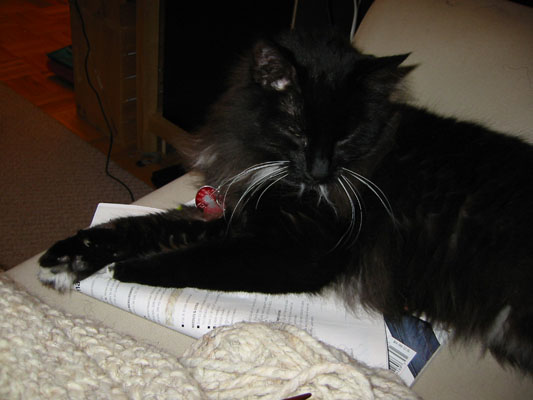 "You kick me off of your lap, I lay on your pattern. So there."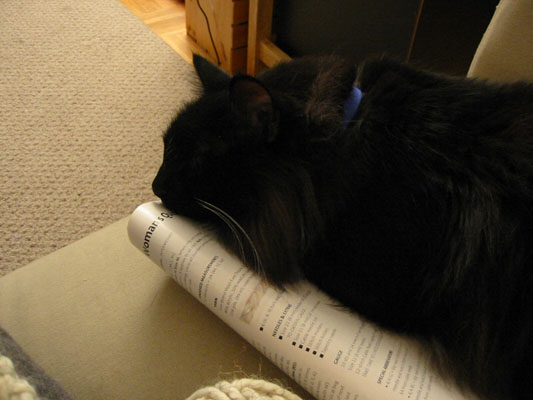 "I'm here for the long haul. You will learn to ignore me at your peril."
Posted by shannon at 11:45 PM | Comments (2) | For related posts: Cream Cabled Sweater